A new essay claiming that Jewish authors don't write fantasy literature has caused a firestorm of criticism online, including an impressive list of Jewish fantasy authors. Is Christianity really embedded in the DNA of the fantasy epic?
Noting that neither C.S. Lewis nor J.R.R. Tolkien was Jewish, Michael Weingrad writes in the Jewish Review Of Books that the masters of the genre weren't alone. Jews, as a rule, don't write fantasy, he claims, and there are no fantasies that are ineluctibly Jewish in the way that Narnia is Christian. He goes on to blame the Holocaust, among other things, and then assert that:
To put it crudely, if Christianity is a fantasy religion, then Judaism is a science fiction religion. If the former is individualistic, magical, and salvationist, the latter is collective, technical, and this-worldly. Judaism's divine drama is connected with a specific people in a specific place within a specific history. Its halakhic core is not, I think, convincingly represented in fantasy allegory. In its rabbinic elaboration, even the messianic idea is shorn of its mythic and apocalyptic potential. Whereas fantasy grows naturally out of Christian soil, Judaism's more adamant separation from myth and magic render classic elements of the fantasy genre undeveloped or suspect in the Jewish imaginative tradition.
Within hours after this essay went up the other day, people were pointing out tons of Jewish fantasy authors that Weingrad had somehow missed. For example, there's Isaac Bashevis Singer, who won the Nobel prize for writing, essentially fantasy. Other fantasy greats include Marge Piercy, Michael Chabon, Peter Beagle, Charles Stross, Esther Friesner and Neil Gaiman.
And Spencer Ackerman asserts that "Jewish Narnia is called Marvel Comics," and points to Stan Lee, Jack Kirby, and Superman creators Siegel and Schuster as the creators of epic stories whose Jewish roots permeate their work. Commenting on Ackerman's blog post, Chabon writes:
I have not read Mr. Weingrad's piece but I agree with others that the defintion of so-called High Fantasy is necessarily very narrow and excludes huge areas of fantasy fiction written by Jews and Gentiles alike. But I think it's kind of an interesting question, as long as we aren't lamenting the absence or somehow holding it against Jewish literature.

And I'd stack Darkseid against Sauron any day.

I would also put in a good word for the work of the great Avram Davidson and a wonderful contemporary writer, Lisa Goldstein.
G/O Media may get a commission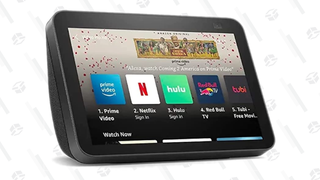 In fact, though, as Ross Douthat points out in the New York Times, the larger question still stands — is there a fantasy epic whose Judaism is as undeniable as Narnia's Christianity?