Darren Aronofosky is making a Noah's Ark movie, but that doesn't mean he's making a religious film. We try to sort out what's going on with Doctor Who. Plus a new behind-the-scenes look at Cowboys & Aliens!
Spoilers from here on out!
Top image from Transformers: Dark of the Moon.
Star Trek 2
I think we all knew this already, but William Shatner again confirmed he won't have a role, cameo or otherwise, in this movie. [Trek Movie]
---
Cowboys & Aliens
Here's a new behind-the-scenes featurette.

---
Transformers: Dark of the Moon
Here's a helpful video that splices together six of the most recent TV spots.

---
Neuromancer
Splice director Vincenzo Natali spoke at length about his proposed adaptation of William Gibson's classic novel, starting with how he gained the author's blessing to make the movie:
"I think the reason that William Gibson has been so supportive of me doing it is that he knows the film won't be homogenized. There's something inherently not mainstream about it, and I want to preserve that. It will be a much bigger film than I've made before, and I would hope that it makes a reasonable amount of money, but I don't think of it as a blockbuster, or even a genre movie per se."
G/O Media may get a commission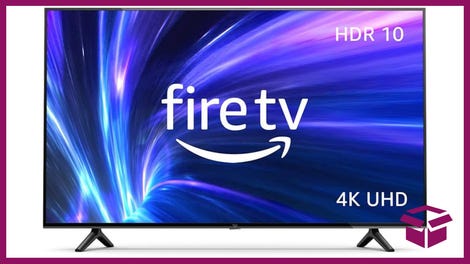 42% Off
Amazon Fire TV 50" 4K Smart TV
He then explains what he thinks will be key to the film's success:
"The success or failure of Neuromancer will have everything to do with getting the right tone. There's definitely a potentially bland and uninteresting version of that story [hackers take on behemoth corporation in cyberspace] but what's important is not just what happens in the story, but how it's told and the texture that exists in the world we have to recreate. If it really works, it should in some way step outside any particular genre, or at least outside the expectations we have for a science-fiction film. It should be something new. It's absolutely a commercial movie, and everyone's been responding to it as a film that could potentially be successful, but if we were to make it with a big studio I'd be afraid of having those edges rounded off. If we can somehow independently raise $60m, then I'll be operating with total freedom, and that's exciting..."
[Fangoria]
---
Noah's Ark
Darren Aronofosky offered a brief update on his proposed big-budget take on the Noah's Ark story:
"I don't think it's a very religious story. I think it's a great fable that's part of so many different religions and spiritual practices. I just think it's a great story that's never been on film. I want to make a big event film, and I think it can be that."
For what it's worth, he's right about the flood story not being inherently religious (or at least not inherently Judeo-Christian), as the same basic tale pops up in Greek mythology, Hindu texts, and the Epic of Gilgamesh. But I'm kinda guessing he'd do well to drop the whole "Noah's Ark" name in the near future, if he really wants the thing to be nonreligious. [IFC News]
---
Hellboy 3
Comics creator Mike Mignola says he doesn't think Guillermo del Toro will ever get around to making a third movie:
"Last I heard he said he would not make it. Guillermo - who I love - in every interview there's a new story on what his next movie is and he honestly believes he's going to do all these things. But last I heard, he said 'I'm never gonna get back to Hellboy. I'm not surprised because he won't live long enough to do a tenth of the movies he's told me he's going to make. I can't imagine him (Del Toro) making a Hellboy 3. He's very enthusiastic and says he's going to do all these things....ummm....he's cute [laughed]."
---
The World's End
Simon Pegg discussed the writing plans for his and Edgar Wright's final entry in the loose trilogy begun by Shaun of the Dead and Hot Fuzz, which is thought to involve the apocalypse:
Well, what Edgar and I are trying to do is fit in some writing time before I start Star Trek. We'd like to be able to sit down long enough to be able to maybe even get a draft out even. Because I think this time we'll be able to hit the ground running. We've written two films together. We procrastinated a lot on Shaun of the Dead and Hot Fuzz. We watched a lot of films. We luxuriated slightly. I think with this one, because we're match fit, I think we can do a little bit more on the [makes a noise and typing gesture] and write as good a script but do it slightly more efficiently.
[Collider]
---
Paul 2
From the same interview, Pegg won't rule out the possibility of a sequel, but it doesn't sound like too serious a proposition:
If we could think of a story that was absolutely justifiable, that was worth doing, I would do it again, but for that reason, so I could have that experience again and enjoy working with people, the camaraderie and the friendship. Nick and I have this idea that we had out on the way to Area 51 that was really funny. It was like oh, this could be great. It would cost an absolute fucking fortune. If it involved more than one Paul, it would mean that we'd have to have twice that budget again. The idea was it was called Pauls. Again, it was like From Dusk Til Shaun, that title is so good we have to make that film.
[Collider]
---
Mission: Impossible - Ghost Protocol
Finally, Pegg says he's honestly not sure whether this film is meant to pass the baton from Tom Cruise's Ethan Hunt to a new main agent, potentially the one played by Jeremy Renner. He did say that this new film represents "an evolution" from the previous films, and that it definitely does introduce a new character on the same level of importance as Ethan Hunt. [Collider]
---
Dark Shadows, Men in Black 3, The Hunger Games, and Oz the Great and Powerful
I doubt we'll be doing too many joint updates for this particular set of movies, but in this case it's appropriate. Danny Elfman has revealed he will be scoring these movies. He revealed he will do anything for Tim Burton and Sam Raimi - hence Dark Shadows and Oz - while he doesn't want someone else scoring a Men in Black movie. It sounds as though The Hunger Games is the only one that isn't completely set in stone just yet. [ComingSoon.net]
---
Conan
Here's a new image. [IGN]
---
Magic Kingdom
Michael Chabon is reportedly now officially signed on to write the script for Jon Favreau's movie about...well, about all things Disney, I guess. The story is reportedly set around Disneyland, although the plot might also bring in other Disney parks around the world. Although Favreau hasn't really revealed what the story of the movie will be exactly, he at least has been able to speak on what appeals to him about making a movie all about Disney:
To get to speak for the canon of [Marvel, with the Iron Man movies] and adopted as part of it is a really fun cultural thing. And even more so as I do my research on Disney because people are so connected to all of these archetypes and in our society, the commonality in our melting pot tends to be the secular aspect of our society. Somehow the Disney characters and what we grew up with, whether going to the parks or watching the movies, our generation, our parents, our grandparents, all have felt the same emotions and grown up with those characters and so to have the opportunity [is amazing.]
There are more quotes at the link. [The Hollywood Reporter and /Film]
---
Percy Jackson 2
Fox 2000 has reportedly exercised its option on Percy Jackson and the Lightning Thief Logan Lerman, meaning the young actor will return for another round of mildly mythological antics. The sequel will reportedly be directed by Diary of a Wimpy Kid's Thor Freudenthal, and the story will draw from multiple books in the Percy Jackson series. [LA Times]
---
Doctor Who
We still don't really have a single official story on what's going on with series seven - and beyond repeatedly saying that statements have been misrepresented or taken out of context, Steven Moffat isn't offering any precise clarifications - but we now have the latest take from an inside source. For all the standard disclaimers about taking insider reports with a grain of salt, I'd say it makes a certain amount of sense. Basically, series seven will still be a full thirteen episodes, it will have the similar split structure as season six, and it will start five months later in the year than series six did. This means the series will begin in October, then resume in February, which seems in keeping with the longstanding reports that the show's producers wanted to move the show away from its summer broadcast schedule, which does tend to lower the ratings.
According to the source, this means the 2012 Christmas special will now air mid-series. The only slightly tricky thing about that is the current 14-episode order, which had previously been assumed to include a 2011 Christmas special followed by series seven. This might mean the Christmas special is simply being folded into series seven, meaning there will only be twelve episodes on either side of it, or it might mean there won't be a Christmas special at the end of this year. Anyway, the upshot of all this is that, assuming it's all more or less true, the actual time between the end of series six and the beginning of series seven will actually be pretty much the exact same amount of time as that between series five and six (not including "A Christmas Carol", of course). Obviously, none of this is confirmed, but again... it does at least seem to fit best with what we currently know. [Doctor Who Spoilers]
In case you want to hear the original context in which BBC Controller Danny Cohen said there would not be a full series in 2012, here's audio from the event, which would seem to support the idea that at least some of his remarks were meant to be (very) dryly humorous. [Life, Doctor Who, and Combom]

---
True Blood
Here are a couple promos counting down to the premiere at the end of this week.

Rutina Wesley explains why her hair is a crucial guide to Tara's character:
It seemed right for Tara to have change [last season]. I had also talked about possibly changing my hair next season, and it just sort of seemed to make sense. It was like her trademark in a way. For me as an actor it was nice to have braids. You don't see that a lot on television. What's nice, is that with Tara's new hair, it's sort of a little bit softer. This hair frames my face differently and I think now with Tara we'll see her have a little bit of happiness, and she's sort of found herself. She's got this inner strength and she's gonna smile and laugh. It's like she's breathed in a breath of fresh hair.

Does that happiness involve a love interest, perhaps?
You'll have to wait and see. I will say this – I think because Tara has found a way to love herself, she can finally find a way to open herself up and love others. If you've ever noticed, when someone gets too close to Tara, she runs away. I think she has issues with men in general, and commitment – probably because of her upbringing. I think now she's had time to think about herself and what she wants. Now she's gonna be able to live her life fully and I think be open to love.
There's more at the link. [xfinityTV]
---
American Gods
The HBO adaptation of Neil Gaiman's novel reportedly is shooting for a 2013 start date, is designed to run for six seasons of ten to twelve episodes each (pretty much necessitating the creation of additional source material), and Inglourious Basterds cinematographer Robert Richardson will be key in establishing the look of the show. [Den of Geek]
---
The Walking Dead
AMC has put together this behind-the-scenes video on the first day of shooting for season two.

---
Powers
The FX adaptation of Brian Michael Bendis and Michael Avon Oeming's acclaimed comic book series has reportedly found its female lead. Lucy Punch, who has previously been seen in the short-lived CBS sitcom The Class and Woody Allen's You Will Meet a Tall Dark Stranger, has reportedly been cast as Deena Pilgrim. [Deadline]
---
Falling Skies
Here's a promo for the next episode "Prisoner of War", as well as the rest of the season as a whole.

---
Additional reporting by Gordon Jackson and Charlie Jane Anders.