The office may hate me, but Razer's new Huntsman Elite keyboard feels so good to type on I'm willing to suffer the glares for all the noise I'm making. It feels a little silly saying that what with me having expensive keyboard collecting habit. But Razer keyboards never actually wind up in the collection. For me Razer is too mainstream and has often seemed to sacrifice quality and typing experience for gamer aesthetic and flashing lights. The former is still very much apparent in the $200 Hunstman Elite, but its now been paired with some of my favorite keyboard switches I've typed on. These switches are so good I can overlook a lot.
They're a new breed of switches Razer calls opto-mechanical. Mechanical because these are, at their core, mechanical switches—specifically a clicky kind reminiscent of the Cherry Blue or Alps switch. That means they're loud and not very office friendly. The difference between these mechanical switches and Razer's previous mechanical switches is in the "opto" portion of the name. They use optical technology—in this case infrared light beams—to detect actuation.
Actuation is when the key switch detects that it's been pressed. It's different than travel—that's the distance a key takes to reach the strike plate below. Actuation is usually a little more than half the distance of travel. So a mechanical key switch will "bottom out" at a distance just over 4mm and on average actuate about 2mm into a press. Tactile key switches report this actuation point to your fingers with a subtle bump as you press the key. Clicky keys—like Cherry Blues, Razer Green, and Alps—add a click too. You hear the click so you know the key press has been reported and you carry on. It's why clicky keys are so popular despite their noise.
G/O Media may get a commission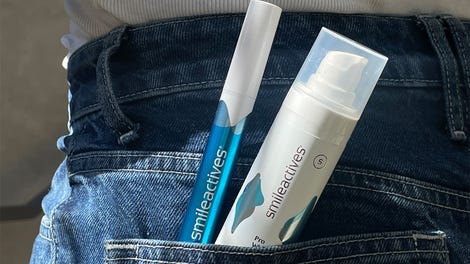 58% off
Whitening Powerhouse Pen & Gel Duo
These "opto-mechanical" switches were developed, according to Razer, to have a much shorter actuation distance. Just 1.5mm. Razer claims its the the shortest actuation distance in a keyswitch. Compared to Razer's current switches, and the selection of Cherry switches found in mechanical keyboards available from most major manufacturers that's true. It's the shortest actuation point of a keyboard you can buy at Best Buy, and definitely the shortest actuation point from a keyboard made by a company you've heard of.
But it isn't the shortest. That claim to fame belongs to a series of "speed" switches made by Chinese company Kailh. Kailh first started making Cherry clones, before expanding into its own series of switches, and its copper, silver, and bronze switches all have an actuation distance of just 1.1mm.

As I happen to have a keyboard with Kailh bronze switches inside I decided to play around with the two, seeing if I'd notice a significant difference between Razer's fancy switch and Kailh's.
And I did! Not when it comes to the speediness of the two switches. It turns out if you're a heavy typist like me that .4mm difference isn't going to be super noticeable. If I've got both keyboards in front of me and am pressing the keys at the same time, eyes closed in an attempt to focus entirely on the sensation felt by my finger tips, then yes, I can notice that little extra bit of speed the Kailh switch affords.
But when my fingers are flying across the keys as I'm, say, writing a review of keyboards, the .4mm difference simply isn't as obvious. What is obvious is the pleasant noise of the Huntsman Elite key. This thing sounds nice to type on in a way I'm not used to from a Cherry switch or one of its many derivatives. Instead it sounds an awful lot like my old Alps keyboard. Alps keys are known for this "ping" that follows the click on a keypress. That ping is like an aural flashback for a typist. Suddenly you're in front of keyboard that was really built to last—like a typewriter, IBM keyboard from the 80s, or that first really good old-school Mac keyboard. The opto-mechanical switches in the Huntsman Elite feel substantial in a way I'm not accustomed to in a gaming keyboard—even a $200 one.

But there's something keeping me from recommending this keyboard to people who just want a dream machine to type on. For all the joy I get out of the Huntsman Elite's switches I get an equal amount of second hand shame from the appearance of the thing. It's not going to look good in an Instagram photo next to your coffee and MacBook Pro. It's built for the dark cave of a gamer. There's RGB lighting not just in every switch, but around the edge of the keyboard and the included leather wrist rest. It looks nice enough if RGB light and an all black keyboard is your preference—and I actually really love the glowing volume dial too.
But man that look is not my bag. I particularly hate the key caps. They get slick and greasy looking incredibly fast. Which means your keyboard is guaranteed to look unpleasantly used within a couple of weeks of purchase. Gross!
At least the caps can be replaced with any Cherry-compatible cap. It's not the end of the world but it, more than anything, reminds me of why Razer keyboards—even really spectacular ones like the Huntsman Elite—aren't lusted after in the keyboard community. They still feel like a product reserved for dark rooms where the only light comes from a monitor and the keys themselves. Key switches as nice as these deserve a keyboard that can show its face in public.
If you're a gamer though this is a no brainer. Buy the $200 Huntsman Elite or the $150 Huntsman (it doesn't include the media controls, lighting around the edge of the board, or the wrist rest). This keyboard is really damn nice to type and game on and it will pair well with all the high-end hardware out there intended for gamers. But if you're like me and struggle to get past that greasy all black keyboard with RGB lights look then, sadly, you'll have to pass.

README
The switches may have a silly name but Razer's new opto-mechanical key switches are really damn nice to type on.
The media controls and glowing edge of the Huntsman Elite keyboard are a nice touch.
The wrist rest is very soft.
The keycaps get greasy looking real fast, which means you're keyboard will look nasty and used quickly.