Here's the teaser for The Spirit, Frank Miller's adaptation of Will Eisner's comic book, which screened at New York Comic-Con. Even the few moments of footage managed to captivate the entire audience, from the ringing phone and the cat-strewn floor to the rooftop acrobatics and the typically Miller-esque monologue. More on the Spirit panel after the jump.
Miller said, 'I tried to translate [Eisner's] vision into a modern film. Look for his touch, you'll see it. For purists it will be a bit of a shock, but I have to say it's a hell of a ride." Actress Eva Mendes was also along for the screening and took a bit of offense when MTV host Kurt Loder accused her of being one of Eisnner's many 'hot babes' to which Mendes replied, "Hell no, I play a jewel thief who has been married 15 times and has killed all of them. Does that sound like a hot chick?" Well, yeah actually.
Deadly Mississippi Tornado Kills More Than 2 Dozen | Extreme Earth
The rest of the panel discussed in great detail the lengths the team went to work with Eisner's comic. Producer Deborah Del Prete mentioned that, 'the most important thing to Eisner was that he didn't want his Spirit to ever use a gun and that was something we always tried to protect."
The fans asked about Samuel L. Jackson's role as The Octopus especially since the only part of that character that shows in the comic was his white gloves. Miller defended his choice saying, "Jackon was my first and only choice for The Octopus." He continued that simply showing white gloves like in the comic book would get tedious so there will be full shots of Jackson.
It did seem like Miller always had Eisner in mind. Keep an eye out while watching the movie for Miller's own personal moment for Eisner, "My favorite shot in the movie is with Spirit moving across the top of a water tank he stumbles, just a bit, and I said, 'That one's for you Will.'"
G/O Media may get a commission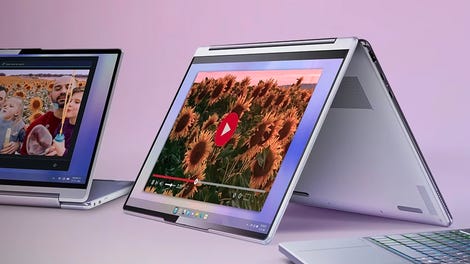 up to 70% off
Lenovo Spring Clearance
Meanwhile, the movie's producer, Michael Usman, talked a bit about the process that led to the movie becoming a reality at the Eisner panel on Friday.
Usman had first met Eisner at a comic-book convention when he was a kid, and had been "thrilled to his toes." He'd met Eisner again at the Harvard Club fourteen years ago, and they'd decided then and there to make The Spirit film together. As part of attaining the rights, Usman swore that no one would be involved, and the movie would be left unmade, unless everyone attached "totally got it." One day, after mentioning that he had on his hands what he considered the single best and most groundbreaking comic work with future co-producer Deb Del Prete, she said, immediately, "Don't tell me you have the rights to The Spirit?!" Usman's reaction to finding a producing partner who similarly "got it" was relief and joy: "Mama, I'm home!"
Usman did his best to drive home the care with which The Spirit movie is being made, perhaps in an attempt to banish some fan fears that Frank Miller's aesthetic might come to overwhelm Eisner's. He related that Eisner himself had had "no interest whatsoever" in either directing or writing a Spirit flick himself, but that in the painstaking fourteen years of plotting for the feature, they had been able to put all their questions to him — and get his input and feedback on their own decisions, until his death in 2005.
The Eisner panel was full of praise for the joint role that Eisner had mastered in the medium — succeeding as both a businessman and a creative talent. DC Comics publisher Paul Levitz pointed out that while art and business often exist in inherent conflict, Eisner negotiated his own contracts and recognized the need to have rights and full control over one's creations very early in the game. As such, he has long been seen as a trailblazing figure.
In response to the question of whether Eisner had created the studio system of producing comics, Jack Kirby biographer Mark Evanier paused, but agreed, "I would argue that." Eisner and Kirby, he said, had reinvented the medium — broken it out of the old panel-a-day rhythm, made it so that comic books were being made, not just tiny strips.

Additional reporting by Kaila Hale-Stern.