When footage of CBS's 1967 coverage of Super Bowl I first emerged from the ashes seven years ago, sports historians reacted with glee. Long considered one of the Holy Grails of sportscasting history, the footage, found on a set of two-inch Quadruplex video tapes in a dusty Pennsylvania attic, provided a rare glimpse at an event once held exclusively in the memories of the nearly 62,000 attendees that January afternoon at the Los Angeles Memorial Coliseum.

What followed was a mixed bag of realized hype and disappointment. The NFL went to great lengths to suppress the tapes, claiming copyright infringement. For the next five years, the league's lawyers successfully kept Troy Haupt, who discovered the tapes, from releasing more than a few seconds of the footage to the media. Then, in 2016, three weeks before the kickoff of Super Bowl 50, the NFL suddenly released its own version of the game, which it had cobbled together from extant film reels and audio taken from an NBC radio broadcast. The NFL's patchwork version of Super Bowl I left broadcast historians feeling cold.
To broadcast historians, what really mattered was what the game had looked like on TV, not what had occurred on the field. CBS, which famously simulcast Super Bowl I with NBC, had sent just 11 cameras and two production trucks to Los Angeles in 1967—a far cry from the 106 cameras and 14 mobile units NBC plans to send this weekend to Minneapolis. Unlike the NFL Films version, the attic tapes promised an authentic representation of what a late-1960s live television crew could accomplish using what then constituted state-of-the-art equipment.
Indeed, the few available clips of the attic tapes (the restored versions of which remain locked away at the Paley Center for Media) seem to corroborate what veteran television engineers have known for years. However modest it may appear to the 21st-century eye, CBS's broadcast of Super Bowl I encapsulated the great technological strides taken during one of the most important eras in sportscasting history.
G/O Media may get a commission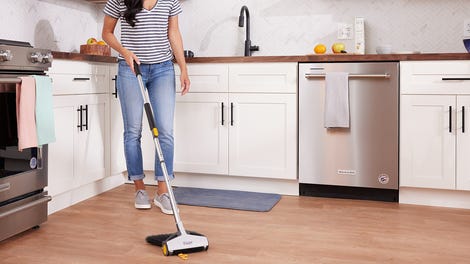 BOGO 50% Off
Flippr - BOGO 50% Off
"Looking at the quality of sports video between the '50s and '60s you can see a major difference," Chuck Pharis, an Emmy-award winning television engineer and 50-year veteran of the industry, told me. Pointing specifically to the development of high-quality and low-weight cameras in the mid-1960s, as well as other innovations like instant replay and longer zoom lenses, sportscasts of this era provided "more interesting coverage and better-quality video" than contemporary viewers had ever seen.
To understand just how far sportscasting had come by the kickoff of Super Bowl I, one must look back to an era when wide-eyed early adopters viewed TV itself as the height of technology.
NBC broadcast the first ever televised football game, a collegiate matchup between Fordham University and Waynesburg College, on September 30th, 1939. Orin Dunlap Jr., a radio beat reporter for the New York Times reported two weeks later that the network had set up two RCA iconoscope cameras for the broadcast: "one all-seeing electric camera perched on the rim of the stadium for a birdseye view and the other for close-ups along the sideline." In a 1990 interview with The Main Event, Jack McPhee, a referee that afternoon, described the latter camera as a "railroad box-car," which operators dollied frantically along the sidelines.

Allen "Skip" Walz, an NBC play-by-play man, described broadcasting with this equipment as "flying blind." Three weeks after the Fordham game, Walz worked the first ever NFL telecast—a game that saw the Brooklyn Dodgers defeat the Philadelphia Eagles 23-14. As he recounted to the Los Angeles Times in 1975, NBC positioned one camera in the box seats at the 40-yard line and another in the mezzanine. He called the action from the latter with "no monitors, no spotters and no visual aids of any kind."
"I'd sit with my chin on the rail of the mezzanine, and the camera was over my shoulder," Walz later said. "I did my own spotting, and when the play moved up and down the field, on punts or kickoffs, I'd point to tell the cameraman what I'd be talking about."
"Back then," Joe Horrigan, executive director of the Pro Football Hall of Fame, told Gizmodo, "these broadcasts amounted to radio broadcasts with picture." The fuzzy black-and-white image often obfuscated action on the field, and a setting sun occasionally blacked out entire fourth quarters. This remained true for decades. Even after RCA's popular TK-40 line introduced color to live broadcasting in the 1950s, cameras remained ponderous and continued to suffer in low-light settings. Just as inconvenient, said Pharis, "tight shots were not available in the '50s unless one could afford a Zoomar [an early zoom lens]." Even then, he adds, "the quality of those lenses was not that good."
It wasn't until 1965, two years before Super Bowl I, that engineers solved these problems. That year, Philips debuted its Norelco Plumbicon (PC) line at the National Association of Broadcasters convention. Featuring a removable 10x zoom lens and a six-inch viewfinder, Norelco's PC-60 proved immediately popular with major broadcasters—particularly CBS. The network soon purchased a fleet of the cameras, which they used for studio recording and sportscasting alike. According to Pharis, these cameras offered a "huge improvement in picture quality," thanks in large part to "better pick-up tubes that could handle lower light levels."
Philips achieved this through lead oxide crystals, which were sensitive to the light taken in by their cameras. According to a report published in the New York Times in 1965, "these crystals, chemically known as PbO, convert the colors of red, blue and green, the primary colors of television, into electronic impulses." The end result was a "pleasing color," which needed "no more lighting than was necessary for black and white pictures."
"Philips was actually looking at a tube for medical imaging, not broadcast," Jay Ballard, a former NBC television engineer, told Gizmodo. "They observed what [General Electric] had done with lead oxide as having an increase in sensitivity, but the target was very unstable. Hats off to [Philips'] chemists for producing a stable target layer."
Just as important, the PC-60 and its successor, the PC-70, were considerably lighter than RCA's models. Prior to Plumbicon technology, color broadcast cameras used Image Orthicon tubes and weighed upwards of 280 pounds, Tom Sprague, co-founder of the Museum of Broadcast Technology, told Gizmodo. "A three Plumbicon color camera with superior low light performance weighed 200 pounds less," he said. "Just imagine the difference in hauling an 80-pound camera to the top of a stadium versus a 280-pound camera!"
This portability, coupled with the PC-60's revolutionary zoom lens, allowed cameramen to shoot tight shots on play formations that still pass the eye-test today. Buoyed even further by CBS's award-winning edge enhancement technology, the Norelco models used in Super Bowl I remained viable for decades. Indeed, Pharis said, "ABC and CBS used these cameras well into the '70s and early '80s."
Not to be outdone, instant replay also made a significant impact on Super Bowl I. Invented (at least in the abstract) by CBS Sports Director Tony Verna in 1963, early instant replay required an enormous 1,200-pound video tape machine. Two years later, the network commissioned a much smaller unit from the Palo-Alto based MVR Corporation. At 40 pounds, this machine, which looked like a classic turntable, captured up to 20 seconds of video on magnetic aluminum discs. Engineers connected the MVR device directly to TV signals and pressed a "Freeze" button to stop action before important plays. Users then held this frame for as long as desired before hitting a "Play" button when cued from a production truck.
Instant replay technology took further strides in 1967, after ABC commissioned Ampex, another California-based electronics company, to create an alternative to the MVR unit. This device added slow-motion utility, thanks to motor-driven recording heads, which allowed users to control playback rates.
By Super Bowl I, this technology was finally ready for primetime—though, according to Horrigan, not everyone was initially sold on it. "Instead of taking you into the future, [instant replay] took you back to the past," he said. Though modern viewers see instant replay as essential, a genuine fear existed among the era's producers that viewers would think, "Hey, we've already seen that, we don't need to see it again."
Broadcast engineers also worried replay might confuse uninitiated viewers. Per reports from those who have seen the tapes of Super Bowl I, CBS helped viewers discern between replay and live footage by clearly marking each replay segment with the words "Video Tape."
All told, these innovations helped empower a resoundingly successful experiment in live broadcasting. Nearly 52 million people tuned in to Super Bowl I. Emboldened by these numbers, CBS purchased exclusive broadcast rights to Super Bowl II, at which time they ratcheted up their coverage with several improvements to the technology described above. According to a January 13th, 1968 report in the New York Times, CBS positioned 12 cameras at the event, "including one in the Goodyear blimp." They also employed four "video-tape machines" for "isolated replays and highlights," as well as new magnetic disc recorders capable of presenting slow-motion instant replay in color.
As subsequent Super Bowls began to alternate between NBC and CBS, technological progress soon became one of several fronts in a war of networks. This catalyzed an incremental-turned-exponential boom, which eventually saw the game transform into sportscasting's version of the Consumer Electronic Show. This escalation, initiated in the very first Super Bowl, served as one of several key agents that forever linked the NFL to innovative television.
"Within four Super Bowls," Horrigan said, the NFL and television "were joined at the hip. We did not realize it at the time, but Super Bowl I not only set the tone for the marriage between the two entities, but also for the ability of the NFL to profit financially from it."