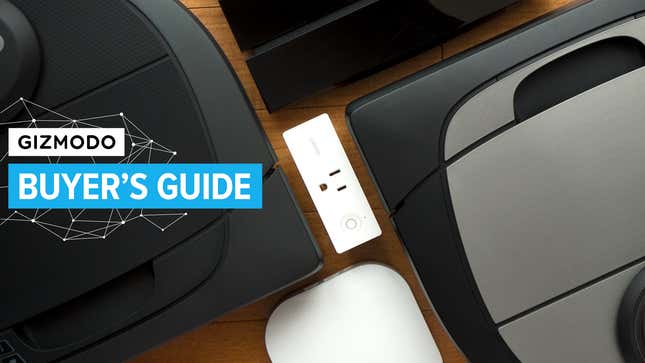 Smart home gadgets have become much better in recent years due to better wifi connectivity, energy efficiency, and even cross-compatibility. Simply put: More devices now know how to play nice with one another, so it's easier than ever to adopt and configure your very own smart home.
Hey Google, Where Did My Watch's Battery Life Go?
But where to start? First, you need an ample home wifi solution to facilitate connecting all that smart stuff to your network and an assistant that can run your commands. Then, add on accessories from our list of some of the best smart home gadgets on the market today.
What to look for: The Matter standard helps a lot as it simplified people's buying experience with a simple logo. The symbol is akin to indicating whether a gadget is compatible with the Google Assistant or Apple's HomeKit, and will become important for purchasing smart devices. The Matter symbol started showing up on smart home products during the 2021 holiday season and has continued to show up on products throughout 2022. Keep an eye out for the Matter logo, which looks like three not so bent arrows or three T's forming a triangle.
---
The Best Whole Home WiFi Solution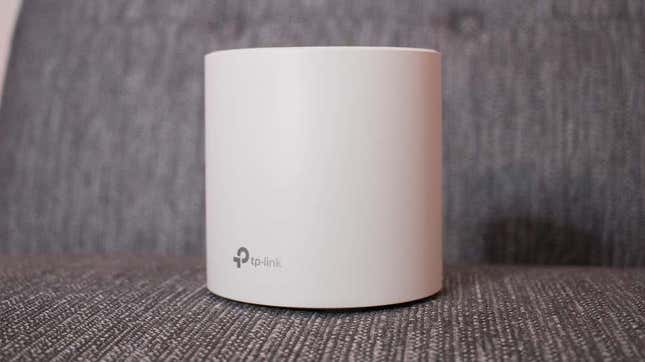 Who Are You?
Your gadget-packed smart home is hopelessly dependent on a solid wifi network. But with multiple floors and so many rooms, there's too much interference single wireless router to provide adequate coverage for every last device.
Our Pick: TP-Link Deco X20 ($250)
WiFi 6 compatibility is becoming more of a consideration as more capable laptops and smartphones arrive, and it's a good idea to start considering a mesh router that can accommodate it. The dual-band TP-Link Deco X20 will give you consistent WiFi 6 connectivity throughout your household, with maximum speeds fast enough to deliver consistent bandwidth to all of your connected devices. It comes in a pack of three, and each node has an extra ethernet port for those smart home devices you want to hardline. It also comes with some handy extras, like a lifetime subscription to TP-Link HomeCare, which includes parental controls and anti-virus, as well as WPA3 encryption.
Also Consider
The $450 Asus ZenWiFi AX6600 (XT8) is the next best choice for its maximum throughput and ability to cover up to 5,500 square feet. The tri-band router comes in a two-pack with two 2.5 Gigabit Ethernet ports per unit, plus one USB 3.1 port for hardwiring a hard drive or printer to the network.
---
The Best Smart Speaker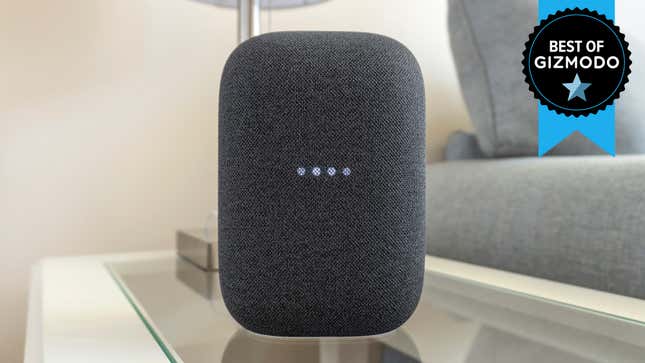 Who Are You?
You've come to grips with the fact that virtual assistants will eventually be everywhere, and you're ready to welcome one into your home. You'd rather not have to reach for your phone every time you want to know the weather or check how your favorite team is doing, and you like the idea of being able to control all of your smart devices with a quick voice command. And while you're at it, you might as well get a smart speaker that actually sounds good.
While the Nest Audio is more expensive than the Nest Mini, the combination of the Google Assistant and truly excellent sound quality make it an easy pick as the best smart speaker on the market. The Nest Audio sounds clear and crisp while still delivering powerful (but not overbearing bass), it works with almost every major streaming music service, and it's available in a range of stylish colors including chalk, charcoal, sage, sand, and sky. Additionally, if you have two Nest Audios, you can sync them to create a stereo pair to fill every corner of your room with beautifully balanced tunes. And hey, if you're not quite so concerned about audio quality, you can still get the Nest Mini for just $50.
Also Consider
Amazon released its Alexa smart assistant before Google's, so if you've already been using Alexa for years and are fully entrenched in Amazon's online ecosystem, the $50 fourth-generation Echo Dot is the way to go. The latest generation of the product improves the appearance and sound of the Echo Dot, and it can be paired to a larger speaker for stereo sound with added bass. Alexa isn't quite as capable as Google Assistant—you'll find yourself having to pop into the mobile app to change certain settings—but it's still light years beyond what Apple's Siri can do.
---
The Best Robotic Vacuum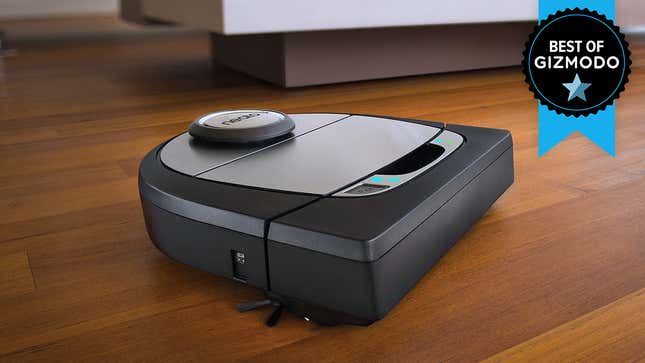 Who Are You?
You like to keep your home neat and tidy, but you don't always have the time to go over all of your floors with a manual vacuum. You also don't want to pay for a housekeeper, but you don't mind splurging a little to eliminate one weekly chore from your to-do list.
Our Pick: Neato Botvac D7 Connected ($600)
Neato might not be the first name that comes to mind when you think of robotic vacuum cleaners, but the company's Botvac D7 packs some of the most advanced navigation technology of any autonomous cleaner on the market. Using lasers, it creates a detailed map of every room in your home, and through a free accompanying mobile app, you can draw virtual "no-go" lines to prevent the vacuum from wandering into areas that aren't ready for cleaning just yet. (Think a messy bedroom.) You can also name specific rooms and areas in your home, and Neato has promised smart assistant functionality one day, allowing you to simply tell the vacuum to go and clean the kitchen.
Also Consider
If you're especially lazy, iRobot's Roomba i7+ is the first robotic vacuum that can actually empty itself when full, which is useful given how small the dirt bins are on these tiny autonomous cleaners. At $950, you're going to pay a little more for that convenience, which requires an elaborate dock that sucks dirt and debris out of the robovac when it's parked, but you also get iRobot's smartest robot to date, with room mapping, scheduling, and the ability to limit the vacuum's cleaning routines to just a specific area using a mobile app.
---
The Best Smart Home Hub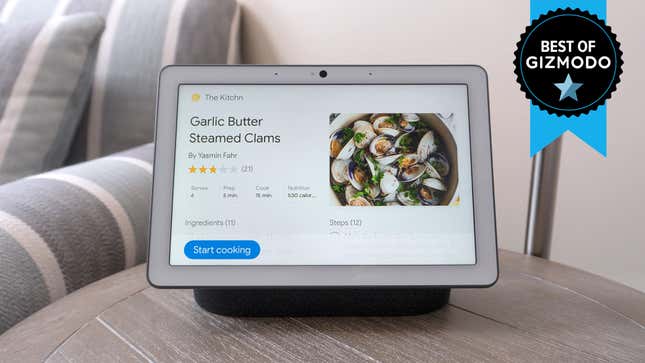 Who Are You?
You are a fan of the home of the future, and you'd rather shout out a command to turn on the lights than walk over to a switch on the wall. You also like the idea of a home "portal" to which you can walk over to check the time and weather, broadcast a message throughout the house, and ask for a recipe to make your own Italian dressing.
If you've decided to stomach all of your privacy concerns and jump into a digital assistant-powered smart home with both feet, Google's $229 Nest Hub Max is a solid update for the common areas where most of the socialization takes place. It's $100 more than the smaller, 7-inch Google Nest Hub, which adds a sleep-tracking feature that seems designed for a bedroom speaker.
The extra investment in the Nest Hub Max gets you a larger 10-inch screen, which makes recipes easier to follow from afar, a better speaker, and a front-facing camera that can automatically track, pan, and zoom in on you during video calls—although it does require everyone on the call to use Google Duo. If you've been squirreling away photos for years on Google Photos but rarely go back and look at them, the Nest Hub Max is also one of the best digital photo frames out there, letting you enjoy slideshows like it was 2010 again.
Also Consider
You might want to opt for the second-generation Echo Show 8, which has an 8-inch touchscreen, a front-facing camera that doubles as a security camera, better speakers, and native support for smart home gadgets. If the 8-inch display is too small for you, there's also the 10.1-inch Echo Show 10 with its follow-you-around-the-room display for "active" video chatting.
---
The Best Smart Lock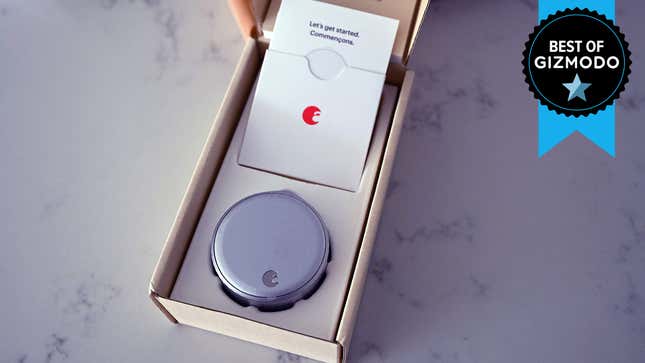 Who Are You?
If you've ever wanted to automate part of your house but don't want to deal with hubs or a lot of messy setups, a smart lock is a great way to add convenience and security to your home without a ton of fuss.
After upgrading your home with smart lights, a smart lock is one of simplest and easiest house additions you can make. August's Wi-Fi Smart Lock is our current favorite, because the lock attaches to the back of almost any deadbolt and can be removed just as easily, making it good for both renters and homeowners alike. On top of that, August's latest smart lock has wifi built in, so you don't have to shell out for an extra bridge to connect the lock to the rest of your home network like you did with previous models. The lock can also be set to automatically lock itself after anyone opens the door, and you can send out time-sensitive invites to guests, like dog walkers or repair personnel. And because the outside of your deadbolt is unchanged, if your wifi network goes down or something else goes wrong, you can still use a physical key to get in.
The only minor downside is that on certain Android phones, the auto-unlock feature can take a bit longer to work than ideal, but considering competitors like the Next x Yale lock doesn't even have an auto-unlock feature, it's hard to complain too much.
Note: We're in the process of comparing several models of new and been-around-for-awhile smart locks, including another pick from August that's geared toward renters, plus models from Yale, Schlage, and Lockly. Stay tuned for upgraded picks.
---
The Best Smart Plug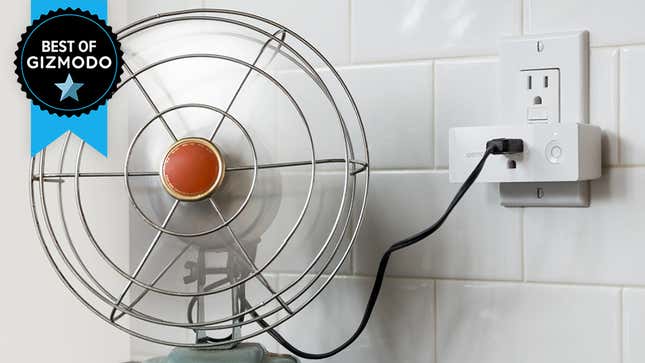 Who Are You?
If you've ever held your TV remote and wondered why every single device in your home can't be controlled remotely, then a smart plug is for you. Or if you've wondered what all the smart home buzz is about, a smart plug is an easy and cheap way to get started.
Our Pick: Belkin Wemo Mini Smart Plug ($30)
First introduced over six years ago, Belkin's Wemo was one of the first robust smart home systems to hit the market, and it's since been refined to the point where it's now one of the easiest and cheapest ways to make your home smart. The $30 Wemo Mini Smart Plug sits between an outlet in your home (without blocking others) and almost any device or appliance that plugs in for power. It connects to your home's wifi network (without the need for a separate hub) and through an iOS or Android app lets you remotely control or schedule when something turns on or off. It's also compatible with all of the popular smart home assistants, so you can easily make lights, fans, or random appliances voice-command compatible.
Also Consider
TP-Link's Kasa lineup includes a variety of easy-to-use smart plugs. It can make almost any "dumb" appliance smart without the need for an extra hub or finicky installation process. You'll need the Kasa app to control it, but it works with Alexa and Google Assistant once it's all configured.
---
The Best Smart Lighting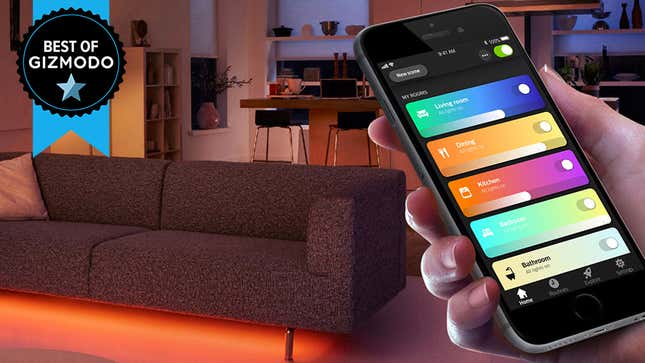 Who Are You?
You're away from home a lot, but don't necessarily want your home to look like it's empty. And when you're not traveling, you want your home to be an oasis of relaxation with soft mood lighting that can be endlessly adjusted without ever having to get off the couch.
Our Pick: Philips Hue ($70 - $350)
The first smart home product that was more helpful than hassle, the Philips Hue lighting system has been around since 2012, and over the years has expanded to include almost every type of light bulb and fixture any modern decor could require. Using a mobile app, the bulbs can be remotely activated, dimmed, scheduled, triggered by a motion sensor, tinted, and even connected to a voice-activated smart assistant like Amazon's Alexa or Google Assistant. They're not natively wi-fi, however, so you'll need a hub if you want to give all the lighting in your home a smart upgrade. We recommend starting with the $70 E26 Hue White Starter kit which includes the hub and two white-only bulbs, and then expanding from there.
Also Consider
If you want a more streamlined smart lighting solution that's easier to set up and install without a hub or a bridge, Philips now offers a Bluetooth version of its smart bulbs that start at $15 for a soft white version. They connect directly to a special version of Philips' Hue app and don't offer quite as many features as our official smart lighting pick (like timers or compatibility with other accessories such as motion sensors) but the bulbs also work with Philips' Hue Bridge if you decide to further upgrade your home's smart lighting.
Note: We're in the process of comparing the C by GE lighting lineup, TP-Link's Kasa bulbs, Wyze's affordable lineup, and LIFX's expansive offerings to figure out which one is brighter, which one has the best app, and which ecosystem will cost you the least.
---
The Best Smart Security Camera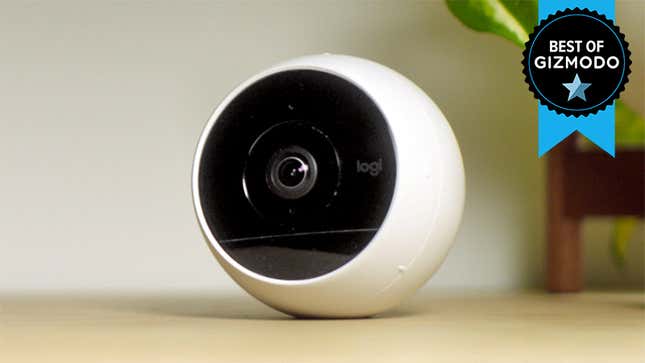 Who Are You?
You're a little uneasy heading to work every morning given your sprawling gadget collection, and you'd like to be able to keep an eye on your home while you're away. You might also have a new addition to your family, but can't bring yourself to spend hundreds of dollars on a dedicated baby cam that looks like a baby's toy.
What sets most smart home security cameras apart isn't the wide field-of-view of their lenses, or the resolution of their sensors; it's the software they all rely on for actually monitoring your home. The Logitech Circle 2 is one of the easiest to set up, and through the mobile app and an online service, with a simple tap you can get a condensed timelapse review of everything the camera saw throughout a 24-hour period—without a monthly fee. It's also waterproof, shoots in the dark, starts at $180 if you're OK with it being tethered to a power cord, and offers basic image detection features like recognizing human beings (but not individual faces) or focusing its motion detection on a specific area of its expansive 180-degree view of a room.
Note: We'll soon be separating out this category into outdoor and indoor cameras since they're intended for surveilling slightly different situations. There have also been new entrants into the market, including Eufy and Blue by ADT. We'll be pitting them against the cream of the crop, namely Nest, Ring, and Netgear's Arlo.
---
The Best Connected Home Gym Machine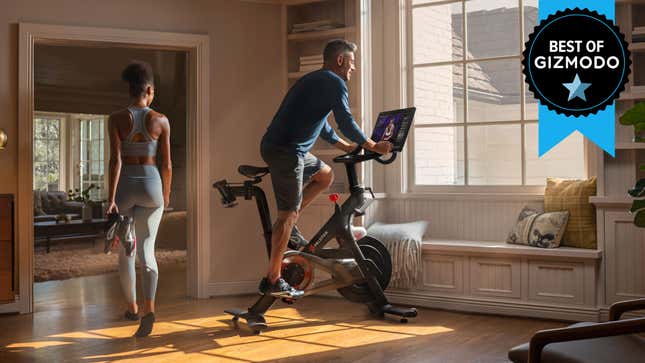 Who Are You?
If you've got a bit of extra room in your home and are looking for a machine to help you stay in shape so you can avoid paying for a gym membership, a good smart home fitness machine could be exactly what you need.
Our Pick: Peloton Bike+ ($2,245) 
There's no cheap way to do "connected" at-home fitness—especially if you want a machine with a nice screen that comes with support for things like heart rate monitoring. Bigger pieces of equipment, like stationary bikes or weight-lifting machines, will set you back thousands—plus, you'll probably have to pay for a monthly subscription on top of that. But for the space, cash, and platform, the original $2,495 Peloton Bike+ is an excellent choice, with motivating instructors in live and on-demand classes and a design that doesn't take up too much space.
Also Consider
The $1,895 basic Peloton Bike is also solid, though the upgraded Bike+ has features like a rotating display, Apple Watch integration, and auto-follow resistance. If cycling really isn't your thing, the $1,495 Mirror gets you a wide range of classes like boxing, yoga, and cardio—just make sure your wifi can handle the streaming. Also worth considering is FightCamp, a $1,220 boxing platform that comes with a punching bag, gloves, and wrist wrap sensors that can accurately track punches, and Hydrow, a connected rowing machine that'll cost you $2,245 but is essentially a Peloton for rowing.
---
How has this list changed? Read back through our update history:
5/1/2019: Replaced the Eero with the Netgear Orbi RBK50 as our choice for the best whole home wifi solution, and replaced the Linksys' Velop AC2600 with Google Wifi for our "Also consider" choice.
8/28/2019: Replaced the Sylvania Smart+ LED A19 soft white light bulbs with the Philips Hue Bluetooth bulbs for our best smart lighting "Also consider" choice.
11/13/2019: Replaced Google Wifi with Google Nest Wifi for our best whole home wifi solution "Also consider" choice. Replaced Google Home Mini with the Google Nest Mini as the best smart assistant choice. Replaced the Google Home Hub with the Google Nest Hub Max for best smart home hub.
07/06/2020: Picked a best smart lock—August's Wi-Fi Smart Lock—and the best smart home gym equipment, Peloton's bike.
11/4/2020: Renamed the Best Smart Assistant section the Best Smart Speaker as they're generally the same thing. Also replaced the Google Nest Mini with the Nest Audio. Plus, as Lighthouse is no longer in business we removed it from the best security camera section. We'll have a new secondary recommendation soon.
7/9/2021: Updated the buying forecast to note that the Matter standard will soon standardize many big-name smart home products so they're compatible with each other. Updated the Best Whole Home Wifi Solution section to reflect WiFi 6-capable mesh routers and the Best Smart Home Hub to include the second-generation Echo Show 8 as another pick. Also, updated the Best Smart Plug to include TP-Link's trustworthy Kasa smart plugs. And changed the Best Connected Home Gym Machine pick from Peloton's Bike to its upgraded Bike+, with nods to FightCamp and Hydrow for non-cyclers.
Gizmodo staffers Sam Rutherford, Victoria Song, and Caitlin McGarry contributed to this guide.