iPhone 3.0 has landed, and the first apps with the new features are squirming their way through the App Store's clenching gates of approval. How are they? Well, for starters, they all look awfully familiar.

Deadly Mississippi Tornado Kills More Than 2 Dozen | Extreme Earth
Given that the firmware update has only been live for two days now, the vast majority of 3.0-utilizing downloads are just refreshes of older apps. In fact, you can expect that the be the case for a while; iPhone 3.0's new features are nice, but most of them aren't the kind of thing you'd build an entire app around. So, here are the best of the updates:
G/O Media may get a commission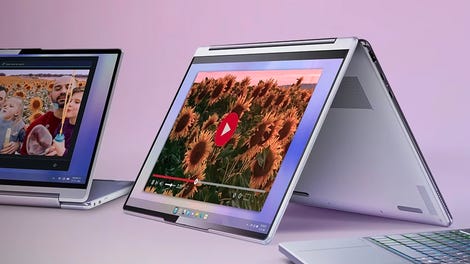 up to 70% off
Lenovo Spring Clearance
Leaf Trombone: World Stage: Apple demoed this thing way back in March, but that was pre-3.0, and most importantly for this App, pre-multiplayer. That's the big update here: iPhone faux-trombone duets which can be played over Bluetooth. The "World Stage" aspect of World Stage is still intact, putting your performances in front of an anonymous audience for cheering and heckling, though it's been padded out with some fluffy notification integration. It's a buck, accompanied by a solid free version.

Textfree: Intended as a text message client replacement, this is one of the first mischievous uses I've seen for the iPhone's push notifications. The app itself has been around for a while, but needed to forward texts to your email address in lieu of proper backgrounding/notifications. Now, it works all the time. It's free for 15 texts a day, six dollars for unlimited.

Flick Fishing: Despite sounding like the king of all junk apps, Flick fishing isn't so bad, if you're a fan of fish, nature or accelerometers. With 3.0, it gets multiplayer and some in-app purchases. Completely bewildering fact: this is one of the top 10 most downloaded apps ever. What the hell, people?

Twittelator: There's some smart 3.0 leveraging going on here, with an inbuilt media/web browser, wide video and audio support to complement the new voice recorder and the 3GS's camcorder function, a Tweeter-tracking map feature, and a few more. No push though! Five bucks is a tough sell next to the free Tweetdeck, although previous users upgrade at no cost. Also, guys: What happened to your free version?

AP Mobile: Another early app gets a refresh: this one seems hell-bent on testing the practical limits of push notifications. It says it'll only send "Breaking News" alerts, though I'm not sure what stories qualify. I'm guessing it'll take some fine-tuning, or else it could lead the way towards Push Alert Fatigue Syndrome, which I'm pretty sure we'll be writing about in a week or so. Free.

Bomberman 2: Volcano Party: The price reduction from the first version is enough to recommend this one, and the 3.0 features—mostly (synchronous!) Bluetooth multiplayer—are a huge bonus. As with most of the real-time multiplayer games, there's no 3G support for latency and networking reasons. Three dollars.

Evernote: The free, does-it-all notes app now taps into 3.0's Google Maps API, and organizes notes by location. Sound recording now much better, if a little redundant, and a raft of other features—mostly interface improvements—abound.

This Week's App News on Giz:
• First iPhone App with In-App Purchasing: $1 App, $10 Per Month
• Sirius/XM iPhone App Is Now Live (Also)
• MLB Streaming Full Live Games to iPhone Over 3G, Starting Tomorrow
• TweetDeck for iPhone Lightning Review
• Ngmoco's Xbox Live-esque iPhone Service Set to Launch Tomorrow
• 94 God-Awful iPhone Apps Designed in MS Paint
• iPhone 3.0 Features Slightly Clueless "Objectionable Content" Warnings
This list is in no way definitive. If you've spotted a great app that hit the store this week, give us a heads up or, better yet, your firsthand impressions in the comments. And for even more apps: see our previous weekly roundups here, and check out our Favorite iPhone Apps Directory and our original iPhone App Review Marathon. Have a good weekend everybody.