This week in the App store, things got a little deep: We discovered haunting new sounds, created fine art, psychoanalyzed our friends, read great literature, experimented with prescription drugs, and even reconnected with an estranged child. Your turn!
Layers: Layers is a Sketches-style drawing app, except with, well, layers. That might seem a little excessive for a fingerpainting app, but for serious iPhone art—which is a thing, by the way—five layers and the ability to export in PSD format is invaluable. Five dollars.

G/O Media may get a commission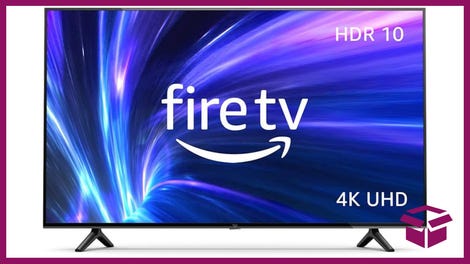 42% Off
Amazon Fire TV 50" 4K Smart TV
Barnes and Noble eReader: Barnes and Noble's eBook+eReader megannouncement mentioned that their fancy new eBook store would be supported on the iPhone, and this is what they were talking about. The app is a readily customizable e-reader with integration for B&N's store, which seems large and cheap enough, though I haven't had much time to dive into it. The app worked fine for me, but quite a few folks are reporting glitches in this early build—some quite serious. Free, until you want some decent books.

iConcertCal: Another ultra-obvious iPhone 3.0 app that we just weren't allowed to have until now, iConcertCal scans your music library to produce a list of concert dates for all your favorite artists. The $3 price would be excessive if the app weren't as good as it is, but the inbuilt ticket purchasing, venue mapping and iTunes integration are thoughtful and, well, they work.

PhonyPhone: Babies love iPhones, for a lot of the same silly reasons adults do. So if you're prepared to take on the risk of handing over a fragile, multi-hundred-dollar gadget to a being that hasn't even figured out how to stop soiling itself yet, you may as well go for it. For a buck, PhonyPhone will give babies a colorful fake phone interface to play around with, which will speak numbers at them, play a song, and most importantly, keep your precious, dial-happy bundle from spitting up, long-distance, in your boss's ear. I feel like there could be a little more functionality packed in here—more noises, more songs, more to play with, basically—but then again, I'm not a baby.

Rorschach: I'm a sucker for games like Rorschach, which drive you to become a moralistic, bloodthirsty vigilante bring a pass-around-the-phone element into their gameplay. (Human interaction is pretty OK! Who knew!) The concept is simple enough—you and your friends guess each others answers to simple questions about various ink blots—and it has a familial, board-game-like draw to it. Great road trip fodder, to be sure. Two dollars.

Ghostly Discovery: There are two reasons to download this app, both pretty convincing. First is the music selection, drawing from the Ghostly label's eclectic stable of artists (if you like them, you'll have heard the name). Broadly, though, it's a cool take on music recommendation, which take into account parameter like how "organic" or "digital" music is, or what color "mood" you're in (don't worry, there's a guide). Actually, there are three reasons: It's freeee.

Medscape: Are you a doctor? Probably not. But if you are a doctor, or a med student, or an industry journalist, or a pharma-follower, or you're just deep, deep into multiple pill addictions, WebMD has an app for you! Medscape keeps you from mixing your barbiturates with your muscles relaxants, and provides all kinds of pharmaceutical information, keeps you apprised of the latest medical news, offers free mini-lessons to keep doctors sharp (CMEs they're called, for Continuing Medical Education), and most usefully to nonprofessionals, provides access to a massive directory of hospitals, physicians and pharmacies. And like pretty much nothing in healthcare, the app is free of charge.

This Week's App News On Giz:
• Google Latitude for iPhone Is a Lame Web App Because Apple Thinks We're Easily Confused
• Kensington Nightstand Dock Converts iPhone Into Retro Alarm Clock
• Half-Amazing, Half-Terrifying Concept App Combines Facial Recognition with Augmented Reality
• The App Store Is Just Like the Civil Rights Movement, and Other Lessons We Can Learn From iFart
• Navigon MobileNavigator for North America Hits the App Store, $70 For Now
• Don't Expect a Huge Increase in Complexity Of iPhone Apps Any Time Soon
• Sports Illustrated Swimsuit App Is as Close As You'll Get to an Official iPhone Porn App
• David Bowie Space Oddity iPhone App Lets You Remix the Thin White Duke Anywhere
• Public Radio iPhone App Adds On-Demand Content, Accidentally Kills FM Radio
• Augmented Reality iPhone App Helps You Find Your Mommy
• iPhone Icon Paperclips Appify Your Office Supplies
• Universal Hopes You'll Actually Watch Blu-ray Special Features If They're iPhone Apps
• Need Medicinal Cannabis? There's an App For That
This list is in no way definitive. If you've spotted a great app that hit the store this week, give us a heads up or, better yet, your firsthand impressions in the comments. And for even more apps: see our previous weekly roundups here, and check out our Favorite iPhone Apps Directory and our original iPhone App Review Marathon. Have a good weekend everybody.