All those apps at WWDC were pretty cool, right? Of course, they'll be a lot cooler when they actually come out. Get your head out of clouds, and into some of this week's iPhone apps.

Is AI Moving Too Fast? | Future Tech
KCRW Radio: It's no secret that we love KCRW, but it seems to have been pulled from the free AOL Radio app and shoved inside an official, dedicated app, which costs a whole dollar. I'm letting this one slide because they're a public radio station, and because the app—with on-demand shows and multiple streams—is way better.

G/O Media may get a commission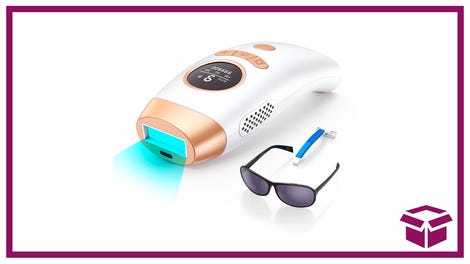 58% Off + Coupon
IPL Hair Removal Device
Brain Exercise with Dr. Kawashima: Yep, that's the same guy behind all those Brain Age games for DS, which this iPhone app closely resembles. I'm not gonna lie, I miss the stylus-based exercises. But the finger-friendly tasks are worthy of the series, in that they make my head hurt. Six bucks.

Star Defense: You know those tower defense games where you stop endless waves of monsters/dudes/robots from passing across a map? This is that, in 3D. As in, on a sphere. As we saw at WWDC it looks lush, and it's one of those rare games that really, truly works with a touchscreen. Seven dollars and a safe buy if you're a fan of CREEPING DOOM.

bChamp: This one's a little weird. bChamp parses your beatboxing, and plays it back to you as sampled beatboxing, in theory making you into a better mouth-percussionist. I had limited luck getting my beats to register, and the test iPhone (not mine!) ended up covered in spit. Also an issue: beatboxing is dumb. $1. (via Techcrunch)

Get Home: This app figures out where you are and tells you the best way to get home. It'll give walking directions, figure out a bus route, call a cab or ring a friend. It's got huge, colorful buttons. IT IS CLEARLY FOR DRUNK PEOPLE. Be honest about what your app is for, Little Pixels. Two dollars.

This Week's App News on Giz:
• Apple's WWDC iPhone App Wall Gets the Full Photosynth Treatment
• Doom Resurrection for iPhone Due Next Week; Here's the Trailer
• Star Radio Communicator iPhone App is NOT AT ALL Like Anything from Star Trek
• Ngmoco Won't Be Making iPhone-3GS-Exclusive Games
• Apple's iDisk iPhone App Lets MobileMe Users View and Send Documents, Videos, and More
• Is Napster Making an iPhone App?
• Apple's Huge, Throbbing Wall of iPhone Apps
• WWDC 2009 iPhone 3.0 App Roundup
This list is in no way definitive. If you've spotted a great app that hit the store this week, give us a heads up or, better yet, your firsthand impressions in the comments. And for even more apps: see our previous weekly roundups here, and check out our Favorite iPhone Apps Directory and our original iPhone App Review Marathon. Have a good weekend everybody.