Poor Wonder Woman. Her television show got scrapped without even airing one episode, and her movie's been in development hell since the early 1990s. Batman and Superman both get big-screen reboots, but Diana Prince can't even get booted up for the first time.
It's not for lack of trying. Many attempts have been made to adapt Wonder Woman to other media over the years, besides her successful 1970s TV show. Everybody tried to reinvent Wonder Woman, from the creator of Lois and Clark to the inventors of She-Ra. Here's the complete history of failed Wonder Woman adaptations.
---
The 1950s
Wonder Woman first appeared in comics in 1941, and there were attempts as early as the 1950s to get Hollywood to create a live-action Wonder Woman serial, according to The Superhero Book by Gina Renée Misiroglu. But the tide was probably against Diana Prince — in the 1950s, anti-comic crusader Fredric Wertham accused Wonder Woman of being a lesbian with a "a sadistic hatred of all men." Plus people sort of noticed how full of weirdly sexy bondage her comics were in the early days, something creator William Moulton Marston admitted to openly.
Also, after World War II, Wonder Woman was retooled in the comics to make her less of a war hero and more of a traditional woman — she worked as a fashion model, movie star, and a "lonely hearts" columnist in the newspaper, according to the book Female Action Heroes by Gladys L. Knight. She spent more time on romance, and less time fighting bad guys — and at one point, she actually married a monster. So Hollywood producers may well have looked at the 1950s comics and seen less potential for a live-action adaptation — until the popularity of Emma Peel and other similar heroines changed their minds in the 1960s.
---
The 1960s
G/O Media may get a commission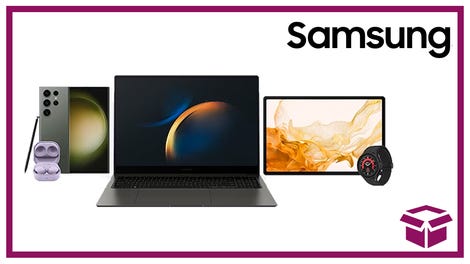 24 hour deals
Discover Samsung - Daily Deal
In 1966, the first Wonder Woman story appeared outside of the comics: an audio story, released on a seven-inch single. And it was apparently atrocious, judging from the description in Wonder Woman: The Complete History by Les Daniels. Side one is basically taken up with a "groovy" theme song featuring copious electric guitar and organ, with the lyrics:
Wonder Woman, Wonder Woman, Wonder Woman, Wonder Woman,
How I wonder 'bout the wonder,
The wonder, the wonder, the wonder,
Of you.
Side two introduces a brand new villain named Brunhilde, who mostly fights Steve Trevor — Wonder Woman barely appears at all.
And then in 1966 or 1967, depending on which source you consult, the first abortive pilot was filmed for a show called Who's Afraid of Diana Prince?. William Dozier (Executive producer for Batman, The Green Hornet) wanted to do a "campy series," but never got past the pitching stage. Dozier apparently made a four-minute short film to show Warner Bros., starring Ellie Wood Walker as a plain woman who, when she looks into the mirror, sees Wonder Woman — and the implication is that she's delusional. Not exactly promising stuff.
In 1969, Wonder Woman sort of shows up in Midnight Cowboy, the only X-rated movie to win an Oscar for Best Picture. At one point, a little girl covers her face with an issue of the Wonder Woman comic.
---
The 1970s
In 1972, Wonder Woman made her first broadcast, and first animated appearance, as a guest on The Brady Kids, a cartoon spinoff of The Brady Bunch. In the episode, the Bradys time travel to ancient Greece, win the Olympic Games, and qualify for the Marathon. Wonder Woman tells them they must disqualify themselves to avoid changing history.
And then starting in 1973, Wonder Woman was a founding member of the Super Friends in the animated series of the same name.
And then in 1974 came Wonder Woman's first live-action appearance on actual TV. The made-for-TV movie featuresCathy Lee Crosby starring as a blonde Wonder Woman who wears a costume that deviated from the comics. Plus she has no special powers, and doesn't keep her identity very secret. She helps government agent Steve Trevor to pursue villain Abner Smith — who, as MinervaAlpaca points out in the comments, is played by Ricardo Montalban... aka Khan! The pilot aired twice that year, and then ABC chose not to make a full-blown show using that pilot, and the studio said updating Wonder Woman was a mistake. And apparently, this is the version that Angela Bowie auditioned for, but lost out on because she wouldn't wear a bra.
In 1975, Wonder Woman appeared in more audio adventures, including "The Return of Brunhilde," "The Amazons from Space," "The Secret of the Magic Tiara" and "Wonder Woman Versus the War-God" At left, listen to "Prisoner of Christmas Island," which was released as a standalone record as well as an LP with Superman and Batman stories.
Wonder Woman's actual live-action TV series aired from 1975-1977, and it's easy to forget just how much the show's concept kept changing over that time. The show went from a World War II setting in its first season to a present-day United States setting in the second season, to a more teen-friendly disco-tinged revamp in the third season — and finally, a fourth revamp in the last episodes of season three, where Diana moves to L.A. and gets a whole new supporting cast. Sadly, all of these endless reinventions didn't help the show survive for a fourth season.
---
The 1980s
There was an entire episode of the Muppets in 1980, dedicated to Wonder Woman, and Lynda Carter appeared on the show. Miss Piggy dresses up as "Wonder Pig," and all the Muppets have superhero-related skits.
In 1982, Fischer Price released a new Wonder Woman storybook and tape, "Cheetah on the Prowl," featuring art by Ross Andru and others. And some obliging soul has turned it into a kind of motion comic on Youtube, which you can watch at left.
And in 1988, Wonder Woman was a guest on CBS' animated Superman series. Watch at left.
---
1990s
Throughout the 1990s and 2000s, Warner Bros. was working on a big budget live-action Wonder Woman film, with seven or more scripts in the hopper. Jennifer Aniston and others were supposedly in the running for the lead. Sandra Bullock was "locked" to the part, but she left the project because she didn't want to wear the costume. (Even though Lynda Carter said Bullock would make a "great" Wonder Woman.) Ivan Reitman was set to direct as of 1996, but he eventually left.
In 1991, a reporter dresses up as Wonder Woman in a Filipino, fanmade Batman comedy called Alyas Batman en Robin. (See clips, not featuring Wonder Woman, here.)
In 1993, Mattel wanted to make a toy line starring Wonder Woman, so they started making storyboards for an animated tie-in called "Wonder Woman and the Star Riders." No pilot was ever made because they decided not to do the Wonder Woman toys. They did, however, manage to get a cereal box comic out to the public.
In the cartoon, the Star Riders are four girls who can control nature, and they work with a young Wonder Woman save the world. (The other girls are Dolphin, Ice, Solara, and Starlily.) They go to the Starlight Castle on winged horses and receive costumes, names, different hair, etc. from the disembodied voice, Starlight. With Wonder Woman leading the way, they have to stop Purrsia from stealing all of the Star Jewels protecting the earth. The girls have to balance fitting in as regular teenagers with battling Purrsia.
The heroines were billed as "sparkling super heroes," and in the same breath, they were described as being "designed to challenge the gender stereotypes prevalent even in today's toy marketing."
In 1997, NBC tried to launch a live-action series with Deborah Joy Levine (Lois & Clark: The New Adventures of Superman). Diana would have been a Greek history professor at UCLA. A casting call was issued, but they couldn't find an actor who could live up to Lynda Carter's portrayal. In an interview at the time, Levine said her Wonder Woman would have "a hard time juggling her personal life with her work. It's like, 'I'll save the world, come home, pop a Lean Cuisine in the oven, and watch the soap I taped this afternoon.' In many ways, she's like a real woman, a real person." Of the fighting aspect, Levine said, "I think this is not a show that's totally about her fighting bad guys, and certainly not, as it was in the comic books, where she has to fight monsters. No monsters here."
---
The 2000s
In 2001, Wonder Woman became a member of the Justice League in the first of several animated Justice League series. She also turned up in Justice League Unlimited, where she didn't want to hear people's opinions about her costume.
In 2004, fans decided that if Warner Bros. wasn't going to greenlight a live-action Wonder Woman film, they would take matters into their own hands. The fan film was called Wonder Woman: Battle for Justice. They also made a sequel in 2006, called Wonder Woman: Balance of Power.
In 2005, Joss Whedon was hired to direct a live-action Wonder Woman film, but ended up bailing off the project in a couple of years. Later, he told Entertainment Weekly:
I in no way want this to be a slam on Warner Bros., but the fact of the matter is, it was a waste of my time. We [never] wanted to make the same movie; none of us knew that." He was also having trouble writing the film after coming off of Serenity, and Warner and producer Joel Silver weren't being very helpful in clarifying what they wanted…other than something that wasn't what he'd written.
Also, Warner Bros. purchased a World War II-set spec script, written by Matthew Jennison and Brett Strickland. Silver said they bought the script just because it had good ideas, and they "didn't want it floating around." But he didn't actually intend to make Wonder Woman a period piece.
And then around 2007, Warner Bros. hired Kieran and Michele Mulroney to script a live-action Justice League film, including Megan Gale as Diana Prince/Wonder Woman. George Miller was set to direct, and Barrie Osborne would have produced. The project was put on hiatus in April 2008. There were rumors that Warner Bros. would make four solo films reintroducing the main members of the Justice League before teaming them up, similar to the way Marvel handled the Avengers. Miller left the project in December 2008, and in 2010, it was cancelled.
Later, Miller explained:
That was a whole bunch of complex events. It was the middle of a writers strike. There was Australian rebate legislation that was required to get the film going. It was just o whole complex series of events. It was no one particular's fault that it didn't happen.
In 2009, DC and Warner Bros. released the direct-to-DVD animated feature film called Wonder Woman, starring Keri Russell as Wonder Woman and Nathan Fillion as Steve Trevor. Watch some clips at left. Wonder Woman also appeared in the direct-to-DVD animated film, Superman/Batman: Apocalypse.
---
The 2010s
Rumors of a live-action Wonder Woman film have continued to circulate occasionally. As recently as March 2011, Warner Bros.' Jeff Robinov said that a Wonder Woman film was in development, along with Flash and Justice League movies. The failure of last summer's Green Lantern movie may have poured cold water on that notion, however.
Meanwhile, other reports suggest Lauren Shuler Donner wants to produce a live-action version for release in 2013, and David S. Goyer could write or direct. Best take this info with a heaping spoonful of salt.
In 2010, Warner Bros. Television slated David E. Kelley to write and produce a Wonder Woman series, and a pilot was shot in 2011 starring Adrianne Palicki as Wonder Woman. In this pilot, Wonder Woman attempted to balance three identities: crime fighter, executive, and "modern woman." We watched the unaired pilot, and found that it was "bad in the ways that we were all expecting, but it's also bad in other, more fundamental, ways." At left, fan-made opening credits.
After the pilot was shot down, Warner Bros. TV CEO Peter Roth said, in response to a question on whether Wonder Woman would be seen in another form, "To be determined. I'm just not sure yet; we haven't given it a lot of thought."
But at least Wonder Wonder did appear on television in 2011 — she guest-starred in "Triumvirate of Terror," an episode of the animated series Batman: The Brave and the Bold.