There are an absurd amount of villains being added to Gotham's second season, most of which are featured in its first trailer above. But the real treat is seeing Cameron Monaghan's return as Jerome, a.k.a. The Kid Who Will Probably Become the Joker, because he might be the character who actually saves this show.
Is AI Moving Too Fast? | Future Tech
I know this sounds insane, given his inauspicious origin story in season one. But in the new trailer, Jerome has embraced his future villainous persona more than any other Gotham bad guy—specifically evoking Health Ledger's performance as the Clown Prince of Crime in The Dark Knight, which is certainly no accident (especially while wearing the police uniform). But the problem with the first season of Gotham (well, one of the problems) is that Jim Gordon never really had a real antagonist to fight. Sure, he faced a criminal each episode (or a couple of episodes), but he always caught them and they disappeared, effectively making them standard Freaks o' the Weeks. While the mob may have been the season's overarching bad guy, that plot basically took care of itself without help from Gordon.
Basically, Gordon has not faced a truly formidable foe yet, and he needs one, badly. We need an actual fight we can get invested in, and Jerome-ker might provide it. If he's in police HQ, in a cop uniform, and shooting up the place, he's obviously got the Joker's resources and planning skills—and he can use them to give Gordon someone to fight that we're not automatically sure he can defeat. It also helps that Jerome-ker doesn't need (and would actually hindered by having) his origin chronicled. He can just go crazy and be a teenaged Joker—unlike villains like the Penguin and the Riddler, who have to continue to walk their paths towards their eventual supervilliany, for the entirety of the TV series. All Jerome-ker needs to be ready for Batman's eventual arrival is white skin and green hair.
G/O Media may get a commission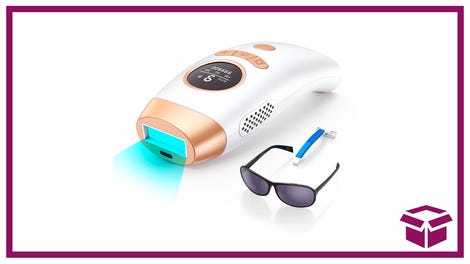 58% Off + Coupon
IPL Hair Removal Device
All this said, the show has still not 100% confirmed that Jerome is the Joker yet, despite the fact he looks, sounds and acts exactly like the Joker. I worry that they're going to throw a twist in there to surprise viewers and have someone else end up being the Joker, despite the fact that make Jerome's character existence complete insanity. That said, if Barbara Kean is the character ends up becoming the Joker, I absolutely will be okay with that.
[Via The Mary Sue]
---
Contact the author at rob@io9.com.