3D Touch might be on of iOS's most unique and most ignored features. Using sensors in your iPhone it knows exactly how hard you're pressing and contextually gives you a whole slew of cool options for your particular press. If you've just bought yourself a new iPhone 6s or 7 or you've forgotten just how useful 3D Touch can be, we're here to help—these are some of the smartest shortcuts available thanks to Apple's pressure-sensitive screen tech. Give a firm 3D Touch press on your iPhone's screen and all these options are open to you.

---
Download the most important apps first
When you're downloading an app you'll see its icon appear as timer on the home screen. To prioritize a download, and put it to the front of the queue of all the apps currently being installed, 3D Touch the icon and choose Prioritize Download.

---
Get more details from an Uber notification
One of the key uses for 3D Touch is to expand notifications and get more details without having to actually open them—do this on an Uber alert and you get information on the driver's current location, plus the option to send a message.

G/O Media may get a commission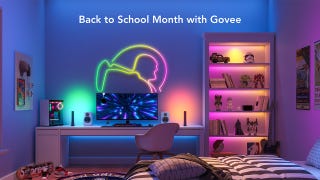 Back to School
Back to School Month with Govee Sale
---
Change the flashlight intensity
The iOS Control Center is packed with 3D Touch shortcuts just waiting to be discovered and used, including one for the Flashlight icon, which lets you choose between three different levels of intensity for the light: low, medium, and high.

---
Bring up cursor control on the keyboard
This is always useful when you need to carefully navigate through blocks of text: do a hard press anywhere on the iOS keyboard and it grays out, which means you can then move your finger to adjust the position of the cursor in the text.
---
Find your favorite contacts quickly
While older iPhones work fine without the added bonus of 3D Touch, they are missing out on some useful tricks, like the shortlist of contacts you frequently communicate with that appears with a 3D Touch on the Phone app icon.

---
Preview links in Safari
Browsing the web on mobile isn't quite as easy as it is in a normal full-sized browser, but 3D Touch makes life easier: with a light tap on a link in Safari you can get a preview of the page without actually navigating there. It's one of the "peek and pop" uses of 3D Touch.

---
Preview links in the Google search app
That same peeking and popping technique can be used if you've got the Google search app installed on your phone—try it to bring up previews of webpages and map links. You can also 3D Touch the G icon at the bottom to run a new search.

---
Clear all your notifications at once
Notification control has come leaps and bounds in recent versions of iOS, and you can use 3D Touch to clear all your alerts at once — it just needs a firm press on the X at the top of the notification center. That instantly dismisses them all.

---
Choose the right camera mode
Instead of messing with camera modes every time you open the camera app you can save time with a 3D Touch of the home screen Camera app icon. Then from the Settings app, tap Photos & Camera then Preserve Settings and turn Camera Mode to On to remember your choice. Now you'll never accidentally open in video mode again.

---
Get directions home in an instant
Google Maps on Android may have a widget to instantly call up directions home, but Apple Maps, which has improved significantly, has a 3D Touch shortcut available via a hard press on the app icon (assuming you've already set your home location on your Contacts card).

---
Mark down your position on an app
There are plenty more 3D Touch-enabled functions in Apple Maps, but one of our favorites is the quick and easy way of marking where you parked your car on a map. 3D Touch the Maps app on the home screen and choose Mark My Location when standing next to your car.

---
Head back in time
You can recreate your very own version of Facebook's "On This Day" feature with a 3D Touch press on the default Apple Photos app—choose One Year Ago from the options that appear to see a picture from 12 months ago.

---
Check up on apps with notifications
New in iOS 10 is the ability to jump into a folder to dig out an app with notifications without ever opening the folder. 3D Touch on a folder containing an app with an alert badge on it, and you get the option to jump straight to the app that needs your attention.

---
Get to your favorite messages in WhatsApp
You would expect all of Apple's apps to have 3D Touch shortcuts, but many third-party ones do too. A light tap on the WhatsApp icon brings up a link to your starred messages, as well as the option to start a new conversation in the app.

---
Preview images in Instagram
Another of the handy ways you can use the "peek and pop" (light and hard tap) combinations offered by 3D Touch is in Instagram. Lightly tap any thumbnail to see a bigger version, then press harder to jump to the image. It's sort of like the MacOS quick preview function for your phone.

---
Improve your Grand Theft Auto abilities
One of the games with 3D Touch support is Grand Theft Auto: Liberty City Stories. It works fine without 3D Touch, but you can use a harder press to start running when you're walking, or to take tighter turns when you're driving.