These strangely decorated, brightly-colored buildings in El Alto, Bolivia, are the early examples of a new Bolivian architectural style, started after the election of President Evo Morales Ayma in 2006, when the national pride became more important than ever. Appropriately, they are called cohetillos — "spaceships."
The key architect behind these so-called cohetillos is Freddy Mamani Silvestre.
There are more than sixty buildings in the city designed by Silvestre, so he's definitely in the same group with Oscar Niemeyer and Antoni Gaudí, who also changed (or defined) the look of a whole city.
G/O Media may get a commission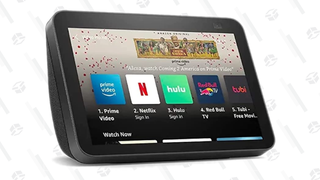 Most of these ornated homes are owned by a single family and have at least five stories: shops on the first, a two-story high salon, apartments on the third and fourth stories, and the owner's penthouse on the top.
The homes are echoing some designs of the pre-Incan Tiwanaku and traditional Andean cultures.
The average price of these homes are between $300,000 and $600,000, which makes them unavailable for the public, but the perfect housing for the Bolivian bourgeoisie.
The architect was really touched after visiting the Tiwanaku archeological site and determined to adapt their architectural style to modern architecture.
Silvestre never used a computer and never had an office – he does every work on paper.
People dance in a ballroom part of a mini-mansion, May 2014
And here are some interior shots:
(The photos are from Nueva Cronica, Quartz, Bolivia Te Amo and Plataforma Arquitectura, except the two taken at a party by Juan Karita/AP Photo.)