The six-word science fiction stories you wrote for us this time around covered some very dark worlds, ranging from the most perfect supernatural Craigslist ad on the internet to aliens whose darkest fear is being found by us. Here are just some of our favorites:
Room for rent, cheap. NOT HAUNTED. — Long Lost Albatross, in what would surely be the Greatest Roommate Wanted Ad Ever
Siri, call home. "There's no home." — Petehammer
They ate dreams. Only insomniacs survived. — x84jdh, giving you something to think about when you try to fall asleep tonight.
G/O Media may get a commission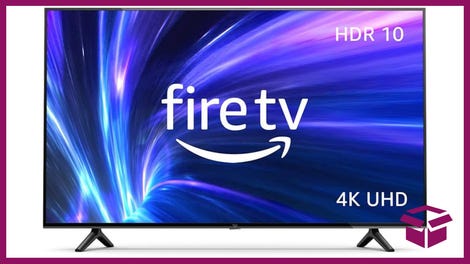 42% Off
Amazon Fire TV 50" 4K Smart TV
"JUST SIX WORDS?" Replied the computer... — Carlos_Ramirez
Voyager 1 returned, broadcasting "No thanks" — RI_arch, on the possibility of interstellar rejection
Time Travelers Anonymous. Meeting pushed back. — Thayder, addressing some of the scheduling concerns that multiple time machines create.
'Systems normal,' the computer repeated, lying. — dyinginback
Dinosaurs are hide and seek experts. — Phos, with a story that could either be cute, terrifying, or both.
"Google's been retrieved. It knows everything." — elgordo47
Image: artist's conception of Voyager nearing the edge of the solar system / NASA