Notebooks are the fundamental similarity between all scientists. I am utterly in love with this 1880s notebook by Henry M. Cadell, a work of science and art recording his observations and experiments on mountain-building.
Cadell and his thrust-belt apparatus in 1887. Image credit: BGS P612832
Every scientist has a notebook. Maybe it's a field notebook, sketching the details of an expedition, or maybe it's a lab notebook, marking a record of tests conducted, but every scientist has one. Cadell's notebook crosses the boundary from pure necessity into an artistic timecapsule into the history of science.
Back in the 1880s, a gentleman-geologist had a theory that massive compressive forces folded and deformed the landscape into thrust belts. This was a major step forward in understanding how mountains formed, but Henry M. Cadell's notebook go beyond merely recording observations about mountain-building ("orogeny") and enter into the realm of artistic endeavors. From landscapes to cross-sections to his early experiments on understanding thrust-fold mountain ranges, Cadell's notebooks are entrancing, elegant, and envy-worthy.
Geology starts as a field science: whatever avenue investigations take, they're always firmly rooted in particular quirks of a location. Looking around the Scottish countryside, Cadell saw crumpled terrain. He recorded all of them in his notebook, from quick sketches through elaborate full-colour watercolours. Some are quick notes jotting down the barest essentials — the basic shapes, a bit of structure, enough to evoke a terrain even without details. Others are fully-developed landscape artwork.
G/O Media may get a commission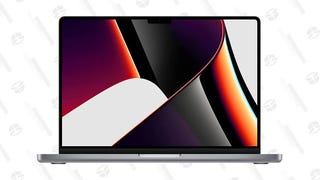 Save $300
2021 14" 1TB MacBook Pro
Watercolour panorama of Loch Long as seen from Ben Chrois. Image credit: H.M. Cadell BGS P612768 [left]/ BGS P612767 [right]
Sepia wash of Arthur's Seat. Image credit: H.M. Cadell BGS P612764
Pencil sketch of glacial moraine Craig Choral and Craig na Faolinn with Loch Eriboll. Image credit: H.M. Cadell BGS P612737
Drawing of the Head of Strath Dionard. Image credit: H.M. Cadell BGS P612836
Pen and ink of the top of Suilven. Image credit: H.M. Cadell BGS P612786
Pencil sketch of a natural arch on the west side of Gruinard Island. Image credit: H.M. Cadell BGS P612745
Pencil sketch of Ben Hope from Hope Lodge. Image credit: H.M. Cadell BGS P612779
Looking at the whole notebook in context, the Edinburgh Geological Society reports that each of the beautiful landscapes is followed by more technical detailed sections and annotated sketches:
Interestingly, the detailed landscape sketches in pencil or ink wash are largely objective with some emphasis of the bedrock and superficial features. Such sketches are followed by more detailed sections and annotated geological sketches from the same area, seemingly done after the initial landscape assessment. Perhaps the landscape sketches played a role in geological interpretation and planning of the field traverses? In contrast, Cadell's watercolour paintings are more subjective and portray a less detailed view of some of the more attractive Highland landscapes.
Even Cadell's interpreted sections are pretty, as he drew the rocks he saw in cross-sections while trying to determine what underground layers could reflect what he saw at the surface.
Section at Drummond Hill. Image credit: H.M. Cadell BGS P680479
Section at Lyon below Achloa Cottage. Image credit: H.M. Cadell BGS P680475
Over time, he developed a theory that the mountainous landscape was the result of massive compressive forces, literally squeezing the the land together. In 1885, he built a box to test his theory, cleverly named the Squeeze Box. He layered deformable sediments, applied pressure, and compared the results to what he observed in the real world. He recorded the results of his work as both photographs and detailed diagrams in his notebook.
Side-view sketch of the compression test-box apparatus. Image credit: H.M. Cadell BGS P612780
Notebook recording experimental trials. Image credit: H.M. Cadell BGS P612789
Photographs of experiment runs XVIIa and XVIIb. Image credit: H.M. Cadell BGS P612820
Diagrams of experimental runs. Image credit: H.M. Cadell BGS P612831
Just in case you're thoroughly envious of Cadell's notebooks at this point, take comfort in knowing some of his notes were decidedly less gorgeous.
Take, for instance, this awkward sketch of livestock, which while passible, have something distinctly off about the posture and perspective.
Pencil sketch of horned cattle beast and a sheep. Image credit: H.M. Cadell BGS P612747
Quite possibly my favourite page from the entire notebook is utterly bizarre without context, and makes me feel kinship with this long-dead Scottish geologist. On page 83, Cadell presents the following sketch, captioned "From peak to peak, the mighty elephant leaps with delirious bounds."
Leaping elephants dated June 6th, 1888. Image credit: H.M. Cadell BGS P612785
Lucky for us, context exists. Even in this snarky setting, the landscape is real — those are Suilven and Canisp mountains. The cartoon is embedded between pages of field notes from mapping the Assynt—Ullapool area, an area largely mapped by Hinxman, another geologist.
The climb was both clandestine and challenging. The landowner had forbidden geologists from surveying the territory as they viewed geologists as "no use but to frighten the deer and upset the Bible," while the relief is downright intimidating.
Pencil sketch from the top of Suilven looking east. Image credit: H.M. Cadell BGS P612787
Hinxman reported he traversed the peak with unidentified companions H—- and C—-, most likely Horne and Cadell, in June 1888. All three were known pipe-smokers, but no mention is made of their drinking habits. The drooping elephant who abandoned his booze on the right peak is labelled Hinxman's elephant, while the clearly-inebriated elephant with a be-bowed tail clutching its booze on the right is HMC. While no story is recorded as to what exactly is going on, if their field stint was anything like some of the ones I've been on, this is an illustration of a direct quote from them goofing around while trying to figure out their descent. Looking at that slope, I can imagine them deciding they may as well be elephants leaping from the peaks for all their chances at finding a graceful path down.
Read more about Cadell in the Edinburgh Geological Society publications here and here, or view more photographs of Cadell's notebook in the British Geological Survey gallery.