Arkansas Governor Asa Hutchinson's website now redirects to an LGBT chat room and forum. That's because when Hutchinson's domain registration expired, it was quickly grabbed up by college student Dylan Hailey, who set the site to redirect to the forum.
Is AI Moving Too Fast? | Future Tech
It's a response to, among other things, Hutchinson's February refusal to veto a bill which banned local governments in Arkansas from passing anti-discrimination ordinances to protect LGBT residents. He also refused to sign the bill, but it had enough legislative support to pass into law anyway.
Scramble for Political Domain Names
It's the latest example of what happens to political figures who aren't careful to grab, and keep, every possible variant of their domain names. In late 2013, someone registered the domain TedCruzForAmerica.com and then redirected it to the federal health insurance exchange site; in September 2013, Republican Senator Ted Cruz had led a filibuster to block the Affordable Care Act rollout.
G/O Media may get a commission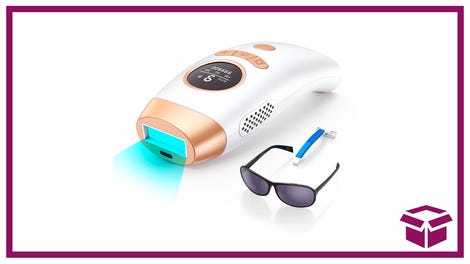 58% Off + Coupon
IPL Hair Removal Device
Then, Ted Cruz domain names became a hot commodity just after Cruz his announced his presidential candidacy in March. TedCruz.com was grabbed by a site advocating for President Obama's immigration policy, while TedCruz2016.com was picked up by a digital marketing firm, which filled it with scenic photography. The candidate's official site is TedCruz.org.
And in December 2014, someone registered CarlyFiorina.org as a site dedicated to criticizing Republican presidential candidate Carly Fiorina's management of Hewlett-Packard during her tenure as CEO there.
More in Store?
Hailey grabbed Idaho state representative Paul Shepherd's expired domain name in March and redirected it to a page asking Shepherd to meet with supporters of marriage equality.
"I'm not trying to get shock value," he told news site Vocativ. "I'd rather the site help people." 400 users signed up for the LGBT forum in one day, according to Hailey.
He claims to own the domain names for at least 27 politicians' websites, and told news site Vocativ, "I will be releasing a few more in the near future from politicians who are coming up for re-election."
[Vocativ]
Contact the author at k.smithstrickland@gmail.com.
Image Credit: Getty Images