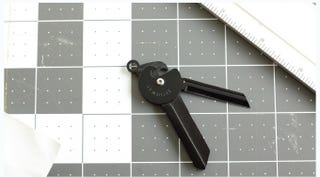 Carrying around a small folding knife for everyday use certainly isn't a bad idea, but it's also another thing to potentially forget (or get taken by the cops). This tiny locking folder won't do more than the basic tasks, but it's small and discrete enough that you'll probably forget you're even carrying it.
The Porter Key Knife is currently fundraising on Kickstarter, where $18 gets you a cute little 1.5" blade, hidden in a body so that it looks exactly like the rest of the keys on your ring. Heck, knowing the skill level of TSA agents these days, I'd bet you could get it on an airplane (even if it's not TSA compliant).
A 1.5" blade isn't going to do much beyond opening parcels and trimming nails, but the attention to detail seems good nonetheless — 3CR13 is a Chinese stainless steel, but it still should be strong enough to hold a decent edge, the locking mechanism helps keep your hands safe, and there's a bottle opener, because why the hell not. [Kickstarter]
---
Contact the author at chris@gizmodo.com.