North Korea remains one of the few places in the world that remains untouched by Google Street View's all-seeing eye. But at least now, we can content ourselves with these fascinating, state-approved (i.e. likely censored) 360-degree shots from Singaporean photographer Aram Pan.
Despite North Korea's notoriously strict limitations on tourists in general (not to mention those slinging around cameras), last autumn, the hermit country's officials decided to allow Pan to photograph non-military points of interest—so long as it wasn't "political," that is. And Pan seems perfectly all right with that. According to his site, his DPRK (Democratic People's Republic of North Korea) 360 project is not meant to address "any past, present, or future political issues that may be sensitive."
Even though this first set of images might seem to convey a very particular side—specifically the government-approved, semi-facade side—of North Korea, Pan hopes his project will be able to dig deeper eventually:
The ultimate goal of my project is to really dive into the heart of North Korea and photograph the people's everyday lives. However, one does not candidly request for such access without first proving one's sincerity. If all goes well, this is the first of many trips to come. For the first trip, I decided to target specifically spots that are sources of national pride. These are mainly monuments and parks that are included in standard tours. I'm currently awaiting the official 'OK' from Pyongyang for a second trip. During such a trip I would be focusing on the more 'intimate' parts of North Korea, places that aren't on your standard tour.
G/O Media may get a commission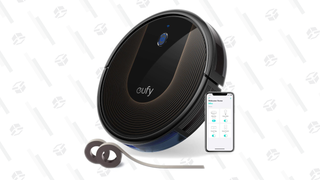 48% Off
Eufy BoostIQ RoboVac
Head on over to the DPRK 360 site to see the full set of Google Street View-esque panoramas. And even though these most likely aren't indicative of typical North Korean life, they at least show that there is some definite beauty to be had.