Pieces might sound like a lot of other early 1980s slasher films, since it's about a shadowy maniac who chops up pretty college girls. But anyone who's seen it knows that Pieces is one of the most WTF entries in the genre—and now it's getting a smashing new Blu-ray release, full of extras that highlight its awesome, gruesome uniqueness.

Warning: NSFW pic below!
Juan Piquer Simón's 1982 film was mostly filmed in Spain—despite aggressive set dressing (like an American flag and a framed photo of Ronald Reagan) to convince viewers that it takes place in Boston. Like many European exploitation movies at the time, its actors, including real-life married couple Christopher George (who also starred in Lucio Fulci's City of the Living Dead) and Linda Day (of TV's Mission: Impossible), appear to be judiciously dubbed, even when they're speaking English. It's off-putting, to say the least, which is absolutely part of the trashy fun of the film.

This film is also gory as can be. The movie is called Pieces for a reason. And really, no killer who's in a hurry to collect as many body parts as possible has time to stick around and clean up after himself. Hence scenes like this:
G/O Media may get a commission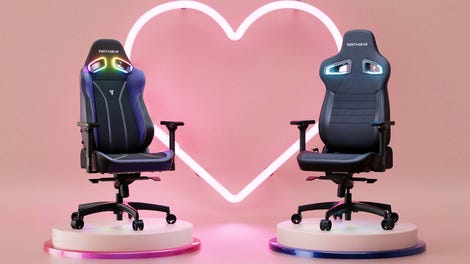 Up to $150 off
Vertagear Gaming Chairs
But it's not just blood and guts. Pieces is full of total insanity, which has sealed it into the firmament of cult classics. Day's character, a famous tennis pro-turned-cop, is considered a sensible choice to go undercover at the college to help catch the killer. The police rely heavily on a random student to help with their investigation, even letting him tag along when they're about to nab a dangerously violent suspect.
And, of course, there's this startlingly bizarre/racist/hilarious scene when the tennis pro/cop nearly meets her end at the fists and feet of the campus "kung fu professor."
...yeah. He did, in fact, blame that on "bad chop suey."
Pieces' three-disc set (out March 1 from Grindhouse Releasing) includes both English and Spanish versions of the film. Both are presented in sparkling new 4K transfers, and the Spanish "director's cut" (original title: Mil Gritos Tiene La Noche, or A Thousand Screams in the Night) has three extra minutes of blood-dripping footage. Other extras include a new audio commentary by actor Jack Taylor (who plays one of the main suspects, a college professor who seems to have odd feelings for his female students). Plus 42nd Street Memories, a doc that contains the fond memories of grindhouse vets Bill Lustig (director of Maniac), Larry Cohen (It's Alive), and others.

There's also a CD containing a remastered version of the original soundtrack. But the absolute coolest part of the whole thing—so covetable it's limited to the first 3,000 sets sold—is a scaled-down copy of the naughty jigsaw puzzle that Pieces' disturbed killer is obsessed with throughout the film.

All photos courtesy of Grindhouse Releasing.