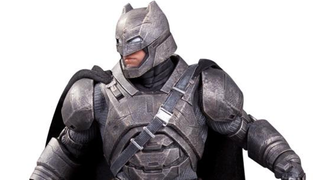 Comic-Con has begun, and that means one thing: Oodles and oodles of new toys and merchandise to look at. First up is a new range of DC statues based on Batman v Superman—inadvertently giving us our best look yet at the heavily suited-and-booted version of Batman from the movie.
Revealed by Yahoo today, the line of statues from DC Entertainment clock in at around 12" tall. The range will kick off with normal versions of Batman and Superman as well as the Powersuit Batman, with more to come down the line:
While Batman and Superman are nice enough, the real star is the powersuit Batman, giving us our first real chance to see the suit not shrouded in the black night of the footage seen in the trailers.
Looking good, Bats! As seems to be the running theme with Batman v Superman, outside of the heavily graded environment of the movie there's surprising amounts of colour in each design. I'm particularly fond of the subtle gold fade on the powersuit's decorative greaves giving a nod to the classic Batman colours of the comics. Maybe the film should try showing that off amongst the muted night shots.
These statues will be viewable on the Comic-Con show floor this week, ahead of a wider release in January—they'll set you back $150 apiece when they launch.
[Yahoo]
---
You're reading Toybox, io9's blog for all things pop culture. From merchandise to awesome fan creations, TV recaps and critical commentary on the hot topics of the day, you can find it all here!
SDCC is in full swing! You can keep track of all of our Comic-Con Coverage here.