Image Comic's Descender hits this week — a comic about outlawed androids so intriguing, Sony already wants to turn it into a film. But that's not all: Princess Leia begins her series, a new Boom! series sees regular convention guests turn convention robbers, and Scarlet Witch and Quicksilver's MCU origins are revealed.
Dark Horse
Neverboy #1 - Neverboy, a former imaginary friend, finds a loophole to stay linked to the real world: constantly keeping himself medicated with drugs. But when the medication wears off, he has to deal with fading from reality and the creatures that guard the borders between reality and imagination. Written By: Sean Simon. Artist: Tyler Jenkins
Image
G/O Media may get a commission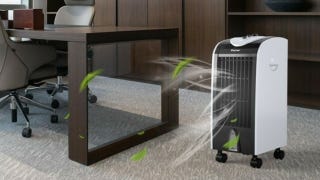 Save $10
Evaporative Portable Air Conditioner Cooler with Filter Knob
68' Jungle Jim: Guts and Glory - Private Brian Curliss heads to Vietnam, donning a haunted gasmask to avenge the slaughter of US Peace Corps Volunteers at the hands of Khmer Rouge.Written By: Mark Kidwell Artists: Jeff Zornow
Big Man Plans #1 - This brutal crime drama revolves around a little person looking for vengeance, after being marginalized by the world around him. Written By: Eric Powell, Tim Weisch Artist: Eric Powell
Descender #1 - In a Universe where androids have been outlawed and bounty hunters roam planets looking for the last remnants, a young robot tries to survive. Written By: Jeff Lemire Artist: Dustin Nguyen
Nailbiter Hack/Slash - The grim, bloody worlds of Cassie Hack and The Nailbiter combine in this one off crossover. Written By: Joshua Williamson, Tim Seeley Artists: Mike Henderson, Emilio Laiso
IDW
Monster Motors: The Curse of Minivan Helsing #1 - A Kentucky town is overrun by monstrous versions of ordinary vehicles - and only a vehicle-turned-monster-hunter named Minivan Helsing can stop them. Written By: Brian Lynch Artist: Nick Roche
Robert Heinlein's Citizen of the Galaxy #1 - This adaptation of the Heinlein classic sees a young boy, orphaned and about to be sold as a slave, see his destiny change when he crosses paths with a mysterious beggar. Written By: Robert Lazaro, Eric Gignac
Artist: Steve Erwin
Star Trek New Visions: A Scent of Ghosts - New adventures for the crew of the U.S.S. Enterprise, constructed from images from the original show. Written By: John Byrne Artist: John Byrne
Winterworld - A one-off special issue delves into Wynn's background in the frozen future before she met up with Scully. Written By: Chuck Dixon Artist: Tommy Lee Edwards
Marvel
All-New Hawkeye #1 - A new series for Clint Barton and Kate Bishop, as threats from their pasts collide with the present, challenging the Archery duo to face what it means to be Heroes Written By: Jeff Lemire Artist: Ramon K. Perez
Guardians Teamup #1 - A new series of comics sees the Guardians team up with some of Marvel's most famous heroes. First up is the Avengers, as the teams unite to face a new cosmic threat. Written By: Brian Michael Bendis Artist: Arthur Adams
Princess Leia #1 - It's the turn of Star Wars' iconic female hero to get her own standalone miniseries, as Leia struggles to unite the remnants of the Alderaanian people and find a place in galaxy as a leader with no world left to lead. Written By: Mark Waid Artist: Terry Dodson
Others
Altered States: Vampirella (D.E.) - This What-if oneshot reimagines Vampirella as a human astronaut, the sole survivor of an accident that leaves her stranded on an alien world populated by Vampires. Written By: Nacy A. Collins Artist: Francisco Manna
Blackcross #1 (D.E.) - This supernatural spinoff of Project Superpowers sees the citizens of a small town hunted by a ghostly killer. Written By: Warren Ellis Artist: Colton Worley
Blood Queen vs. Dracula #1 (D.E.) - Dracula faces off against the Blood Queen herself after returning home from war. Written By: Troy Brownfield Artists: Kewber Baal
Halogen #1 (Boom! Studios) - Rell, an Agent of a mysterious organisation, is tasked with locating the body of a dead God floating in space. Written By: Josh Tierney Artist: Afu Chan
Littlest Zombie Summer Special (Antarctic Press) - A new chapter lies ahead of the young undead, as he tries to survive when facing competition from bigger, more able members of the zombie hordes for Brains. Written By: Zechary Gray Artist: Zechary Gray
Con Job #1 (Boom! Studios) - A group of regular Convention stars made up of bit players and former movie stars become friends and eventually partners in crime as they try to rob the biggest Pop Culture Convention in the country. Written By: Jimmy Palmiotti, Matt Brady Artist: Dominike "Domo" Stanton
Pussycats #0 (E-Comix) - A former adult movie actress who helped the US Government transport people assuming new identities finds herself targeted by sinister gunmen after her cover is blown. Written By: Vince Brusio Artist: Mats Engesten
Graphic Novels And Collections
Dead Rider (Dark Horse) - A Bog Witch resurrects a corpse as the Dead Rider, who seeks to destroy the Witch and reclaim his soul before it's too late. Written By: Kevin Ferrara Artist: Kevin Ferrara
Terminator: Enemy of my Enemy (Dark Horse) - The year after Kyle Reese saves Sarah Connor from being murdered by Skynet, the Terminators turn their attention to Elise Fong, a woman destined to discover a weapon that will be used to turn the tide against Skynet. Written By: Dan Jolley Artists: Jamal Igle, Ray Snyder
Teen Titans Go! Volume 1 (DC) - The cartoon adventures of Robin, Starfire, Beast Boy, Raven and Cyborg are gathered in this collection, including fights with giant pizza monsters! Written By: Sholly Fisch, Various Artists: Ben Bates, Various
Diamond Island (IDW) - Richie Rockstein discovers an ancient journal that tells tale of a legendary island filled with gems, and seeks out to claim them. Written By: Max Winters, Joseph Kirsch Artist: Taylor Bills
Transformers Primacy (IDW) - The origins of the Cybertronian war between the Autobots and the Decepticons are uncovered once more in this retelling of the Transformers universe. Written By: Chris Metzen, Flint Dille Artist: Livio Ramondelli
X-Files: Year Zero (IDW) - A prophetic message is passed on to the FBI, which Fox Mulder believes is connected to similar prophecies delivered in the 1940's that would ultimately lead to the founding of the X-Files department. Written By: Karl Kesel Artists: Vic Malhotra, Gregg Scott
Birthright Volume #1: Homecoming (Image) - The Rhodes family is devastated by the death of their young son — but find themselves in a state of shock when he returns from the dead. Written By: Joshua Williamson Artists: Andrei Bressan
Death of Wolverine: The Weapon X Program (Marvel) - The Weapon X Program has been restarted, and a team of surviving escapees find themselves looking for answers from Sabretooth about their pasts, as well as their strange new powers. Written By: Various Artists: Various
Hawkeye vs. Deadpool (Marvel) - The Avenging Archer and the Merc with a Mouth find themselves working together to try and find villains disguising themselves as heroes at Halloween. Written By: Gerry Duggan Artist: Matteo Lolli
Marvel's Avengers: Age of Ultron - Prelude (Marvel) - Discover the new origins of Scarlet Witch and Quicksilver in this prequel series to the upcoming movie. Written By: Various Artists: Varous
Supervillains Unite: The Complete Supervillain Teamup (Marvel) - Namor and Doctor Doom find themselves in an uneasy alliance, while Red Skull sets his sights on taking over Latveria in this collection of comics featuring teamups between some of Marvel's deadliest villains. Written By: Various Artists: Various
Dry Spell (Danger Zone) - Tom Ferries finds himself powerless and forgotten in a world of people with superpowers — that is, until he finds his wishes granted, promising to make sure the world remembers him. Written By: Ken Krekeler Artist: Ken Krekeler
Itty Bitty Bunnies: Cavalcade of Contraband (Danger Zone) - The Magical adventures of two drugged up, foul mouthed rabbits are collected in this hilarious series. Written By: Dean Rankine Artist: Dean Rankine
The Other Side of the Wall (Lerner Publishing) - This biographical Graphic Novel tells the tale of how artist Simon Schwartz's parents crossed over the Berlin Wall to leave East Germany behind. Written By: Simon Schwartz Artist: Simon Schwartz
Planet Gigantic: New World Home (Action Lab Entertainment) - Two genetically engineered teenagers find themselves stranded on a planet filled with monsters and a Queen seeking to steal their powers. Written By: Eric Grissom Artists: David Halvorson, Various
Pokémon The Movie: Diancie and the Cocoon of Destruction (Perfect Square) - This manga adaptation of the 17th Pokémon movie sees Ash and his friends try to help the Mythical Pokémon Diancie save the Diamond Domain from destruction. Written By:
Tsunekazu Ishihara Artist: Kenji Kitamura

---
Want to see what else is out this week? You can see the full list here - and find out where your nearest Comic Book Store is here!