The Unbeatable Squirrel Girl is a frequently smart and delightful comic, and this week's issue, a zine-style anthology of stories that actually barely features Squirrel Girl herself, is no exception. But its best short story is all about Loki—and strikes at the duplicitous heart of the character in a really fun way.
Deadly Mississippi Tornado Kills More Than 2 Dozen | Extreme Earth
Unbeatable Squirrel Girl #26—by Ryan North, Erica Henderson, Rico Renzi, Travis Lanham, and a veritable host of guest artists—happens after a nearby superhero brawl destroys a local library. To repair the damage, Squirrel Girl recruits a bunch of her closest friends (everyone from Howard the Duck, to Kraven the Hunter, to... yes, Galactus through the lens of Garfield's Jim Davis, actually) to create an anthology comic fundraiser for the reconstruction.
The whole issue is a hoot—the aforementioned Galactus-meets-Garfield skit is wonderfully corny, and there's everything from a heartwarming tale about Wolverine and a Sentinel, to Howard attempting to mail in a steamy duck-on-human romance scene. But the highlight of it all is Loki's spread-page tale (written by North, with art from Carla Speed McNeil and Rico Renzi, with lettering by Travis Lanham), "Welcome to the Wonderful World of Loki." You'll have to click the magnifying glass in the corner and then open in the image in a new tab to see the whole thing in its full resolution:
G/O Media may get a commission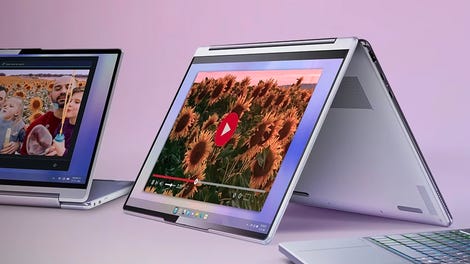 up to 70% off
Lenovo Spring Clearance
You read it in a clockwise spiral starting from Loki's introduction of "Ciao," as he goes on maligning his ill-gotten reputation as a trickster and a liar, and about how, really, he's a good guy who wants the best for the world. That is until you get to the center of the loop, which invites you to read the whole thing in reverse. The implication of Loki's dialogue gets flipped on its head as you go about recursively, without it actually changing. You're just reading it from a different point of view. Quite like how Loki himself actually operates!
Clever, a bit tricky, and there's even a bit of Cat Thor for good measure. What more could you possibly want out of a tale concerning the God of Mischief?