Whether you love Zooey Deschanel's New Girl quirkfest, hate it, or have never even heard of it, I think we can all agree that it's much improved by swapping out the twee thirtysomething with a crass octogenarian.
No, seriously. I'd watch Old Girl in a heartbeat. And you would too.
The rest of this week's top comedy videos, including an Apple (fruit) review, a modern comedian, and Don Cheadle as Captain Planet can be found over at Splitsider.
Other highlights from the week in comedy:
- Chevy Chase has left Community, Wyatt Cenac is leaving The Daily Show, and Angus T. Jones is probably leaving Two and a Half Men.
G/O Media may get a commission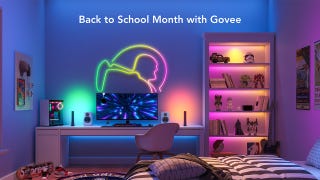 Back to School
Back to School Month with Govee Sale
- Maria Bamford released her new stand-up special, recorded in her living room with her parents as the only audience members.
- Comedy Central picked up Key & Peele for a third season, FX renewed Totally Biased with W. Kamau Bell and Brand X with Russell Brand for second seasons, and MTV canceled the US version of The Inbetweeners.
- Longtime Conan writer Brian McCann was hired as the head writer for Nikki Glaser and Sara Schaefer's upcoming MTV show.
- Anchorman John Beard will be back for Arrested Development season 4 and says the show's better than ever.
- Rob Huebel made a fake QVC weapon/cutlery infomercial that aired on Adult Swim at 4AM.
- America really did try to blow up the moon (in 1958) like that old Mr. Show sketch.
- Some guy made a Marc Maron action figure.
- Jon Hamm is gonna star in his very own comedy movie.
- Community fans will finally have their own convention, Communicon.
- Another stand-up got heckled by somebody and then found cocaine on them.
- We interviewed National Lampoon co-founder Henry Beard, Nerdist mogul Chris Hardwick, Irish stand-up Dylan Moran, "Waco Valley" creator Ben Warheit, the Bitter Buddha, Eddie Pepitone.
- We dissected the new chapters of R. Kelly's Trapped in the Closet.
- We revisited The Osbournes: Reloaded, Tony Rosato's short stint on SNL, and David Letterman's transition from Late Night to The Late Show.
- We posted an original comedy piece, "Don't Even Think About It" by Alex Pearson.
- We watched a doc about America's first comedy club, Warm Beer Lousy Food.
- We looked back on the week's new comedy podcasts, with appearances by Mel Brooks, Judd Apatow, and the Wayans Brothers.
- We Follow Fridayed @JohnRoderick.
Splitsider is a website about comedy and the people who create it. It covers movies, TV shows, web videos, books and any other format that exists to make you laugh.