Sometimes, in the course of human friendship, we find ourselves faced with situations that are more intimate than we intend. And sometimes, well, we end up naked in our buddy's apartment all of the time. This is the latter case.
The rest of this week's top comedy videos, including a cool haircut, a bad teacup, and basketball dicks can be found over at Splitsider.
Other highlights from the week in comedy:
- Dan Harmon will no longer be involved Community and we looked at what that means.
G/O Media may get a commission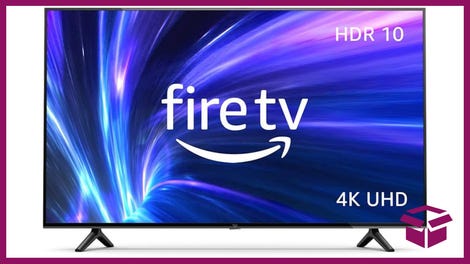 42% Off
Amazon Fire TV 50" 4K Smart TV
- Christopher Guest is working on a television show.
- Charlie Kaufman is creating an HBO show for Catherine Keener to star in.
- Zach Galifianakis is set to star in a film adaptation of Confederacy of Dunces.
- Patton Oswalt and Marc Maron had a Twitter battle on a plane.
- We made the case that either 30 Rock, Parks & Recreation, Happy Endings, Portlandia, or Community was the best comedy of the 2011-2012 TV season.
- We asked you to make the final decision of what was best comedy of the 2011-2012 TV season.
- We determined the best of SNL Season 37.
- We broke down the contributions of each SNL cast member.
- We got inside the inside jokes of this past television season.
- We looked at the slow death of the traditional television season.
- We argued that How I Met Your Mother's "Ducky Tie" was the best sitcom episode of the season.
- We ran through the best new comedies of the 2011-2012 TV season.
- We reviewed The Lowbrow Reader Reader.
- We dove deep into Canadian comedy by watching Comedy Gold.
- We heard the tales from the Late Night with Conan O'Brien writer's room.
- We ranked the fall's new comedies based on their trailers.
- We found the lost projects of Dan Harmon.
- We determined how realistic our sitcom workplaces were.
- We crossed the river styx with Ryan Seacrest.
- We Follow Fridayed @DamienFahey.
- We wrote an open letter to Jay Leno about video stealing.
- We covered the web series "Your Dad's Friends".
- We cautioned against comedy sequels.
Splitsider is a website about comedy and the people who create it. It covers movies, TV shows, web videos, books and any other format that exists to make you laugh.