There are so many ways to make your day to day existence better, and we could all use a little lifehack now and again. But that doesn't mean all those instructional videos couldn't use a little skewering. Especially when it comes from The Onion. So come on folks, let's crack this whole "words" thing once and for all.
The rest of this week's top comedy videos, including a bar for sidekicks, the woman for Romney, and bad lip reading for the presidential debate can be found over at Splitsider.
Other highlights from the week in comedy:
- Community and Louie are both taking hiatuses. Commmunity's is because of NBC's wishes, Louie's is because of C.K.'s. Also, Whitney is on hiatus.
- Fox picked up The Mindy Project and Ben and Kate for full first seasons, Adult Swim picked up Eagleheart for a third, and Jeff Garlin teased a Curb Your Enthusiasm Season 9.
- Adam Scott, Jon Hamm, Paul Rudd, and Paul Scheer teamed up for The Greatest Event in Television History.
G/O Media may get a commission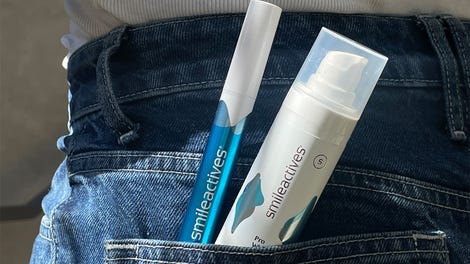 58% off
Whitening Powerhouse Pen & Gel Duo
- We announced Splitsider and Tumblr's new monthly standup show at UCB East.
- We pondered the misogyny in When Harry Met Sally.
- Sara Schaefer ranked Splitsider's "Top Ten Sexiest Up-and-Coming Funny Young Underrated Comics with Genitalia That You Should Be Following on Twitter Whose Fresh Faces We Love to Watch."
- We hit the campaign trail with Presidential contender Connor Ratliff.-
- We talked to Danny Pudi about the eventual fourth season of Community.
- We chatted with T.J. Miller about some of his sillier audition stories (He did not throw a beer bottle at Lorne Michaels's head).
- We looked ahead at the ex-Onion writers and Adult Swim's mysterious new web venture, Thing X.
- We Follow Friday-ed Abbi Crutchfield.
- We dove deep into Jay Mohr's short stint in SNL's shallow end.
- We learned what it takes to be a Milton Honors Member.
- We dug up The History Channel's History of the Joke.
- We looked at Bill & Ted's ill-fated TV adventure.
- We rifled through Johnny Carson's archives.
Splitsider is a website about comedy and the people who create it. It covers movies, TV shows, web videos, books and any other format that exists to make you laugh.