Torchwood is back! The grown-up Doctor Who spin-off is just as intense as ever — but now the budgets are bigger and the action is international. Also on TV this week: Futurama spoofs Tron! Complete with a lightcycle chase!
Is AI Moving Too Fast? | Future Tech
Plus gorgeous computer-animated dinosaurs march across the wasteland... and join gangs. Eric makes a big mistake on True Blood. (That's not really a spoiler, is it?) The final space shuttle flight takes wing. Meryl Streep takes you to the weirdest mountains in the United States. Morgan Freeman reveals the truth (maybe) about psychic powers. And the Fairly Oddparents go live-action.
Check out tons of clips from this week's television below!
Today:
Teen Wolf is on MTV at 10 PM, with episode six: "Heart Monitor."
Scott tries to control his transformation so he can spend more time with Allison. Elsewhere, Derek continues trying to make an ally of Scott.
G/O Media may get a commission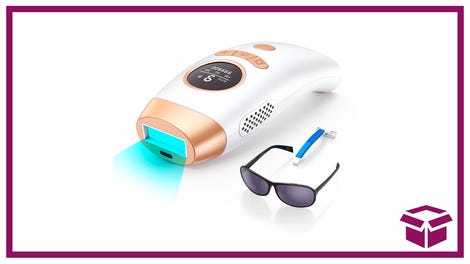 58% Off + Coupon
IPL Hair Removal Device
And here's a sneak peek.
Tuesday:
At 7 PM, there's another new My Babysitter's a Vampire on Disney at 7 PM, "Double Negative." Apparently, Disney is just burning off the episodes of this show as fast as they can, since new installments are airing three times this week.
At 7:30 PM, the Cartoon Network has another new Scooby-Doo: Mystery Inc., with "A Haunting in Crystal Cove." Here are three clips:


That's followed by another episode of the Looney Tunes Show at 8 PM.
And then at 9 PM, there's a new episode of The Nine Lives of Chloe King on ABC Family, "All Apologies."
Alek and Jasmine train Chloe hard this week. She notices a new power that soon places her life in danger.
And here are a few clips.
Wednesday:
Disney is showing one more My Babysitter's a Vampire at 7 PM, "Friday Night Frights."
And then at 10 PM, there's a new episode of Through the Wormhole with Morgan Freeman, on Science, "Is There a Sixth Sense?" Here's an interview with Freeman in which he talks about the series and his belief that a "sixth sense" may exist:
We know that thoughts are energy, they create an energy and they can be directed. You go off into an empty house, you can tell it's empty before you get there.
(The real mystery is how people can interview Morgan Freeman and not demand to know what's happening with his Rendezvous With Rama movie.)
Thursday:
At 7 PM on Disney, you guessed it — yet another new episode of My Babysitter's A Vampire, "Smells Like Trouble." (Oh, is that what that smell was?)
At 8 PM, National Geographic has a special, The Great Dinosaur Escape:
It was one of the greatest mass migrations in the history of the Earth. Millions of years ago, dinosaurs spent their summers at the North Pole and then migrated 1,000 miles across hostile terrain to escape the winter. NGC brings this epic odyssey to life using the latest scientific research and a computer generated format. The dramatic story is told through the eyes of a young and vulnerable Edmontosaurus named Scar. Viewers can experience the challenges Scar faced.

And here's a particularly awesome image:

At 8:30 PM, Nicktoons has a new episode of Voltron Force, "The Hunkyard."
Hunk takes the cadets on a bonding mission to his secret junkyard.
And then at 9 PM, there's a new Burn Notice on USA, "Mind Games"
And there's another new Futurama at 10 PM on Comedy Central, "Law and Oracle." In which Fry gets fed up with his dead-end job and joins the police... and rides on a lightcycle! Are you ready for Futurama to do Tron?
Also at 10 PM: another new Wilfred! on FX. I bet there'll be ironic hijinks. (Ironijinks?)
And then at 10:30 PM, Comedy Central has a new episode of Ugly Americans, "Callie and Her Sister."
Callie reluctantly becomes her baby sister's guardian when their estranged parents' reunion proves to be a short one.
Friday:
Disney has a new Wizards of Waverly Place at 8:05 PM, "Wizard of the Year":
Alex wins the coveted awarded of Wizard of the Year and her former crush Chase decides to show up at the awards ceremony to congratulate her. The only problem is that the paparazzi capture the two together and the rumors start to fly.
Torchwood is back! And we cannot wait! The first episode of Torchwood: Miracle Day appears on Starz at 10 PM. (Read our fairly spoiler-free review here.) It's called "The New World," which was almost the title for the whole series.
One day, nobody dies. All across the world, nobody dies. And then the next day, and the next, and the next, people keep ageing – they get hurt and sick, but they never die. The result: a population boom, overnight.
With all the extra people, resources are finite. It's said that in four month's time, the human race will cease to be viable. But this can't be a natural event – someone's got to be behind it. It's a race against time as CIA agent Rex Matheson investigates a global conspiracy. The answers lie within an old, secret British institute. As Rex keeps asking: "What is Torchwood?", he's drawn into a world of adventure, and a threat to change what it means to be human ... for ever.

In the launch episode of Torchwood: Miracle Day, Agent Rex Matheson is impaled in a car crash and miraculously survives, while his analyst, Esther Drummond, sets out to discover what Torchwood is. Far away, in Wales, Gwen Cooper lives in hiding with her husband Rhys and daughter Anwen – she's the last surviving Torchwood member and is determined to stay hidden. In Kentucky, convicted murderer Oswald Danes survives his own execution. And when Esther meets the mysterious Captain Jack Harkness, assassins are activated to kill them all...
Above are a five-minute trailer and an 11-minute featurette.
At 10 PM, Science has a new special, Last Shuttle: Our Journey. From the press release:
LAST SHUTTLE: OUR JOURNEY features interviews with key players in the NASA Space Shuttle program, including the four crew members of the last Atlantis flight: Mission Specialists Sandy Magnus and Rex Walheim, as well as Commander Chris Ferguson and Pilot Doug Hurley. In addition, LAST SHUTTLE: OUR JOURNEY includes interviews with Captain Bob Crippen, the celebrated pilot of the first Atlantis mission; Jerry Sheehan, NASA's director of engineering; and Joe Chaput and John Fishbeck with NASA's marine operations.

LAST SHUTTLE: OUR JOURNEY illustrates the intricate preparations for the momentous final mission, including the countdown and launch of the shuttle Atlantis from Kennedy Space Center, provoking viewers to ask "What's next?" for mankind's future in space.
Saturday:
BBC America is showing two Battlestar Galactica episodes, "You Can't Go Home Again" and "Litmus," from 7 to 9 PM.
And the Hub is having its random grab-bag of Transformers and G.I. Joe cartoons as usual from 7 to 9 PM.
And because apparently it's unofficially dinosaur week on television, Discovery Channel is having a special called Dino Gangs. This show advances a new theory: dinosaurs such as T-Rexes hunted in organized gangs.
For years, scientists concluded that Tyrannosaurs like the T-Rex were solitary creatures because their skeletons were found alone. Now, leading paleontologist Dr. Phil Currie believes that Tyrannosaurs were cooperative pack animals that hunted in terrifying gangs. This major new discovery, and Dr. Currie's radical theory, are the subject of the new special DINO GANGS, airing Saturday, July 9 at 8PM ET/PT on Discovery Channel.

Currie's theory is based on new evidence from a remote corner of Mongolia, where paleontologists have unearthed the remains of 90 Tarbosaurus dinosaurs - the Chinese T-Rex — in one region of the Gobi Desert. Dr. Currie believes that many of them, found close together, were part of a single social group.

With exclusive access to his research, DINO GANGS follows Dr. Currie on a global quest from the dinosaur graveyards of the Gobi Desert to the wilds of the African Kalahari. To prove his theory, the special uses cutting-edge animation and powerful computer generated imagery to immerse viewers into Tyrannosaurs' mysterious lives. Using CT scans of a Tyrannosaur skull, the special shows how it is possible to build a 3D model of the Tyrannosaur's brain, blood vessels and nerves. DINO GANGS could change our understanding of dinosaurs forever, by revealing that Tyrannosaurs were more intelligent — and far more deadly — than we had ever imagined.
Turner Classic Movies is showing a lineup of "Nuclear Thrillers" all night, starting at 8 PM. Including Fail Safe, The Bedford Incident, Split Second, and Seven Days in May.
Also at 8 PM: Nickelodeon has a TV movie: A Fairly Odd Movie: Grow Up, Timmy Turner! It's a Fairly Oddparents movie, except it's mostly live-action with some CG mixed in. Timmy is now 23 years old but still acts like a little kid. Meanwhile, an oil magnate wants to capture Timmy's fairies.
That's followed at 9 PM by episode three of the BBC's Outcasts:
When a rogue AC enters Forthaven and attacks a citizen, Cass and Fleur must control the situation. But Fleur soon finds herself calling into question everything Forthaven stands for and Cass must make an agonizing decision.
Sunday:
There's another new True Blood on HBO at 9 PM, "If You Love Me, Why Am I Dyin'"?
Eric and Sookie work out an agreement while Bill renders advice and guidance to Jessica. Meanwhile, Jason becomes the hero and Tommy, once again, becomes estranged from Sam. Pam instructs Lafayette that if demands aren't met, retaliation may be in order. Marnie sets out to give her new powers a try. Eric upsets a get-together.
Also at 9 PM: another new Leverage on TNT, "The 15 Minutes Job".
Then at 10 PM, TNT has a new episode of Falling Skies, "Silent Kill."
Hal comes up with a risky and dangerous plan to infiltrate a Skitter's lair and rescue Ben and other harnesses kids that are being held captive.
At 10:30 PM, PBS has a new special, Sky Island:
In Northern New Mexico, a range of mountains rises up from the high desert: a wild, rugged land of the Faraway Nearby. The volcanic Jemez are isolated from all other mountain ranges - an island in the sky, surrounded by a desert sea.

In Sky Island, environmental filmmaker John Grabowska (Ribbon of Sand, Crown of the Continent) profiles this captivating landscape and humankind's place within it, examining the global warming effects that have already dramatically impacted the high desert and alpine ecosystems. This exploration of identity, place and perception features breathtaking cinematography, narration by acclaimed actress Meryl Streep, readings by Pulitzer Prize winner N. Scott Momaday and a sweeping orchestral score by Academy Award winner Todd Boekelheide.
And then at 11:45 PM, Cartoon Network's Adult Swim has another new Aqua Teen Hunger Force, followed by a new Mongo Wrestling Alliance.
Sources: Futon Critic, TV Guide, and various TV studio press releases.