For some kids in North Carolina, the school year started only to be abruptly halted. Hurricane Florence tore through their communities three weeks ago, but the situation has yet to return to normal.
Many schools remain closed due to a lack of access, as roads are impassable due to floodwaters or lingering damage. In some cases, schools themselves are too badly damaged for students to return. Across North Carolina, closures continue to affect more than 50,000 students. While some return to school Monday, the wait continues indefinitely for plenty of others.
These kids have not only lost seemingly endless days of school, but they also might've lost their homes and the sense of stability that accompanies their daily trips on the school bus. Two schools in hard-hit eastern North Carolina's Onslow and Pender counties are currently closed for classes and functioning as shelters for now-homeless families.
"School is a place where [kids] can go back to find normalcy, to see friends, to get the support of teachers and other school staff, so it's a really critical piece of the puzzle when it comes to just bringing life back to normal," said Rob Thompson, the director of the child advocacy group NC Child, to Earther.
G/O Media may get a commission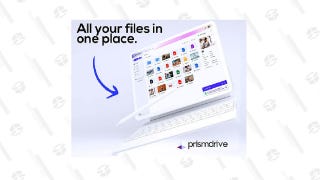 Save 97%
Prism Drive Secure Cloud Storage: Lifetime Subscription
Counties like Robeson and Jones, which are among the poorest in the state, as well as better-off Onslow, have all suffered from school closures. In Robeson, public schools remain shut down until Friday. In Jones, which saw record-level flooding in wake of Florence, an elementary school and high school will be closed for the rest of the school year. Mold and mildew are to blame.
Officials still have to figure out where they'll send all those students, but it's clear other nearby schools will have to prepare for an influx of new classmates. The kids who're transferring, meanwhile, have to deal with navigating a new school and making new friends. Transfers have already begun for some students in nearby New Hanover County.
All these students will have to play catch-up.
"We're very concerned with the loss of learning," said Mark Jewell, the president of the North Carolina Association of Educators, which represents the state's public school employees. "They need to be back in school."
Even schools that are back in session must deal with the consequences of all those missed days. Losing just 10 percent of school days in a given year can lead to lower numeracy and literacy levels, class failure later on, and a higher likelihood of future suspensions or dropouts, according to a number of studies.
That's along with the trauma these disastrous events often inflict on children. Whether a child experiences depression, anxiety, or post-traumatic stress disorder depends on their situation before the event, said clinical psychologist Sally Horwatt, who specializes in disaster psychology. But the threat is always there.
"Couple [the trauma of a hurricane] with the difficulties post-hurricane that everything is not going to get back in order right away," Horwatt said. "So it turns into a chronically bad situation, and that can make recovering from a trauma more complex."

The ongoing upset to the normal school year could be a gamechanger for children, especially those who are already overwhelmed with other stressors, including poverty, discrimination, and disinvestment. It's a story that's played out over and over again, and the children with the fewest resources always seem to suffer the most.
Nine months after Hurricane Katrina, officials discovered that 20 percent of school-aged children in Mississippi and Louisiana either weren't enrolled in school or missed 10 school days a month. After Hurricane Maria struck Puerto Rico, nearly 300 schools were permanently shut down. And after record-breaking floods roared through communities in the South—the second time in two years—officials still haven't come up with a solution.
They did, however, sit down earlier this week to pass some immediate legislation that will do a few things: forgive up to 20 school days, offer $56.5 million in relief statewide, and pay public school employees who couldn't work.
But that won't be enough. The effects of these missed school days and displacement are long-lasting, and it'll ultimately be up to the school leaders and educators to offer their students as much support as they can.
In North Carolina, Jewell said, the emotional and mental health of students will be the first order of business once school's back. That's something, at least.