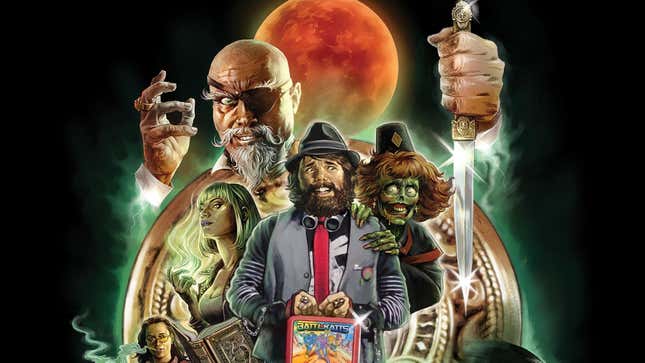 Andrew Bowser's cult-fave TikTok character Onyx the Fortuitous has finally made it to the big screen after a successful indie campaign, and the feature, which screened at the Sundance Film Festival earlier this year, will hit theaters in time for Halloween.
2,807 Lego Pieces Later…We Have The Mighty Bowser™ | io9 Builds
With over a million followers on the social-media platform, there are plenty of ready-made fans for Onyx the Fortuitous and the Talisman of Souls—but from the looks of the trailer, even newcomers will get a kick out of Onyx's misfit energy. The movie has shades of Ernest Scared Stupid, Pee-wee's Big Adventure, and that emo horror kid you knew from school. Bowser's popular online skits have reached over 300 million views online, as the character he created has evolved from his endearingly "aw, shucks" horror encounters and misadventures to a whole darn movie. We're excited to see him leave his hometown and get to live the horror movie of his dreams... or nightmares.
Watch the trailer below for the Fathom Event-hosted screening on October 19!
A Cineverse press release describes the film as follows: "Misunderstood by all who know him, Marcus J. Trillbury (Bowser), aka Onyx the Fortuitous, is struggling to find purpose in his soul-devouring side gig. But just when it seems he's ready to throw in the towel, he receives a coveted invitation to the mansion of his idol Bartok the Great (Jeffrey Combs, Re-Animator) for a ritual to raise the spirit of an ancient demon. Ecstatic, he joins Bartok, his mysterious delegate Farrah (Olivia Taylor Dudley, The Magicians), and a collection of fellow devotees as they prepare for the ceremony, but quickly it becomes apparent things are not what they seem. As Onyx and his new friends fight to keep their souls, he must decide what he's willing to sacrifice in order to meet his destiny."
Onyx the Fortuitous and the Talisman of Souls also stars horror icon Barbara Crampton (You're Next, Re-Animator) as Onyx's mother. The rest of the cast is filled out by Ralph Ineson (The Green Knight), Rivkah Reyes (School of Rock), TC Carson (Final Destination 2), Arden Myrin (Shameless), and Melanie Chandra (Code Black).
Bowser shared, "Onyx started out as a quirky digital character that I hoped would find some sort of audience, even a tiny one. To see the growth in popularity over the last few years has been incredible, and now we're preparing for a major theatrical event. It just shows that if you're willing to put your art or yourself out there amazing things can happen." Bowser produced the film along with Clark Baker, Michael Mobley, and Olivia Taylor Dudley. The film premiered as part of the Sundance Film Festival's Midnight Section.
Get tickets to the one night only Fathom screening event on October 19 here.
---
Want more io9 news? Check out when to expect the latest Marvel, Star Wars, and Star Trek releases, what's next for the DC Universe on film and TV, and everything you need to know about the future of Doctor Who.