I've lost count on the many times the F-35 has been grounded already (ok, I didn't, it's been five). It feels like a $1 trillion joke that is not funny at all. Now, 15 brand new F-35s are now dead ducks because of a stupid mistake.
They loaded the parachutes in their ejection seats in the wrong way, they were "reversed 180 degrees from design during installation," according to Joe Dellavedova, at the Joint Strike Fighter Joint Program Office. The reason for the incorrect loading of the parachutes was "improperly drafted packing procedures." A one trillion dollar plane grounded by "improperly drafted packing procedures." Let that sink for a bit.
Dellavedova argues that this "wouldn't have prevented the pilot from ejecting and landing." But of course, it wouldn't be the right kind of landing and the pilots could have been injured because they would be hitting the ground in the wrong position, according to Aviation Week's industry experts:
One industry source notes, however, that an ejection "would have likely caused passenger load factor injury" because pilots would "have hit the ground going backwards." Because the parachutes were loaded backwards, their steering lines would also have been reversed, affecting a pilot's ability to guide himself to a landing site.
G/O Media may get a commission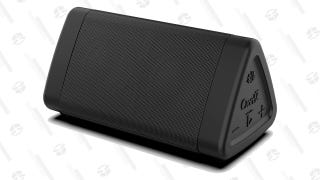 Save 31%
Oontz Angle 3 Portable Bluetooth Speaker
Which of course, it's the reason why the 15 airplanes have been grounded.
The replacement Martin-Baker US16E-21 and -23 seats—featuring Properly Loaded Parachutes among their many advanced features—are going to arrive in ten days.
The planes are based at at Edwards Air Force Base in California and Eglin Air Force Base in Florida, plus three airplanes at Lockheed Martin's facility in Fort Worth, Texas.
A history of failures
This is not the first time the F-35 has been grounded. The last time the plane was grounded was in August 2011. That time, the airplane had a power system failure that affected cockpit temperature control and backup power. It was later cleared again for flight, even while it wasn't fixed.
Before that, the F-35 fleet had two more grounding orders, bringing the total to four so far. The first grounding order came on October 2010, caused by a software failure detected during simulations. The second order came on March 2011, after an in-flight generator failure and oil leak was discovered.
Apart from these problems, the beleaguered Joint Strike Fighter project has suffered from numerous development, manufacturing and schedule delays, which have put the whole program into question several times. Even parts that seemed to be finished and working—like its scary demon helmet that could see through the plane itself—have had problems. [Aviation Week]