These are scary times for the web as we know it, and a new petition before the United States Supreme Court could have broad implications for how we'll interact online. One of President Trump's go-to lawyers has made it his mission to get the highest court in the land to reconsider a landmark defamation case against Yelp, threatening one of the fundamental principles of the web in the process.
The California case involved an attorney, Dawn Hassell, who claimed her firm was being defamed in a Yelp review by a former client, Ava Bird. Yelp was not named in the case, but it was eventually included in a default judgment that ordered Bird and Yelp to remove the review. Yelp fought back on multiple grounds, and the Supreme Court of California eventually agreed that it was in its rights to ignore the order. Now, Charles Harder, a high-profile attorney that often represents Trump in cases involving libel and defamation, has asked the U.S. Supreme Court to take another look at the case.
On Tuesday, Harder's law office issued a press notice saying that it was petitioning the court to hear arguments on Hassell v. Bird. "For Yelp or any other social media platform to refuse to obey a Court Order to remove a defamatory post from its platform is outrageous," Harder said. The attorney is framing this as a straightforward case of defamation and a reckless company defying the legal system.
Harder paints Hassell as a small business owner who was victimized and was denied justice even though the courts agreed with her argument. According to the release:
Inexplicably, rather than do the right thing, Yelp fought Hassell at every level of the court system, by claiming that Section 230 of the Communications Decency Act, which protects websites from being sued for their editorial decisions to remove offensive content, supposedly gives Yelp the right to defy Court Orders and, instead, continue to publish illegal, defamatory statements that do great harm to small businesses and individuals. Yelp's position directly contravenes the text, history and intention of Section 230.
G/O Media may get a commission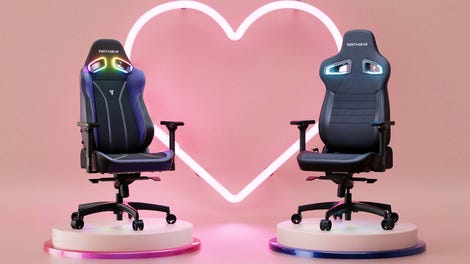 Up to $150 off
Vertagear Gaming Chairs
This description is certainly simplifying a more complicated case. On one level, Yelp argued that it had not been named in the case, therefore it had been denied its right to due process before the order was made against it. Yelp's own attorneys had never been given the chance to make their case. It also argued that it's protected under Section 230 of the Communications Decency Act from legal liability for content that is created by users.
Without Section 230, it would be virtually impossible for online platforms like Reddit, Facebook, or Twitter to exist. The legislation reads in part, "No provider or user of an interactive computer service shall be treated as the publisher or speaker of any information provided by another information content provider." This doesn't mean that an individual can't be sued for making defamatory statements through an online platform, it just means that the platform isn't responsible for those statements. Hassell's lawyers admitted to the court that they didn't name Yelp because they knew the company would use Section 230 as a defense. In its decision, the court called it an "attempted end-run around Section 230 immunity."
When contacted by Gizmodo, Yelp declined to comment, but a spokesperson pointed us to a blog post from its deputy general counsel. The post was written just after the case was decided in July. It celebrated the decision and framed the broader issues at play, saying:
Yelp's publishing rights are not the only rights at issue, as the Court of Appeal's reasoning puts at risk any journalist's work — whether displayed online or not — that uses quotes or information from someone else. Also at risk are the separate speech rights of individuals that use online resources, such as those that post comments on news articles or consumers who choose to describe their business experiences online, which may be squelched through manipulations of our judicial system.
Free speech advocacy groups like the ACLU, Electronic Frontier Foundation (EFF), and Public Citizen all supported Yelp's arguments. In an amicus brief filed with the California court, the EFF also outlined the risk of platforms simply abdicating all responsibility to monitor the content on their platforms in order to avoid being accused of knowingly violating the law. Without Section 230, user-generated content could become something that isn't worth the risk, or it would simply be un-monitored and platforms would only pay attention when they get an order to remove something.
This is the same argument that was made earlier this year when Congress passed a bill that made online platforms liable for content that enabled sex trafficking. That move already weakened Section 230's protections in a narrow way, and the fear is that reopening Yelp's case could set the precedent that makes the rule all but unenforceable.
Which brings us back to Harder and Trump. There's no evidence that Trump is involved in this effort in any way. But one of his personal attorneys petitioning a court on which Trump personally appointed two justices likely won't hurt the effort to get a hearing. We don't know how Harder suddenly came to be involved in the case, but he has a history of attempting to silence media outlets.
Harder represented Hulk Hogan in a lawsuit against Gizmodo's former owner, Gawker Media, ultimately resulting in the company's bankruptcy. That suit was later revealed to be secretly bankrolled by PayPal founder Peter Thiel, who had a problem with Gawker's coverage of his life. Thiel later went on to be one of the few tech leaders to support Trump's candidacy.
Trump has said that he's going to "open up our libel laws" so that "when The New York Times writes a hit piece which is a total disgrace or when The Washington Post, which is there for other reasons, writes a hit piece, we can sue them and win money instead of having no chance of winning because they're totally protected." This case wouldn't necessarily accomplish that, but it could create one more tool to silence speech on the web.
[PRNewswire via The Verge]