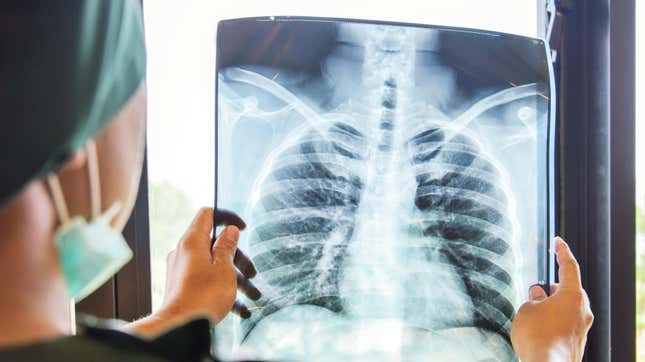 A Washington woman with acute tuberculosis remains free despite having an arrest warrant filed against her. She was diagnosed over a year ago and has continued to refuse treatment or to isolate herself from others while contagious. Local health officials are expected to once again obtain a court order on Friday.
Mental Health Apps Are a Privacy Nightmare
The saga became public this January, when Tacoma-Pierce County Health Department officials alerted the public to the woman's ongoing case of tuberculosis. At the time, they briefly noted that the person refused to complete the recommended antibiotic treatment, which can take months to fully clear the bacterial infection. But local reporting soon revealed that officials had been failing to convince her otherwise for over a year and that the woman had repeatedly ignored court orders obtained by the health department to finish treatment and/or remain isolated until she no longer presented a threat to the public.
Finally, in late February, Pierce County judge Philip Sorenson issued a civil arrest warrant, and she was expected to be arrested later that week. The local jail where she would be detained has special negative pressure rooms meant to prevent the spread of contagious diseases like tuberculosis. For the time being, however, she remains free.
According to court documents obtained by KOMO News and detailed on Friday, the woman has continued to elude authorities. The Pierce County Corrections Bureau reportedly sent over an officer to surveil the woman, purportedly in hopes of finding the safest way possible to take her into custody. The officer noted that she continued to leave her home, at one point even taking public transportation to visit a casino in the area. A court-appointed visitor also said they have been unable to get in touch with the woman or her family since a scheduled appointment in early March.
"We are always hopeful that a patient will choose voluntary compliance in these situations and get the treatment needed to protect themselves and others. We will continue to work through the legal process and all options available," the Tacoma-Pierce County Health Department told KOMO News.
Tuberculosis is rare in the U.S. nowadays, but it remains a major public health threat worldwide, with an estimated 1.6 million deaths documented in 2021. Many people initially infected with the bacteria don't develop illness, but the infection can remerge years later, especially if a person's immune system weakens for other reasons. Those with acute symptoms (typically respiratory) are contagious to others, and if left untreated, these cases can lead to serious complications. Antibiotic-resistant tuberculosis has become a problem as well, and it's known that starting treatment without completing it can raise the risk of these strains emerging.
According to KOMO News, health officials are due in court Friday, where they will ask for a 16th court order mandating the woman's isolation and treatment, for a period of no longer than 45 days.
"It's not about jail time at all," Sergeant Darren Moss, Jr. a spokesperson for the Pierce County Sheriff's Department, told KOMO News. "It's about compliance with the health department's orders."