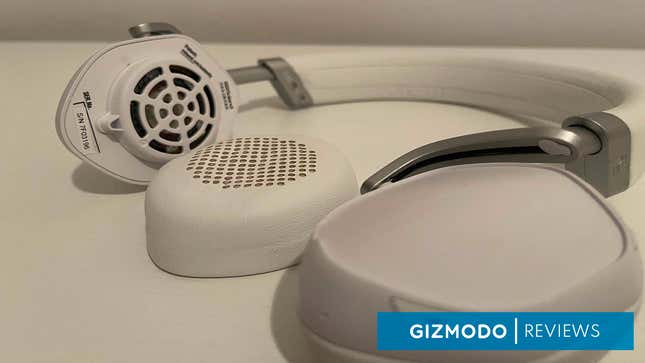 Launched in mid-2022, the V-Moda S80 on-ear headphones didn't gain much traction. Initially priced at $400, in just less than a year, their price has been slashed down to $170, and rightfully so. For $400, the S-80s lacked a number of features you'd normally take for granted at that price point, like ANC. We're not sure if even the reduced price makes the headphones worthwhile, but it does make them worth reconsidering. They have quite a few shortcomings, and their only saving grace is their unique ability to double as personal speakers. It's a shame that they don't do that particularly well, either.

Not enough bells and whistles
For $400, you'd expect these things to come with a bunch of bells and whistles. The S-80s barely offer users anything special. You don't get Active Noise Cancellation (ANC), a wired option, water/sweat resistance, or even a carrying case. This means you're fully dependent on passive noise isolation to block out ambient noise for you. That's a problem, as the S-80s are on-ear headphones, meaning they sit flat against your lobes rather than wrapping around them. The isolation just won't be as good as what over-ear headphones can offer by completely sealing your ears off from the outside world.
The absence of a 3.5mm port limits connectivity options and might be a hassle when the S-80s are out of juice. The lack of water/sweat resistance considerably limits usage, as it deems the headphones unfit to be worn during, for instance, intense physical activities. Not providing a carrying case isn't an absolute dealbreaker, but is definitely one of those extra features customers always appreciate. A case not only ensures protection but also enhances portability. Since the headphones aren't foldable as well, their stowability is already limited as is.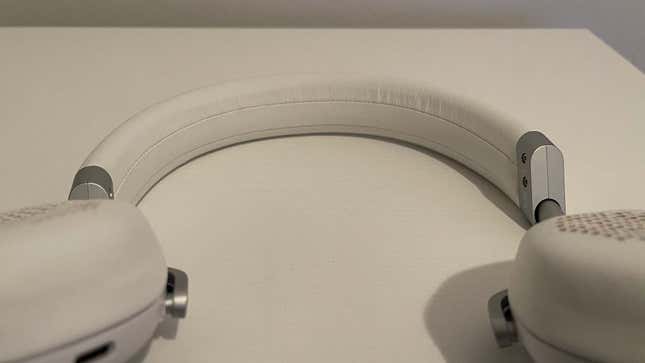 Skimps on headband padding and a little too heavy for your noggin
V-Moda tried its best to give the S-80s a unique style. The headphones have an overall slim body with a quite thin headband. Featuring a ridiculously small amount of memory foam and coated with polyurethane (PU) leather, the headband is pretty uncomfortable and feels like a burden atop your head after a while. The earcups are, thankfully, generously padded though and covered with PU leather as well. Though they feel comfortable against your ears, they tend to heat up fairly fast, resulting in sweat buildup. An aluminum and zinc alloy material connects the headband to the earcups and significantly amps up the aesthetic of the headphones.
The earcups attach magnetically and can easily come out to be wiped down or replaced. While this is a commendable feature, the cups are a bit too loose and fall off with the slightest jerk. The faceplates on the exterior of the earcups are swappable as well. You can simply tuck them out to clean them or replace them with the spare faceplates included in the package.
Additionally, and very importantly, the S-80s are way too heavy. At 355 grams, these cans become too much for your noggin to handle during extended hours of usage. So, while the metal contributes to the overall aesthetic of the device, it adds considerable weight to it too.
The S-80s are available in two color variants: black with a silver or rose gold trim and white with silver trim. Overall, these headphones have a pretty classy look. They are minimal but flashy. The metal looks great against the leather and the magnetic earcups and faceplates are appreciated, too. The top of the headband features the company's name in metallic silver, which goes well with the metal on the body. At first glance, the headphones come off as modern and stylish. They have a streamlined body that is not just pleasant in terms of looks, but sturdy and robust as well. However, it's disappointing when a good aesthetic is coupled with an uncomfortable fit.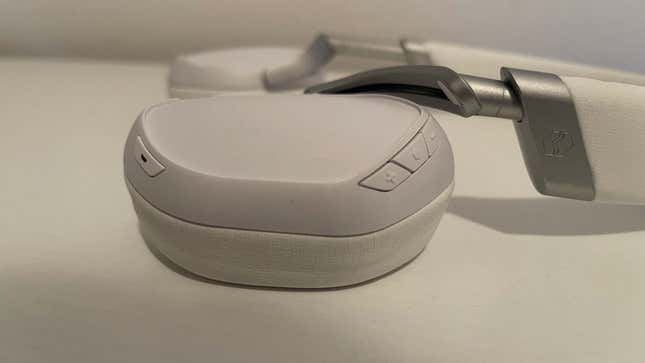 Pretty great sound
The sound on the S-80s 40mm drivers is pretty good. Their bass is definitely their most prominent feature. It has that low-end thump and packs a lot of punch. However, it's not too overbearing or overly thick. It lets other elements of the mix shine. The mids are bright and spacious, too, and it doesn't sound like they're contending with any other part of the mix. They feature separation and pretty good sound imaging.

The treble doesn't come at you with the same intensity the bass does, and can get lost in your sound. If you're a fan of treble, I'd suggest you look elsewhere.

The V-Moda S80 can double as a personal speaker zone
The previously-mentioned unique concept of the S-80s is that they can, V-Moda says, double as speakers when they're made to lie flat around your neck. That's why the earcups can rotate. However, even with that added directionality, their sound is not nearly as impressive in speaker mode, and it feels like this was just added as a marketing point rather than as an actual useful feature. To make this work, the headphones had to opt for that on-ear design, which just introduces too many compromises for what you get in return.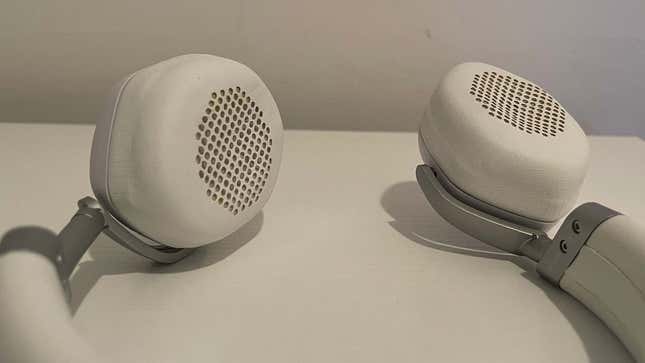 I'll be blunt. The maximum volume in speaker mode is so low that it sounds like sound leakage from a standard headphone mode. The sound also loses considerable bass. If you've ever overheard your partner's music while they were wearing headphones, this is a similar vibe.
Controls, battery, and mic
The controls on the S-80 are pretty good. They're not confusing and are designed intuitively. Even though they're all hosted on the same earcup, they are easy to navigate and get used to. There's a multi-function play/pause button that skips to the next track when pressed twice and takes you to the last track when pressed thrice. Long-tapping it activates your voice assistant. This button is grouped with a pair of volume controls. The same cup hosts a power/pairing button along with a Type-C charging port.
V-Moda promises 20 hours on the S-80s, and while its claims aren't too inflated, how long these headphones will last depends on your listening volume. The mic is just okay. I noticed some noise but it is enough to manage your day-to-day calls.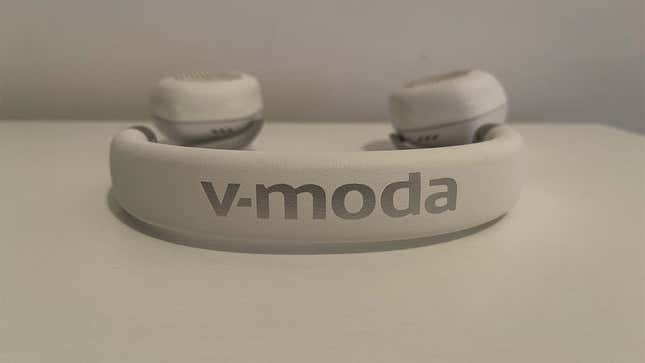 Should you buy the V-Moda S-80?
Pricing the S-80 at $400 was the wrong move. But even the discounted price is hard to make a case for. If you're after good sound, these can be worth considering, but there are plenty of other options in this price range that have good sound AND other features. Not featuring ANC, for instance, is an inexcusable flaw even at this newprice. Add their uncomfortable fit and a less-than-ideal mic to the package, and you'll understand why you might prefer something more tried and true, like the Sony WH-CH720N or Razer Opus.