The biggest draw for the latest vampire movie isn't the hot young things starring it it, it's the two middle-aged Waters Brothers. The director from Mean Girls and writer of Heathers combined their powers to steal the thunder from the baby vamps on stage at New York Comic-Con. And thank god for it.
Based on the very popular Richelle Mead vampire series, Mark Waters (Mean Girls director) and Daniel Waters (Heathers) took the stage with two of their new vampires and the Vampire Academy star Zoey Deutch, who will be playing the ass-kicking Rose Hathaway.
It was all turning out to be another collection of good-looking kids with supernatural powers that was good but not good enough to garner a lot of heat (it was Mortal Instruments all over again). But then the Waters brothers took the wheel and showed off some pretty fun footage. And we're back in the bag for Vampire Academy.
The footage:
Blasting the "Live Fast Die Young" song, a very long sizzle reel/trailer was shown to the audience. The first scene, watching Lissa feed off of Rose. Because she was hungry, and as Rose said "what are friends for?" It established the fact that this was a girlfriends kind of vampire movie, as opposed to the "he loves her she loves him but one of them is a monster" trope this genre has been kicking around for ages. Cut to the Vampire Academy and it's all kids kids kids. Kids laughing at each other, kids fighting with each other. Kids filming things on their cameras and smart phones. It almost stops being a vampire movie entirely for jokes. Bully Mia shows up hissing and baring her fangs, telling the other girls to leave her man alone. She later runs up to Lissa at a dance and frantically yells, "You were gone, are you pregnant, do you have herpes, maybe your baby has herpes?" Rose appears, they get into a tussle and Rose just clocks her in the face and asks, "everyone saw me try to take the high road on that." And then to top it all off is Rose, kicking so much ass, unzipping her shirt and doing tai chi on the lawn of the school.
G/O Media may get a commission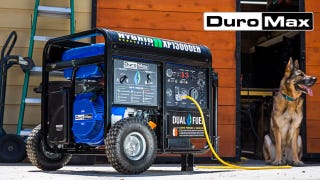 Black Friday Sale
DuroMax Generator Sale
Now that they are pushing the Mean Girls with vampires angle of this series, I'm much more into it. Especially after what a disaster Amy Heckerling's Vamps was.
But it's not going to be all comedy. Daniel Waters commented, "I know the sizzle reel seems all funny, but don't panic if you hate comedy. It has dramatic beats and romantic beats."
The panel continued on revealing tidbits for big time fans, Zoey blushed when she was asked by the moderator about the "Love Charm" scene.
When asked what he was sad to see go, Daniel Waters said he believed he kept everything in, but when he got online and read the fan comments he couldn't believe what people were demanding to stay. Which was kind of a funny disbelief, and yes he did cut one thing. Dimitri the lip gloss-loving vampire will no longer crave lip gloss, because that was "lame." And yeah, he's kind of right. Or at least it sounds ridiculous.
Director Mark Waters pointed to the past vampire movie Hunger as a big influence in this movie's palette. And also discussed that they were in the process of securing unreleased music for the soundtrack. All good supernatural YA movies must have a good soundtrack. And he promise one cover and once original to the movie track.
Honestly, we're kind of excited for Vampire Mean Girls.