Wireless carriers have already demonstrated an inability to understand what "unlimited" actually means, offering phone plans that habitually throttle customers who use more than 26GB or so of data every month. However, with the release of its new Above Unlimited plan, Verizon is pushing the mental gymnastics carriers employ to define unlimited to a whole new level.

In addition to its Go Unlimited and Beyond Unlimited plans, Verizon is now adding a premium Above Unlimited plan to the mix, which offers 75GB of "unlimited" data per month (as opposed to the 22GB of "unlimited" data you get on less expensive plans), along with 20GB of "unlimited" data when using your phone as a hotspot, 500GB of Verizon cloud storage, and five monthly international Travel Passes, which are daily vouchers that let you use your phone's wireless service abroad the same as if you were in the U.S.
And as if that wasn't bad enough, Verizon has also updated its convoluted sliding pricing scheme that adjusts based on how many phones are on a single bill. For families with four lines of service, the Above Unlimited cost $60 per person, but if you're a single user the same service costs $95, which really seems like bullshit because if everything is supposed to be unlimited, it shouldn't really make a difference how many people are on the same bill.
As a small concession to flexibility, Verizon says families with multiple lines can now mix and match plans instead of having to choose a single plan for every line, which should allow families to choose the right service for an individual person's needs and help keep costs down. However, if you want to calculate your bill, you'll now have to refer to the chart above to figure out how much you're actually shelling out to Verizon every month.
G/O Media may get a commission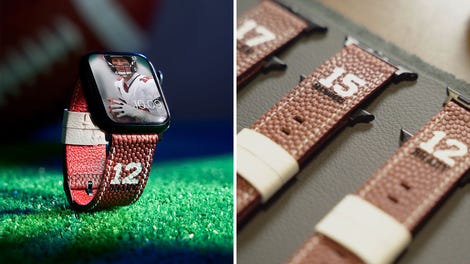 Official NFL PRODUCTS
Official NFL Apple Watch Bands
Now just to be fair, T-Mobile, AT&T and Sprint also have family plans with optional upgrade packages and prices that vary based on the number of lines you have, but to my knowledge, none of them try to entice customers with the inclusion of additional "unlimited" data (aside from select packages offering extra hotspot data). Either way, none of the companies should really be allowed to use the world unlimited when referring to their phone plans.
If somehow your eyes haven't glazed over already and you're thinking about increasing the amount of "unlimited" data on your Verizon line, the new Above Unlimited plan and the company's mix-and-match feature arrives next week on June 18.