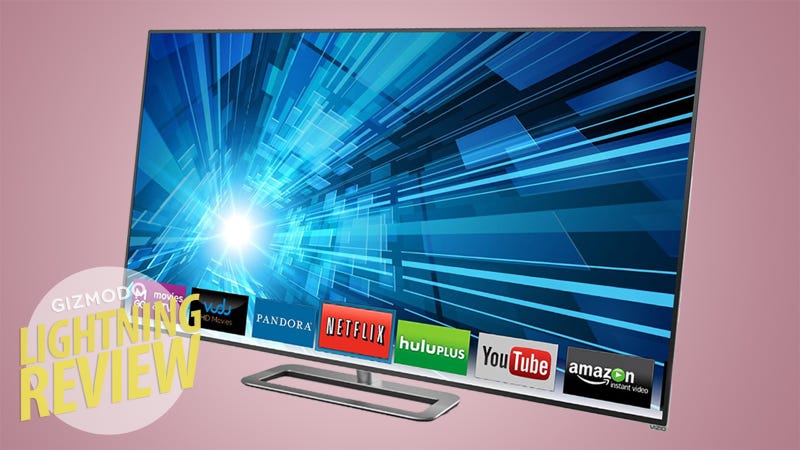 $9,000 for a TV? Doesn't matter if it's curved, spherical, or damned trapezoidal; doesn't matter if the LEDs are organically raised or not, that's an absurd amount of money to throw down on a set. And unless you're a lucky member of the 1 percent, it's not really even an option. Here's a solid TV for the every-man.
What Is It?
A 55" backlit-LED flatscreen with passive 3D, a host of features, and perhaps the worst remote you will ever have to endure.
Who's It For?
People who want a solidly performing flatscreen without blowing $3,000-plus for a top of the line model or settling for a bare-bones entry level.
Design
Surprisingly snazzy. The screen itself is just under 2 inches thick and framed by a minuscule black bezel. It sits atop a silver rectangular stand that matches the band wrapping around the depth of the screen. It includes 4 HDMI ports, 2 USB, one each of component, composite, RF, cable, and Ethernet ports.
Using It
Setup was straightforward: connect the monitor with base using four screws, enter your Wi-Fi password, and you're good to go. There will be some additional log-on steps if you want to use the integrated Smart features like Netflix, Hulu, Amazon Instant, the Vizio Internet Apps Plus (VIA Plus) service, or the array of Yahoo! widgets. All of these are accessible from a subtle menu banner running along the bottom edge of the screen and a complete list of nearly 140 apps is available through the full-screen menu.
The Best Part
I was quite impressed by the display quality given its $1,100 price tag. Black levels were sufficiently dark and color reproduction was bright without being garish. It can't compete with the color saturation that a plasma can provide but was more than sufficient while watching movies. Ghostbusters (the mastered for 4k version) was a treat to watch, even with movie mode turned off. I noticed a little bit of graininess on live television and a bit of chop on some fast moving action sequences (line drives and such) but those can both be negated by tweaking the set's motion smoothing controls.
Tragic Flaw
That confounded remote. Unless you are standing within five feet of the set, getting it to respond is really up to luck. The remote's design itself is intuitive and easy to learn, it's just trying to get it to actually send commands that's a pain. The screen is also really reflective, making it a challenge to watch in a bright room.
This Is Weird...
All of the smart apps are based on Yahoo!
Test Notes
I watched Ghostbusters (mastered for 4k version), Elfen Lied on Hulu, MI-5 season 2 on Netflix, and some lousy Giants games on live TV for this test.
System ships with eight pairs of passive 3D glasses.
Set is light enough for me to setup alone.
Should I Buy It?
At just $1,300, the M55d-2AR is definitely on the low end of the 55" HDTV payscale but that doesn't mean it isn't a perfectly serviceable high-def set. The picture quality isn't going to blow you away like the TK LED or TK PLASMA, but it makes up for it in affordability and smart features. If you've only got about a grand to spend on a new HDTV, the M55d is definitely worth a look.
Vizio 55" Razor LED (M55d-2AR) Specs
Dimensions: 36.0 x 55.4 x 5.5 inches
Weight: 50.1 pounds
Refresh: 240hz
Connectivity: 4 HDMI, 2 USB, 1 each of component, composite, RF, cable, and Ethernet
Price: $1300 at Amazon