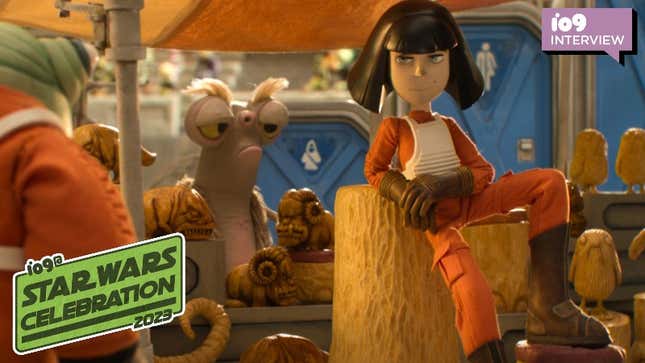 When animation studios are asked to be a part of Star Wars: Visions, they have free rein to tell any story they want, as long as it's set in a galaxy far, far away. To a point. While it's not against the rules to make films with established characters, that's not the intention of the series.
Spoilers of the Week | June 3rd
"Our preference is not to tell stories about known characters," series producer James Waugh said at a press conference during Star Wars Celebration. "One of the fun things about this initiative is to see new characters being created and their personal stories, but with like a Wedge Antilles—or even in the first volume, there's Boba Fett and Jabba the Hutt—I think we're okay with that if it is organic to the story."
Waugh mentions Wedge Antilles who, we learned at the convention, is part of the upcoming "I Am Your Mother" Visions short from animation studio Aardman, directed by Magdelena Osinska. He's even voiced by the actual Wedge from the Star Wars films, Denis Lawson. The film, which will debut May 4 along with the rest of Visions volume two, follows a young Twi'lek daughter who goes to flight school and the embarrassment she has when her mother decides she wants to race with her.
"We were looking for someone to be like [her] idol," Osinska said. "[Someone] that the daughter is looking up to. And we were discussing different characters but Wedge was one of our favorites." This is one of those instances where the producers felt an established Star Wars character worked. "[Wedge] isn't the driving force," producer Josh Rimes said. "Brand new characters are driving the story."
Plus, in Wedge's case, the fact that the short was being done by Aardman, an animation studio well known for its fun, tongue-in-cheek humor, was a part of it too. "The Aardman humor gives us a little bit of license to be a little playful and winky with ourselves," Rimes added, mentioning the studios' Lego content as another example.
But that makes you think: what are the guidelines here? What if a filmmaker came to the Visions crew and said they wanted to make a story all about a famous character? The Lego shorts certainly are almost always about established characters. Well, according to the producers, the teams they go to for Visions are rarely interested in that.
"It all starts from the personal story," Rimes said. "We try to excavate what that personal relationship is and then go from there. And if there are questions about the time frame or any of that, you know, we can discuss [it]. I think once everyone discovers the shorts, they'll kind of see where they can potentially live."
"We also provide reference once we know what their story is," producer Jacqui Lopez added. "We'll provide all the references of what kind of costuming would be there at that moment or ships or lightsaber. So there are guardrails like that, but it's very minimal."
We'll see what other established characters beyond Wedge, if there are any, show up with Star Wars Visions Volume 2 debuts on Disney+ May 4. Watch Volume 1 here.
---
Want more io9 news? Check out when to expect the latest Marvel, Star Wars, and Star Trek releases, what's next for the DC Universe on film and TV, and everything you need to know about the future of Doctor Who.