You think the cheeseburger in a can, bacon in a can and whole chicken in a can are disgusting? You don't know disgusting. How about sheep's head in a can? Or "Lunch Tongue"? Welcome to the Meat Museum.
The Meat Museum isn't really a museum at all, but rather the personal collection of one meat-obsessed man named Brad Coram, one that he keeps in his office. I'll let him tell you the story in his own words.
About 5 years ago at a ultra-boring Oil and Gas trade show in Bucharest, Romania a colleague and I decided that we needed to start a collection of some common type of souvenirs from the counties that we travel to for business. There was a little shop just outside of the run-down communist looking trade show pavilion and we were immediately drawn to the horrible cans of meat. Two of these cans became exhibit numbers one and two of the Meat Museum. Since then we have recruited a number of additional 'hunters' and have over 110 cans from more than 30 countries.

I have even had customers send me cans from their home countries after hearing about the museum or after seeing the display in my office. We have had roughly 15 cans either confiscated at customs in various countries while in transit, or removed from courier packages and confiscated that way.

So far none of the cans or glass jars have ruptured but I live in constant fear that if one goes off it will start a chain reaction and will detonate the whole exhibit. Most are faring okay with the exception of a can of Russian cow (I think its cow) on which the top is starting to bulge, and some pigs feet in a glass jar that I think some air must
have gotten to.
There is also a 'gift shop', (admittedly in it's infancy) that has a pack of 'I Love Meat' stickers, a Spam T-shirt and a 'chick-can' apparatus for inserting an open beer can into the backside of a chicken prior to cooking.

People often ask me what the best exhibit in the collection is. Not an easy answer, as I love them all but I do have two favorites: One is a glass jar of pork(?) from Poland. It's is not the pork that I love but the photo of the 1970's porn star dude and his portly wife out having a 'Piknik' with the family. Another show-stopper is the sheep's head from Iran with the saying 'Healthy Food - Healthy Society' on the label. I couldn't agree more.

Tough economic times, a slow down in the Oil and Gas sector, and damned video conferencing have slowed the travel (and thereby meat hunting) considerably since last year but the collection continues to grow however slowly. I'm off to Southern Germany next week and undoubtedly will find some good huntin' there… Those Germans eat some sick shit and bless them, they have no issue with eating it out of a can!
G/O Media may get a commission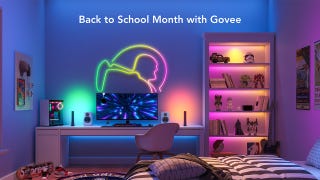 Back to School
Back to School Month with Govee Sale
Amazing. Although I'm a little bummed that you haven't eaten any of these, Brad. I mean, with that Sheep Head staring at you every day, I don't know how you haven't given into the temptation yet.