Everybody is YouTubing Barack Obama's March 18 speech about racial politics partly because it was one of the most nuanced political speeches in recent memory, but also because he played the futurist card. He talked about his own racially-mixed family, and speculated about how mixed-race community and people represent the future of the United States. He described several ways that racial reconciliation of the future could begin on a foundation of mixed-race identity. What do you think of this style of futurism? By answering, you can help an undergrad at the University of Arkansas, who wrote in to pose a question about Afrofuturism.
Obama's rhetoric calls to mind the tradition of Afrofuturism, in which writers, artists, and creators mingle traditional African culture with futuristic imagery and ideas. We've written about Afrofuturism at io9 before, in our interview with Junie from P-Funk. And Octavia Butler, whose book Kindred we recommended as one of twenty that could change your life, has written a series of books that deal with Afrofuturist themes (Wild Seed, Mind of My Mind, and Patternmaster).
G/O Media may get a commission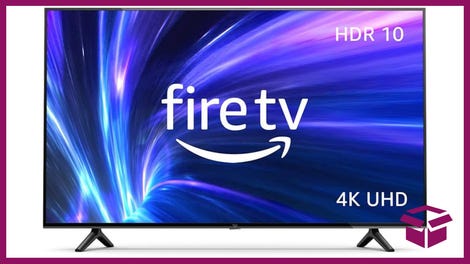 42% Off
Amazon Fire TV 50" 4K Smart TV
io9 reader Dolly Hayde recently wrote in to ask us whether we could bring up the topic of Afro-Futurism on the blog. She's taking a class at the University of Arkansas on folk and pop music, and writes:
My project centers around African-American musicians who claim space traveler and/or extraterrestrial personas. This work has been primarily informed by music biographies, a whole lot of bizarre rap and jazz tracks, and anthropological texts on science fiction and racial identity. I'm also currently reading Kodwo Eshun's More Brilliant than the Sun: Adventures in Sonic Fiction and researching Afrofuturism online wherever I can find it . . . I'm curious as to what [io9] commenters have to say about this specific phenomenon within the greater context of science fiction and pop culture in general.
So what do you think? Is Obama an Afrofuturist? Are there other examples of Afrofuturism in pop culture that Dolly needs to look at?
Image via Time.