2017 has brought a seemingly endless string of natural disasters, from devastating hurricanes in the Caribbean to raging wildfires out West to destructive earthquakes in Mexico. And if the fallout from one of last year's worst natural disasters—the 2016 Ecuadorean earthquake—is any indicator, health officials need to be on high alert for disease outbreaks.

That, at least, is one takeaway from a commentary published last week in the journal GeoHealth, which links the 2015-2016 El Niño, 2016's massive Ecuadorean earthquake, and an outbreak of Zika virus that kicked into high gear shortly thereafter. Climate variability and the quake, the authors argue, acted as "force multipliers" that fueled the spread of the dreaded disease.
It's a conclusion that could have implications for vulnerable communities around the world as the effects of natural disasters and climate change, which is helping disease vectors spread into new habitats and prolonging their breeding season in places where they already thrive, pile up.
Zika has largely fallen out of Western media since last fall, when the World Health Organization declared that the the virus no longer constitutes an international emergency. Across tropical South America and Africa, however, many countries remain at risk for outbreaks, including Ecuador, which has seen nearly 7,000 Zika cases since the first infections were reported in January 2016. While the virus produces mild symptoms in healthy adults, it has been tied to devastating fetal development problems, most notoriously microcephaly.

Zika infiltrated Ecuador slowly at first—between January and April of 2016, 92 cases of the virus were documented countrywide. Then, on April 16th, a magnitude 7.8 earthquake struck the country's Pacific coastline, causing widespread devastation and claiming nearly 700 lives. Thousands of buildings were damaged, and healthcare facilities rendered inoperable for weeks.
G/O Media may get a commission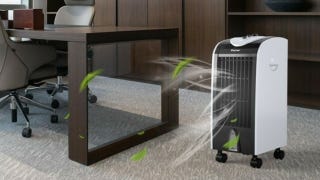 Save $10
Evaporative Portable Air Conditioner Cooler with Filter Knob
Cecilia Sorensen, an emergency doctor at the University of Colorado School of Medicine who traveled to Ecuador to work with a mobile health clinic after the quake, says she noticed a huge number of people displaying viral-like symptoms. Although her clinic had no way of testing for Zika, official government tallies later confirmed her observation: three months after the quake, the number of Zika cases countrywide had risen to over 1,000. Eighty percent of the new cases appeared in the hard-hit coastal province of Manabi.
In the new paper, Sorensen, along with colleagues at the University of Colorado, SUNY Upstate Medical University, and a public university in Guayaquil, Ecuador, argue that this is no coincidence. Not only did the quake devastate Ecuador's health infrastructure, it struck at the tail-end of one of the strongest El Niño events on record. The El Niño climate pattern brings warm, wet conditions to coastal Ecuador, and has in the past been tied to outbreaks of dengue, which is spread by the same Aedes aegypti mosquito that spreads Zika.

"Climate change creates permissive ecological conditions for the dispersal and replication of mosquitos which transmit infections," Sorensen told Earther, noting in her paper that coastal Ecuador saw "historically high densities" of Aedes aegypti in the months leading up to the quake.
Obviously, there are limitations to an analysis that pulls together factors after a disease outbreak in an attempt to explain it. This wasn't an experiment with a control, and nobody can say whether Zika cases would have spiked in the absence of El Niño. "I think the hardest thing with climate [studies] and any kind of event is attribution," Sorenson said. "We're observing the occurrence of natural phenomena, and every situation is unique."
Still, there's nothing controversial about natural disasters fueling health crises in vulnerable communities. Sorenson noted that after Hurricane Katrina, rates of West Nile virus in New Orleans doubled the following year. A month after Hurricane Maria, Puerto Rico now has a huge, multi-pronged public health crisis on its hands.
And as climate change makes many parts of the world better breeding grounds for disease vectors like mosquitos, it's reasonable to worry that the long-term health consequences of disasters could be amplified. A study published earlier this year in Scientific Reports concluded that nearly two thirds of disease-causing organisms are "climate sensitive," meaning their reproductive cycles are affected by changes in rainfall and/or temperature. The heat-loving malaria parasite is expected to expand into new regions by 2050, and evidence suggests that ticks, which carry Lyme disease, already are.
"I think in wake of natural disasters, everyone knows communities need medical attention," Sorensen said. "But the really acute medical needs typically only last about a week." The coinciding of the Ecuadorean quake with abnormally warm and wet climate conditions, she says, showed that "having surveillance systems to monitor infectious disease in the months and years after natural disasters is really important."