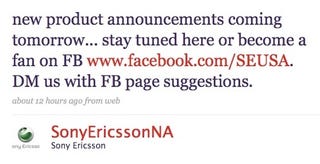 We're usually excited to get clued in on new product launches, but this vague tease from Sony Ericsson doesn't help us out much. Is it the Rachael? The Kiki? Release dates for some boring old feature phones? Something else entirely?
All we've got to go on is this teeny tweet from Sony Ericsson North America's feed:

new product announcements coming tomorrow... stay tuned here or become a fan on FB
Their Twitter history is short and conservative—hardly a place for leaks or innuendo—so trying to read the tone is basically pointless. Well keep an eye on any developments, but needless to say we've got lofty hopes.
UPDATED: Well, that fizzled, twice: On one front, we've got two feature phones coming to AT&T—the C905a Cybershot, and the W518a Walkman phone—and on the other, a "budget" Walkman feature phone called the W205. The feature list:

* Enjoy your music with the high quality Walkman™ experience
* FM radio – catch up with the latest news and views
* TrackID™ – name that tune at a press of a button
* 1.3 megapixel camera – take great shots and share the fun instantly
* Video recording – capture your favourite moments on film
* Bluetooth™ – share your favourite songs, pictures and video clips, or connect to a wireless headset
* Multiple phonebook – keep your contacts in order and share your mobile phone with your family
No word on price or release date. Oh well! Maybe next time, Rachael. [Sony Ericsson via Mobile Choice via Electric Pig