It's just one week until San Diego Comic-Con, where fans of all the greatest movie, book, television — and, oh yeah, comic-book — series gather to pay homage and discover what's new and shiny. We checked in with the biggest entertainment gurus on the net and found out what they're most excited about seeing.
Top image: Port of San Diego.
For our part, we're most thrilled to see Matt Smith coming to Comic-Con one last time, before he leaves Doctor Who forever. Combine the end of Smith's era with the upcoming 50th anniversary special, and you're looking at a Doctor Who panel that ought to shake the foundations of space-time itself. We're hoping to see a bit of the John Hurt action, and Smith and David Tennant together in the TARDIS.
Here are what some of the other entertainment sites out there are pumped up for...
Film School Rejects is excited for the whole deal, including Kevin Smith talking hours beyond his allotted time, sharing martinis with Lounge Lizard Boba Fett and seeing a preview of Terry Gilliam's Zero Theorem. But what they're most excited for is the stuff you can't predict — "the small moments that will never make it into a printed program. The unpredictable collisions between fans and filmmakers. The superhero-suited surprises and ahead-of-schedule footage shocks that make the trek down to San Diego a genuine event. We'll be poised and ready (but we're secretly hoping for an in-person appearance from Rocket Raccoon)."
G/O Media may get a commission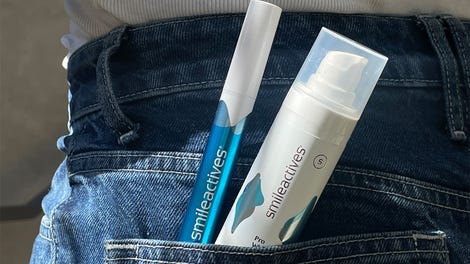 58% off
Whitening Powerhouse Pen & Gel Duo
The ComicBookMovie.com team is excited to see the AGENTS OF S.H.I.E.L.D. panel and hear Clark Gregg talk about his return from the dead as Agent Coulson. Of course, he won't spoil his new TV show, but it will be fun to see if we can try and get anything out of him.
Meanwhile Don Kaye at MSN Parallel Universe is looking forward to the Marvel Studios panel, because "Marvel really gave us a big finish last year in Hall H with the announcement of its Phase 2 slate of movies, and I'm really hoping that they'll roll out the slate for Phase 3 this time around. Would love to see if movies like 'Doctor Strange' are confirmed. Also excited to see footage from Thor: The Dark World and Captain America: The Winter Soldier."
As for Matt Goldberg from Collider.com, he's excited to catch glimpses of Gravity, The Zero Theorem, The World's End, The LEGO Movie, and whatever surprises Marvel is planning to unveil. But he says the real gem in Hall H this year is Entertainment Weekly's The Visionaries' conversation between Edgar Wright, Alfonso Cuaron, and Marc Webb. Listening to these three directors talk to each other is more exciting than almost any exclusive footage other panels may have to offer.
Alex Billington with FirstShowing.net is most looking forward to the Warner Bros panel on Saturday — featuring not only Godzilla but also Alfonso Cuarón's Gravity. He's hoping for a standout year for science fiction, with Ender's Game, Riddick, Europa Report and The World's End.
As for Rob Keyes and the ScreenRant team, they're excited for some of the TV shows that are having panels this year — including Dexter, Breaking Bad, Game of Thrones and Supernatural. Also, on the film side, they're curious about RoboCop, but excited to see Amazing Spider-Man's Andrew Garfield return after his heartwarming entrance speech two years ago.
The Film.com team is most excited about new original movies being showcased at Comic-Con — especially Alfonso Cuarón's Gravity. Also, as fans of Cloudy With a Chance of Meatballs, they're excited to see more of The LEGO Movie. Phil Lord and Christopher Miller never disappoint, and the sky is the limit with that one. Meanwhile, they're "extremely jazzed" for Edgar Wright's The World's End, and "cautiously curious" about the Robocop reboot.
Kevin Polowy with NextMovie is hoping to "see Harrison Ford outdo his 2010 handcuffs bit by entering the Ender's Game panel fully engulfed in flames." Meanwhile, his colleague Kase Wickman is psyched to see the cast of Divergent jump off things.
Manny Lozano from VeryAware.com is excited for the Warner Brothers/Legendary panel, following last year's event, which premiered early footage from Man of Steel, Pacific Rim, and Godzilla. Now that Godzilla is actually filming, Lozano says, "it'll be interesting to see how Gareth Edwards and company are reviving the original movie monster."
Kristal Bailey and the crew at Screen Invasion are most excited for the upcoming Divergent adaptation, which should appeal to Hunger Games fans — plus the panel for the second Hunger Games movie, Catching Fire. They're also excited to see panels for Dexter, Game of Thrones and — of course — Agents of S.H.I.E.L.D.