Steven Moffat is already planning next year's Doctor Who storylines. James Gunn explains how one person stood in for all of Guardians' CG characters. Another actor joins Batman v. Superman. According to Shane Black, his Predator movie is a sequel and not a reboot. Plus, Daredevil casts Foggy Nelson. Spoilers now!
Top image: Game of Thrones
Guardians of the Galaxy
Director James Gunn took to Facebook to talk about how his brother, Sean Gunn (who will always be Gilmore Girls' Kirk to me) played so many of the CG characters on set:
Working with my brother Sean Gunn on Guardians of the Galaxy. This photo is from Sci-Fi magazine which features a great article on how we work together and what Sean contributed to the character of Rocket and to the movie as a whole. It also reveals that, in addition to being the onset Rocket, and using a lot of his body and facial work in the character, he was also the onset Thanos, as well as playing the role of Kraglin, Yondu Udonta's First Mate in the Ravagers, and Peter Quill's lifelong frenemy. Few things in my career give me more creative pleasure than working with my brother.
The photo he references is below. Gunn elaborated further in a response to a comment on the initial post:
We also had a little person, who we used for reference and lighting in scenes - the very very awesome Arti Shah. But Sean is VERY limber and able to crawl around on all fours at the proper height (Rocket is actually smaller than almost all little people). But what was really important was Sean's acting. He essentially co-created the character of Rocket, and his acting is used throughout the film. It was also of great benefit to the other actors, who had a full scene partner who was as an accomplished actor as all of them. If you read the Sci-Fi article you'll find out from Zoe Saldana how important Sean was to the whole process and her personally. And I know Chris Pratt and Dave Bautista also agree. Bautista and Sean had - and continue to have - a special bond that I think is very reflective of the onscreen bond between Rocket and Drax.
G/O Media may get a commission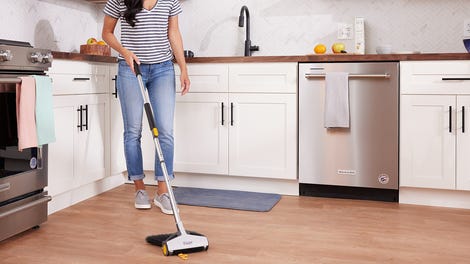 BOGO 50% Off
Flippr - BOGO 50% Off
[Facebook via Comic Book Movie]
And in case you missed it, Nathan Fillion has put to rest the rumor that his Guardians role is as the voice of Cosmo. He tweeted:
Here's a new TV spot and featurette. [via First Showing]
---
Batman v. Superman: Dawn of Justice
Deadline says that, despite a refusal from Warner Bros. to name which character he's playing, or even confirm the news, Scott McNairy has joined the cast. [Deadline]
According to a casting e-mail, the film headed to the Daily Planet on Wednesday and was looking for "citizens" for the shoot. [Batman News]
And photos from the set revealed extras dressed as police officers, EMTs, and firefighters leaving flowers at a broken Superman statue. So something happened to destroy the statue and someone is either dead or badly hurt to prompt the flowers. [Comic Book Movie]
---
Predator
Shane Black's Predator project isn't a reboot after all. According to Black, it's an "inventive" sequel:
As far as Fred [Dekker] and I are concerned anyway. Why start over, when you've all this rich mythology yet to mine? ... [I like] the idea of expanding and exploring the existing Predator mythology, rather than hitting the restart button.
[Collider]
---
Transformers: Age of Extinction
There's an in-depth review, with a near beat-for-beat recap of the new movie, up at Seibertron. And here's the fansite's verdict:
Overall the film has some fun moments and entertainment value, but clocking in at over two and half hours, this movie had so much going on with so many subplots and ridiculous continuous set up for future films, it really took away from what it could have been. The bots look great, but some of the CG looks really NOT real. The movie did an Amazing Spiderman 2 and just had too many villians. Despite screen time, Bumblebee seemed to only be there to appease the fans and Primes weak, desolute attitude is not becoming of a Prime. Throughout all that, the film tried to make the same humorous cracks and situational comedy takes that didn't go over as well as with the first films. Cade and Tessa continuously bicker about family issues and who takes care of who.

It really looks as if though they were trying to set up the next two films instead of leading into the next film. This is definitely a film you'll have to see more than once just to catch everything thats going on.
Tons more at the link. [Seibertron]
---
Dawn of the Planet of the Apes
Director Matt Reeves spoke to Spinoff Online about what it means to make a movie where the outcome has been known for decades:
First, you know what you love about it — we knew we loved gorillas on horseback and guns and all of that, but the idea also is that it tells you where you're going. What I love about knowing there is Planet of the Apes is that's the trajectory. So the question becomes, "How do you get there?" What are the stories about getting there? The mystery of what happens is not a part of this world. The question is, "How did it happen?" which makes it all about character.
They also have Keri Russel, Gary Oldman, and Andy Serkiss talking about their characters:
Keri Russell: Ellie is one of the few surviving humans left after the virus has taken over. She was a nurse with the CDC [Centers for Disease Control] trying to fight the virus, and I think the main thing with those of us left, we've all lost a tremendous amount of loved ones in our lives, and we're all damaged survivors and tough and making the best of this makeshift world we're in — with makeshift families and relationships. That's how the adventure for me begins.

Gary Oldman: For me, it's much the same. He was a member of the community, locally to this commune now where we live. He is forced to make the best of a bad job. You've got to piece it together and he's a resourceful, go-to guy. I guess he's the head and lead of the community. As Keri said, we've all — when you meet us in the movie and when it starts, we're carrying a lot of baggage. It's 10 years on since the last movie, so we've had the disease and the outbreak of the simian flu, which has wiped pretty much the whole Earth's population away, and then the chaos that was born out of that. We truly are — I mean, you would have to be a survivor just to get through it.

Andy Serkis: Where we meet Caesar, he's older, he's a family man — I keep saying man because I never distinguish between the two — it's really bizarre. But he's the leader of a community, he's struggling with all the weight and responsibility of keeping a lot of different kind of apes together. You see a lot of weight that he is carrying, though.
---
Life After Beth
Here's a poster for the zombie comedy. [Coming Soon]
---
Hercules
Here's a new trailer:
---
The Walking Dead
Robert Kirkman promised a season premiere that would give some answers about Terminus:
There's a lot going on with Terminus. In our premiere episode of season 5 we're going to give a ton of answers of who the people of Terminus are, what they're doing, why they're doing it, what's going on with them. And by the end of that episode you're going to have a much better understanding of what's going on with them and why they're so important to the show. Oh, and Daryl dies.
We assume that last part's a joke. [Entertainment Weekly]
---
Game of Thrones
In an interview with the Daily Beast, Maisie Williams said that she's hoping that the season finale isn't the last we'd see of the Hound:
I really hope it isn't! And I feel on Game of Thrones, if you don't see a dagger in the heart, there's a lot of hope for people. I know a lot of people are hoping to see The Hound again, and if it were up to me, he'd be back in an instant.
As for what's coming up in season 5, Maisie says:
Well, we start shooting in July, and I know what happens in the books, but I think Arya is going to become someone new. In that moment when she's in the back of the ship sailing away, and looking out at Westeros and her previous life drifting away from her, and then she turns around, I feel it's a huge breath of fresh air for her. She can go to a place where nobody knows who she is; where she can start afresh, forget all the things that have happened to her, and the huge burden she's been carrying with all these people that have lost their lives. She's never going to forget the pain, heartache, and the revenge she's seeking on those who have wronged her and her loved ones, but she now has the ability to not be so angry about it anymore. She's looking ahead. I'm so thrilled that we got two more seasons, but if this was it for Game of Thrones, I think it would have been a lovely ending for Arya. She hasn't gotten to kill the people she wants to kill, but I think it's her happiest moment since she was playing in Winterfell four years ago.
She also talked to Access Hollywood about how Arya has changed and what's to come:
I feel like this is always kind of been coming for Arya. I think, had she maybe not been at The Red Wedding, maybe it could have been saved a bit, but I think… she kind of gave up on her family a little while ago, on the fact that she's actually going to get home, a little while ago, and since then, she's been trying to find what she's going to do next. And I think even if she was to be picked up by someone, you know, more helpful and [who] could've [helped keep her] safer, I don't know if she would've necessarily liked that. I don't think she likes to be in the same place for too long, not just because of safety, but because she doesn't really fit anywhere any more, and yeah, it's sad.

Access: Are you hoping she gets to see any of the people that she's met along her 'Game of Thrones' journey so far, next season?

Yeah. Well, I know there's speculation all the time because knowing Jaqen H'ghar is a faceless man, like she could've met him a million times before and never even known it, and she could meet him a million times again and never even know it and that's the exciting thing. And I'm desperate to get the scripts because David [Benioff] and Dan [Weiss] have hinted little things to me about what's to come. … The possibilities for Arya's future are kind of — there's so many different ways that this could kind of go now and we do have a book, obviously, to go by. But, you know, they can literally do anything. This is a fresh start for Arya and they could choose to go with the books or they could write something completely new and that's what I'm really excited to see.
[Daily Beast, Access Hollywood via Winter Is Coming]
Speaking of Jaqen, according to Tom Wlaschiha's agency, the actor will return to Game of Thrones in August. The agency notes that Wlaschiha is in the main cast, all of which makes it sound as though Arya will be getting a mentor in the new season. [Winter Is Coming]
---
Doctor Who
In the latest Doctor Who Magazine, Steven Moffatt talked about writing the finale:
One season at a time, largely. I suppose, I had a fair amount of Trenzalore worked out (the Doctor trapped in a war for a thousand years) when I wrote The Eleventh Hour, but that's really the exception.

Sitting here, right now, just before the finale shooting block, I've figured out the cliffhanger to the penultimate episode of the next series. And it's a whopper. Ohh, I don't think you'll see this coming.
---
True Blood
Kristin Bauer van Straten says that we'll be seeing a lot of Pam's history in this final season:
We find out a lot more about Pam, we have some great flashbacks, and those are really, really fun for us. We want to know as much as the fans what our backstory is. I had a wonderful year and worked a lot of hours, more than I usually do, so I'm really happy about it. The information that we do get in the flashbacks about Pam are the huge, huge forks in the road that we've taken for granted that we didn't know about Pam.
Go here for more photos from episode 7.02, "I Found You." [SpoilerTV]
---
Daredevil
Elden Hensen will play Foggy Nelson, Matt Murdock's best friend and legal partner. [Marvel]
---
Gotham
Here's a video of the cast talking about their characters:
---
Vampire Diaries
Here's an interview with Steven R. McQueen, who hopes he'll get to do more fighting and in season 5:
---
Beauty and the Beast
Go here for more photos from the finale, "Deja Vu." [SpoilerTV]
---
Additional reporting by Charlie Jane Anders and Madeleine Monson-Rosen