Last Thursday, a Tesla production associate named Jose Moran came forward to publicly decry working conditions at the company's plant in Fremont, California, including what he describes as grueling hours, low wages, and frequent, preventable injuries—issues he felt could be fixed by joining the United Automobile, Aerospace and Agricultural Implement Workers of America (UAW). The Fremont plant is located in the building formerly occupied by NUMMI—the experimental facility jointly owned by GM and Toyota. In direct messages to Gizmodo, Musk alleged that "UAW has been trying to unionize Tesla since 2010" when NUMMI closed down and that Moran "works for the UAW."
Several current and former employees who spoke with Gizmodo vouched for Moran's story, sharing their own experiences from Fremont which one described as a "borderline slave conditions." Along with claims of regular twelve hours shifts and six or seven day workweeks, a five-year employee backed Moran's assertion of poorly-designed equipment that leads to injuries. He alleges one such piece of equipment led to an injury causing him "extremely severe pain in my hands, forearms, shoulders [and] neck." The same employee noted in his email to Gizmodo that "if don't come...it is a write up, doesn't matter if you're sick, completely exhausted or in aggravating pain."
A recently-fired employee had similarly poor experiences, citing long hours, low pay, and uncaring management. He also alleged that "roughly 70% of my peers were temp workers." An applicant and a relative of a Tesla employee claimed that Tesla was sourcing these contractors through Volt Workforce Solutions, "an industry leader in identifying and recruiting best-fit contingent talent," and that the contractors are regularly paid as little as $17, according to claims by Moran and others close to the situation. A job flyer from Volt hosted on the nearby College of Alameda website also lists this figure.
Gizmodo was not able to verify the wages or prevalence of contractors at Fremont and Volt did not respond to multiple requests for comment, though Tesla has faced similar criticism in the past. Construction of Gigafactory 1—the company's massive lithium-ion battery plant—was briefly halted this time last year due to claims by District 16 of the Painters' Union that Tesla was sourcing labor from non-union out-of-state contractors in spite of $1.4 billion in tax incentives from the state of Nevada where it's located. Union president Todd Koch did not respond to our request for comment.
UAW Senior Communications Advisor Brian Rothenberg declined to provide a statement from the union other than to call Gizmodo "fake news" over a half dozen emails. "You should make clear at the top of your story that Mr Musk's accusation was false," he wrote in an email. After Rothenberg's emails, many Tesla employees who had come forward to speak about Fremont went silent.
G/O Media may get a commission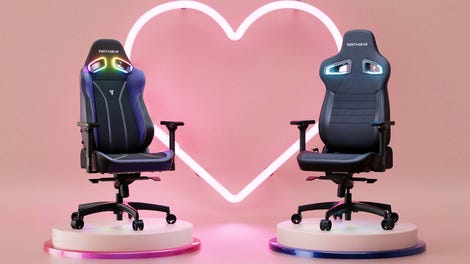 Up to $150 off
Vertagear Gaming Chairs
Moran mentioned a confidentiality agreement in Thursday's Medium post which allegedly has kept employees from coming forward until now. Musk described it to Gizmodo as a protection against the leaking of trade secrets. However, five California Assembly members co-wrote a letter to Tesla in January expressing concern regarding this agreement's "over-broad language" which they saw as potentially violating labor protections allowing employees to discuss wages and working conditions.

While Musk initially told Gizmodo he believed Moran to be in the employ of UAW, the union has denied ever having him on payroll. But in a statement to Bloomberg, Moran stated that "I'm not an employee of the UAW, but we get support from the UAW." While he did not specify who constituted "we," we do know part of the support is in the form of a media handler. Bergen Kenny of Storefront Political Media contacted Gizmodo to arrange an interview with Moran—though all attempts so far have been unsuccessful—and admitted her services were paid for by UAW, with planning taking place over several months.
While Moran may not have been paid directly by UAW, beyond the assistance of Storefront it's not known what other forms of "support" he's received from the union, if any. Whatever the case, the spirit of Musk's accusation against Moran is that he joined Tesla with the purpose of helping UAW gain a foothold in the plant. While evidence supporting or contradicting that assertion has yet to surface, salting—the act of getting a job at a specific workplace for the purpose of getting a union off the ground there—is a perfectly legal and time-honored tactic of organized labor, if that is the reason for Moran's continued employment at Tesla.
UAW stands to gain quite a bit from organizing Fremont. At its peak membership UAW claimed 1.5 million members while today that number is closer to 400,000 and retired members outnumber working ones by 180,000. To counteract declining membership the union raised dues in 2014 for the first time in nearly 50 years to two-and-a-half hours of pay per month. Based off the most conservative figures given by Moran—$17 an hour and 5,000 employees—UAW would rake in $2.55 million annually.
As for Tesla's allegedly "neutral" stance on unions, the company stands to lose as much as UAW might gain, if not more. Musk's vision of Tesla as more of a startup than a traditional automotive company runs counter to UAW's goal of "a uniform system of shorter hours, higher wages, health care and pensions" for laborers. In a 2012 interview with Autoblog, Musk stated that "If you work for Tesla, the minimum is really a 50-hour week and there are times when it'll be 60- to 80-hour weeks," likening his company to joining the Special Forces, which he conceded at the time was "not for everyone." Whether you see those hours as exploitative is mostly a matter of optics and personal willingness to collect overtime or stock options in lieu of a normal and potentially injury-free life. But as a former Tesla employee told Gizmodo, "I wasn't cut out for a sweatshop." Tesla did not respond to a request for comment.
What remains to be addressed though are current and former workers' assertions about Tesla's management, which has been described by current and former employees as rife with cronyism and unwilling to address grievances. In a 2009 conversation with Wired's then editor-in-chief Chris Anderson, Musk recounted a conversation with some Tesla employees while proposing a naive workaround.
"Most of our experienced factory workers come from unionized environments, and we asked them what benefit did they see in unions," he added. "They said, 'Well, if their boss was an asshole, they had recourse.'

"I said, 'Let's make a rule: There will be no assholes.' I fired someone for being an asshole. And I only had to do that once, actually."
If current and former Tesla workers' testimony is to be believed, Musk has many more assholes to fire. Musk did not respond to questions sent by Gizmodo.
* Correction: The original version of this article incorrectly said that the Fremont plant is the only non-union plant in the United States. We regret the error.
If you know anything regarding Tesla's Fremont plant or workers' attempts to unionize, shoot an email, message me confidentially on Wickr (sn: trashmouse) or send relevant documents through our Secure Drop site.