io9 recently caught up with actor Nick Frost (Shaun of the Dead, Hot Fuzz), who plays the pratfall-prone Inspector Thomson in Steven Spielberg's The Adventures of Tintin. Frost filled us on the motion-capture process, potential upcoming projects with longtime collaborator Simon Pegg, and what it's like to play a Thompson twin (and no, we're not referring to the ones who sang "Hold Me Now").
Deadly Mississippi Tornado Kills More Than 2 Dozen | Extreme Earth
Thomson and Thompson have a very slapstick brand of humor in The Adventures of Tintin. What was it like filming their scenes on a motion-capture set?
Simon [Pegg, who plays Thompson] and I spent three weeks just training. We had a guy there, Terry Notary [who played the aliens from Attack The Block], who's probably one of the finest movement coaches in the world, he's worked with Cirque du Soleil.
They hired a studio out down in Culver City and every day we went for six hours and we took our jackets and bowler hats and canes and we walked in unison! Everything we did was exactly in time.
G/O Media may get a commission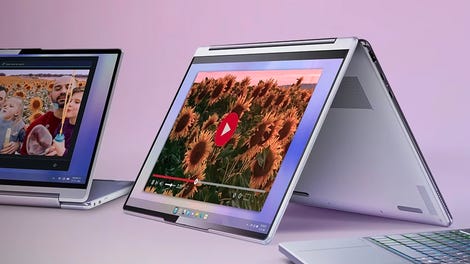 up to 70% off
Lenovo Spring Clearance
Were you familiar with the characters when you came aboard Tintin?
Yes, when you're from Europe, Tintin is everywhere. I was a fan of the cartoon series, that really was my entry to the world of Tintin. I really enjoyed the moon landing stories. I love the design of the rocketship, the cigar with the prongs on the bottom.
How was it interacting with the Snowy puppet on set?
The whole experience was odd if you've never done it before. It takes a while for you to become accustomed to it. You'll be doing a scene and then comes a guy dressed normally with a wireframe dog-on-a-stick moving between you. It's not the theater, let's put it that way. It's very weird trying to act with a helmet on with a camera on it and ten people circling you.
How would you describe your experience working with frequent collaborators like Simon, Edgar Wright, and Joe Cornish?
I'm a lucky person getting to work with my mates. We all share a sensibility and work ethic. We enjoy making films. It's such a nice place to be to not have to sit around and wait for people to offer you jobs. You can develop things over years, things you find in notebooks, when you've got the backing of our company, Big Talk. Nira Park, our longtime producer, is the boss there. It's a nice way to do business because Nira makes sure it's all about the script.
Has Joe Cornish kept you in the loop about any future Attack the Block plans?
There is a bit of stuff spinning around! I'm not sure. I just had a baby to be honest — I've been with the little fellow in the child cocoon so to speak. I hear little bits and pieces from Joe. My character Ron didn't die, he's alive. I was really proud to see what Joe did with that film. If he wanted me back, I'd happily do anything he'd want me to do.
Here's a question you probably hate more than "What's the future of Spaced?" What's the future of The World's End, the thematic follow-up to Shaun of the Dead and Hot Fuzz?
Simon and Edgar have written a fantastic draft and Edgar's keen to crack on. So, once we're all clear and got the time, it's on, I'm sure. I don't want to give anything away about the plot, clearly. But I think it's voted that we would like to kind of do it in [motion-capture] suits potentially. But things can change! That's the thing about making films, you think, "Alright I'll do this, this, and this," but it's constantly moving. But that is our aim at this point.
Also, can you give us any details on Snow White and The Huntsman?
We wrapped recently. I play a dwarf named Neon, like a color.
Is he a flamboyant dwarf that lives up to his name?
I suppose there is some flamboyance to him! They screened 20 minutes of the film on set, and it looked fantastic. Very gothic, the dwarves bring a little comic relief to it. The battle scenes looked great.
The Adventures of Tintin is out tomorrow.