If it's not one superhero going wrong, it's another - Or, at least, that's the take-away from this week's two competing "dark side of superheroics" books. Plus, Star Wars, Star Trek, Terminator... and gorillas going up against the Green Goblin.
This is actually a great week for collections. There's the Final Crisis Revelations collection, which fans of the current Detective Comics run featuring Batwoman should pick up. Written by the same writer, Greg Rucka, it shows Renee Montoya's Question going up against Darkseid's mind-controlled Gotham City... including Batwoman herself.
DC also has a new hardcover edition of the classic Flash of Two Worlds storyline, which introduced the multiverse to superhero comics and started something that, even forty years later, the company is still mining for new story material.
Marvel aren't exactly slouching either, and their best release this week is most definitely Agents of Atlas: Dark Reign, the first collection of Jeff Parker's must-read series — okay, there was a collection of the mini-series that preceded this, it's true — that embraces Marvel's pulp past and turns it into something new and glamorous.
G/O Media may get a commission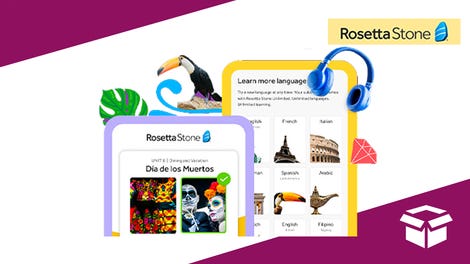 Extra 20% off
Rosetta Stone Lifetime Subscription - All Languages
If hardcovers are too expensive for your taste, there's always individual issues. This week, there are a few great-looking new launches. Like DC's new Doom Patrol (with Metal Men as a back-up strip, by the classic Justice League International creative team of Keith Giffen, JM DeMatteis and Kevin Maguire.) Marvel, meanwhile, has Iron Man: Armor Wars (Iron Man! Versus other Iron Men!). Dark Horse has Star Wars: Dark Times - Blue Harvest #0 (which collects the online previews for the New Hope-era story).) And IDW launches Star Trek Alien Spotlight: Q, which does exactly what it says on the tin.
Superhero fans who want to see good guys gone bad have a couple of things worth picking up this week. Boom! Studios' Irredeemable gets a paperback collection of its first four issues, letting you catch up with Mark Waid's "fall of a hero" fable in time for the fifth issue, also released on Wednesday. And Avatar is releasing the first issue of Absolution, Christos Gage's new series about a superhero who gets pushed to the limit... and then decides that he's done with limits.
And that's not even all. Warren Ellis' graphic novel Frankenstein's Womb, about the secret story behind the writing of Mary Shelley's classic novel, also makes its way into stores. And Dynamite's Terminator: Revolution continues the comic version of John Connor's story with a truly time-bending tale of Johns meeting to defend each other against the ultimate Terminator. Or something.
But the book of the week may be The Gigantic Robot, Tom Gauld's art comix story about a giant weaponized robot who doesn't fulfill his purpose. Sparse, beautifully illustrated and entirely not what you'd expect, it's well worth picking up.
As ever, all of this week's new releases can be found here, before being purchased at your local comic store. Whatever your tastes, you're likely to find something you want this week.