After the explosive events of Warehouse 13's third season, where does the show go from here? The WH 13 cast and crew came to San Diego Comic Con to talk a bit about what's coming up, who could come back, and Brent Spiner's new role. Also, they dream up the ultimate Comic Con artifact. Spoilers ahead.
"Mrs. Frederic is gone," announced the voiceover in the promo reel for Season Four. "Steve is gone. H.G. is gone. The Warehouse is gone." The camera zooms onto Myka, Pete, Artie, and Claudia standing in the ashes of the Warehouse. "They're going to bring them back." Amidst the flashes of footage, we get a few peeks at Brent Spiner's character, Brother Adrian, a black-coated leader of the Brotherhood of the Knights of the Black Diamond.
So could these lost characters return? Fans asking questions were especially interested in the fate of H.G. Wells. Executive Producer Jack Kenny seemed to indicate that chances of an H.G. return were fairly good. "At the end of the first season, we killed Artie," he noted.
In the meantime, though, Myka will have to deal with the loss of H.G., and Claudia will have to cope with the loss of Steve Jinks. There were many tears on the panel as actresses Joanne Kelly and Allison Scagliotti discussed the events of the "Emily Lake" episode, and Eddie McClintock quipped, "Welcome to Estrogen House 13."
Kenny said that this season felt particularly easy to write, although the writers faced certain challenges with blowing up the Warehouse and killing off major characters. Saul Rubinek described Artie's arc for the first 10 episodes of the season as "one of the best things I've done on television," and he's excited to be reunited with Brent Spiner. After all, Spiner and Rubinek worked together in theater in the 1970s, and then Rubinek's character kidnapped Data on Star Trek: The Next Generation. "It's fun to grapple with him this season," Rubinek said.
G/O Media may get a commission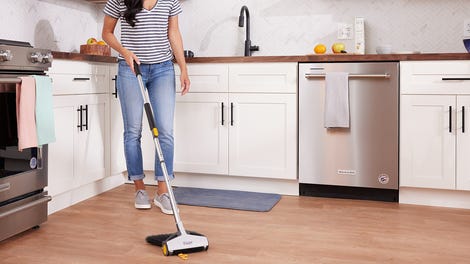 BOGO 50% Off
Flippr - BOGO 50% Off
We'll also get a bit more about Claudia' backstory this season, especially her time in the mental asylum. But Scagliotti promised it will largely "flavor" the character and her reactions to certain people and situations rather than appear in the bulk of upcoming episodes.
When Kenny was asked if there could be any more crossovers with Eureka or Alphas, Kenny noted that tonally, Eureka's whimsy is a better match for Warehouse 13 than the darker Alphas. He would love to do another Alphas crossover, but he would have to "engineer" it given the other show's grittier tone.
Kenny and the cast members were then asked to name a Comic-Con-related artifact. McClintock wanted an artifact that "would put on the clothes of the women who decided not to wear so many clothes." Kenny wanted an artifact that would remove the body odor that comes from spending four days in a Stormtrooper outfit, adding, "You could power a city with that." Scagliotti got the biggest cheers for her suggestion, "A guest past that lets you bypass the line for every panel." Then, holding her hand over her heart, she continued, "I heard someone was camping out at 2 A.M. to get into this room. You have no idea how that is for me."