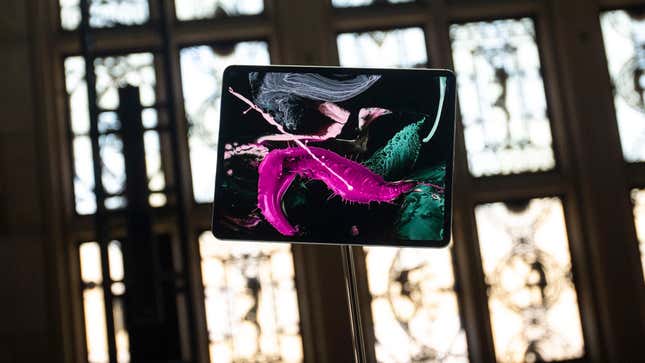 Last week we asked what the hell the point of the iPad was anyway—and you responded. It seems quite a few of you are still getting real use out of an iPad in 2018, and we've collected some of your reasons for firing up a tablet rather than a smartphone or a laptop.

---
1) Creative work... and Photoshop
Few devices make better digital doodling pads than the iPad paired with an Apple Pencil, and you've got a host of apps to help the creative juices flow, from Procreate to Paper to SketchBook. We know that "full" Photoshop is heading to the iPad from 2019, which is huge—will Illustrator follow?

---
2) Showing off your photos
Some of you use iPads as ways of viewing and sharing photos, whether that's over a messenger app or inside Facebook. Whereas in previous years a photo album would be pulled down from the shelf when guests were round, in 2018 we reach for the iPad.

G/O Media may get a commission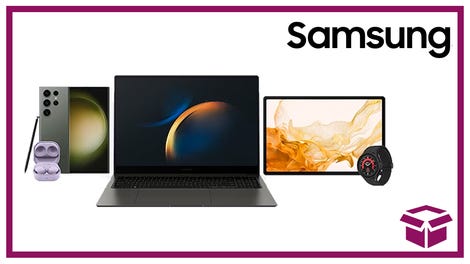 24 hour deals
Discover Samsung - Daily Deal
---
3) Reading comics
The big, bright screens of the iPads are perfect for consuming comics—more viewing space than a phone and a much better navigation experience than a laptop. One of the leading apps here, of course Comixology, with a 100,000+ library of titles, though you can opt for DC Comics or Marvel Comics instead.

---
4) On the move
The iPad is just perfect for on-the-go consumption: It's easier to lug around and hold than a laptop, and it offers much more screen real estate than a phone. As one commenter noted, it's "a fabulous everyday casual computer" if you don't want to cart a laptop around.

---
5) For the kids
(Cheaper) iPads make sense for the kids. They're simple to use and perfect for watching videos and playing games. With all the various parental controls available, and a broad selection of child-friendly apps, it's a fairly safe choice.

---
6) Casual gaming
Whether it's Hearthstone or Minesweeper, several of you mentioned casual mobile gaming as a reason to pick up an iPad. You get more screen to play around with. Many popular titles have an interface optimized for tablets so you can happily game away for hours without draining your phone's battery.

---
7) A basic computer
Several older users got in touch to say they really appreciate the simplicity of an iPad (vs a laptop) and their larger, easier-to-read screens (vs a phone). It's a simple tool that gets the job done for all kinds of basic tasks, like emailing, social networking, web browsing, and so on. It turns out that for some, the iPad really is a laptop replacement.

---
8) Video calling
Phones and laptops will do video calling very well, sure—but you can't see much detail in faces when you're squinting at a phone screen, and you can't easily follow the kids around the room if you're using Skype or FaceTime on your laptop.

---
9) All kinds of reading
We've already mentioned comics, but plenty of you brought up other types of reading: Digital magazines, Kindle ebooks, even access to the New York Public Library or any library from the comfort of your tablet. Those extra inches can really make a difference when it comes to relaxing with a good read.

---
10) Document reviews and markups
And extending the reading idea, Gizmodo readers say iPads are also useful for reviewing and marking up documents, from essays to journal papers. PDF Expert is one app that got mentioned in dispatches, working with the Apple Pencil to let you change text, edit images, and add annotations.

---
11) Checking the weather
Another scenario in which the extra screen space of an iPad is handy, you told us, is with weather apps. A larger display allows you to make better use of satellite and radar views, long-range forecasts, or detailed readouts on precipitation and wind speed.

---
12) Finances and banking
Plenty of you do your banking and finance from your phone—another job that iPads can do better than laptops unless you need complex Excel spreadsheets and access to the full desktop version of the web. There are a ton of useful apps to pick from here too, from Mint to Xero.

---
13) Reading music
Some of you use iPads as a way of displaying sheet music—giving you an alternative to ruffling through papers or binders on a music stand. The likes of ForScore and Symphony Pro come with a ton of features to make a musician's life easier, including support for annotations, audio file syncing, and more.

---
14) Big-screen mapping
Another use that came up in conversation is mapping on an iPad. Of course, all the big names are available, from Apple Maps to Google Maps, and while you wouldn't necessarily want to pin a tablet to your windshield, that additional screen real estate can really help in planning routes and looking up venues.

---
15) Flight plans
This is a bit more niche: Included in the responses we got was a mention of how useful an iPad can be on a flight (as in, when you're actually doing the flying). ForeFlight is apparently the app of choice, letting you bring along all of your aviation documents in one convenient tablet device.

---
16) Finding recipes
Some of you say you make use of an iPad in the kitchen, in particular to bring up recipes—maybe video ones on YouTube or more traditional step-by-step ones in something like Yummly, Cookpad, or BigOven. An iPad lets you get recipes up clearly in front of you while you cook.

---
17) Taking notes
Whether with an attached keyboard cover or via the Apple Pencil, iPads seem to be popular as note-taking devices—and they're certainly easier to lug around meetings and lectures than a laptop. MyScript Nebo and Notability were two apps mentioned for making handwritten notes searchable.

---
18) Movies and music
Unsurprisingly, a lot of you use your tablet for Netflix, Hulu, YouTube, and the like, but music playback got plenty of mentions too—it seems having a dedicated device ready to control a Sonos system or something similar is more convenient than running everything from your phone.

---
19) Watching porn
And speaking of sitting back and enjoying some video content... our commenters reminded us to not forget the porn. Watching this sort of adult material is a more private experience on a tablet than it would be on a TV or laptop, and you can easily lock access to an iPad too.