Today, Apple was awarded a patent for an "electronic device having display with curved edges" that brings the dream of a round Apple Watch a little closer to the realm of possibility. Noticed by 9to5Mac, the patent mostly discusses the technical challenges when it comes to creating curved and circular displays, but the fact that it exists at all adds fuel to the fire inside me, the fire that demands a circular Apple Watch so I can stop looking like a total dork with a bit of disposable income.
Don't get me wrong: I like my Apple Watch! It's a damn good smartwatch, and I'm certainly not under the impression it needs to adopt a circular display to be a hit. In fact, a report from Business Insider stated Apple sold an estimated 18 million watches in 2017, outselling every other smartwatch, and even outdoing the combined sales of all the members of the Federation of the Swiss Watch Industry. It also leads the smartwatch pack in overall satisfaction. Not bad for a square watch, especially when you think about the competing products coming from other major tech companies.
Perhaps "competing" is too strong a word. While Google's Wear OS just got a fresh coat of paint, the current selection of Android smartwatches suffers from slow, outdated hardware—and adding RAM (I'm looking at you, LG) won't turn 2016 hardware into 2018 hardware. Samsung's Tizen-powered Gear line (the third most popular smartwatch after Apple and Fitbit) does feature a very appealing round display. Still, it only accounted for 15 percent of smartwatch sales in 2016, pretty minor compared to Apple's 49 percent.
The Apple Watch Series 3 brought with it LTE connectivity, a faster processor, and benefited from an already robust ecosystem of third-party apps and accessories.

Those additions swept away some pretty major reservations people had when comparing the previous generation smartwatch to similar devices from companies like Samsung or Huawei. You'd be hard-pressed to find an equally capable smartwatch right now, a testament to Apple's skill at making pretty snappy hardware.

G/O Media may get a commission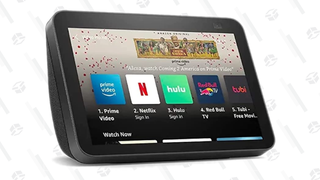 Still, no matter how much technology they cram into it, how much gold they melt to build it, or how expensive the bands are, Apple's tech can't make up for its looks. A kind person would say it's uninspired. I say it's just plain ugly.

Round watches are where it's at, and Apple knows it. Sure, the square display makes it more suited for smaller wrists, and makes the wearable a better delivery method for information like text. But it also means it has a shape one might consider unorthodox, a description I'd rather avoid having attached to my wrist.

The focus on form over function that is traditionally Apple has seemingly gone out the window when talking about the Apple Watch. It makes sense, to a point. You want to make a watch that people will actually use, one that is responsive enough, offers a variety of connectivity options, and lets you run apps on your wrist. I get it. What I don't get is how you can make such a device look so bland when the limiting factors aren't really that limiting. Round watches are more aesthetically pleasing, circular displays do exist, and rejiggering the current catalog of WatchOS apps to accommodate a round screen isn't some gargantuan challenge the company must face on its own. It would also remove the one major criticism plaguing the device since it's 2015 debut.

From the smooth, rounded notch on the iPhone X to the circular app icons taunting me on the watch's square display, Apple's design choices make it seem inevitable that they at least offer a version of their watch that's round. It might also help them crack open the high-end watch market, where a startling majority of timepieces are, of course, round. Who wants to spend $1,400 on an ugly Hermès watch?
My first timepiece was a Harry Potter-themed wrist watch I received for my 12th birthday. It was, of course, pretty cheap, but I wore that piece of trash daily, checking the time and marveling at the circular faux-metallic bezel containing an untold number of potential time-telling opportunities. I now wear an Apple Watch, and while it's certainly more capable than my Hogwarts-branded timepiece, it fails one major test, the one I apply to everything I wear: Is it good-looking?

The answer? Not really.