According to the WSJ, Acer's going to build the world's first tablet that manages to break the $100 barrier without being a glorified cheese plate. That's the good news. The bad news? You probably won't get the chance to buy it.
According to the WSJ report, Acer's $100 Iconia B1 won't be in the same class as a Nexus 7 or Kindle Fire HD. But its 7-inch, 1024x600 display and 1.2GHz dual-core processor would put it in the same class as the original Kindle Fire, a device that sold for $200 when it came out last year and is currently marked down to $140. And undercutting Amazon is no small feat.
All of which sounds great, especially if you're looking for a minimal investment starter-tablet for your clumsy kid. But while this hundred dollar tablet seems confident, it's also bound for places you (likely) don't live. Acer's targeting emerging markets with the Iconia B1:
While the device has been submitted to the U.S. Federal Communications Commission for clearance, it's uncertain whether it will actually be sold stateside.
G/O Media may get a commission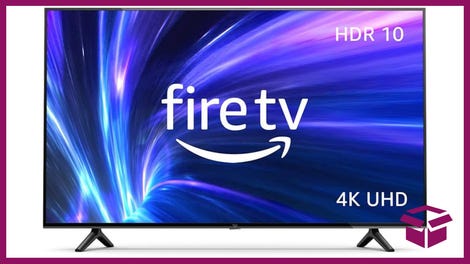 42% Off
Amazon Fire TV 50" 4K Smart TV
Which happens all the time; different markets have different needs, and by the time the B1's ready for showtime it'll likely feel hopelessly outdated against the current US competition, low price or now.
Still, it'd be nice to at least have the option, especially given that you'd pay $100 for the adorable but horribly gimped LeapPad 2. At the very least, maybe it'll give some other hardware honcho inspiration to do the same in the US. Looking at you, HP. [WSJ]