The verdict is in: Verizon and AT&T have screwed the pooch on their rollouts of unlimited data plans. Verizon was the biggest loser according to a new study, with a 2 Mbps drop in its average download speed. T-Mobile ate everyone else's lunch and its clown of a CEO is being just as annoying as you'd expect.
Mobile industry research company Open Signal released it last State of Mobile Networks report back in February and at the time, T-Mobile and Verizon were in a dead heat for speed. T-Mobile had been making serious strides with its offer of unlimited data and stealing subscribers from its larger competitors. AT&T and Verizon still have almost twice as many subscribers as the other carriers in the report, but they needed to do something to counter T-Mobile's growth. According to a crowdsourced report that uses data from the 20 million users who've installed Open Signal's tracking app, the two top telecoms debuted their own unlimited plans and now their overall quality is nosediving.
From February through August of this year, Open Signal says the average 4G download speeds for T-Mobile, Verizon, and AT&T were 17.5 Mbps, 14.9 Mbps, and 12.92 Mbps, respectively.
As a separate analysis by Open Signal points out, the easiest explanation for this drop in speed is that Verizon's and AT&T's networks are just more congested. Another point to note is that T-Mobile caps video data on mobile below HD quality. But keep in mind, T-Mobile and Sprint are adding more customers and they are still managing to increase their speeds.
G/O Media may get a commission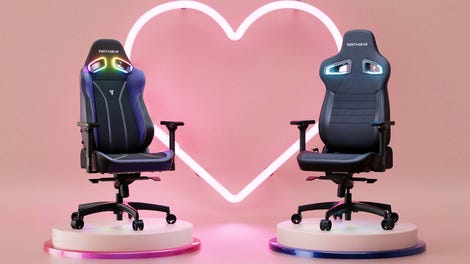 Up to $150 off
Vertagear Gaming Chairs
Verizon will undoubtedly exclaim that it, too, needs to throttle video in order to keep up with T-Mobile. The latter carrier is at least violating the spirit of net neutrality at the moment. But any excuses from Verizon are probably bullshit. It has the dominance advantage. And the primary reason it's had that dominance is that it had a reputation for being the best.
Unlimited data used to be a standard offer. Then telecoms took it away. T-Mobile saw an opportunity to reintroduce it, and surprise, people wanted unlimited data again. T-Mobile CEO John Legere may be an attention-seeking troll but he got his biggest competitors to play his game and simultaneously harm their own networks in the meantime.
Without some sort of independent internal audit, I won't believe a single complaint from Verizon or AT&T that they need to throttle video to keep up with T-Mobile. While there's no reason to believe these companies are intentionally manipulating their own service, we have little reason to trust them: telecoms are often a bunch of scummy liars. In rankings of the world's fastest mobile internet speeds, the US is in 28th place. All these companies need to get their act together.
[Open Signal via Recode]